China's Not to Blame for All of Sri Lanka's Woes | Opinion
In the 1980s, a Newsweek headline described Sri Lanka as "The Lebanon of South Asia" after ethnic divisions erupted into a civil war that lasted nearly three decades. This year, the country is again being unfavorably compared to Lebanon as it faces an unprecedented economic, social, and political crisis that forced the president to resign. How did this happen and what comes next for this small island state in the Indian Ocean?
At a structural level, the current economic crisis has its origins in balance-of-payment challenges marked by declining foreign exchange reserves, exports, overseas worker remittances, and foreign investment. Despite warnings, successive governments failed to adapt over time to implement sustainable debt management practices. Sri Lanka's growth as a middle-income country aggravated the problem through the ensuing loss of access to loans on concessional terms and accelerated the timeline for debt repayment.
Exacerbating some of Sri Lanka's structural challenges, the leadership committed some unforced errors such as unnecessary tax cuts, an import ban on chemical fertilizers, and currency printing that heavily devalued the Sri Lankan rupee. These policy missteps occurred against the backdrop of the Covid-19 pandemic, which damaged the tourism industry's ability to generate revenue. Finally, Russia's invasion of Ukraine in February worsened an already bad situation with increased prices globally. In April, Sri Lanka defaulted on its debt for the first time in its history.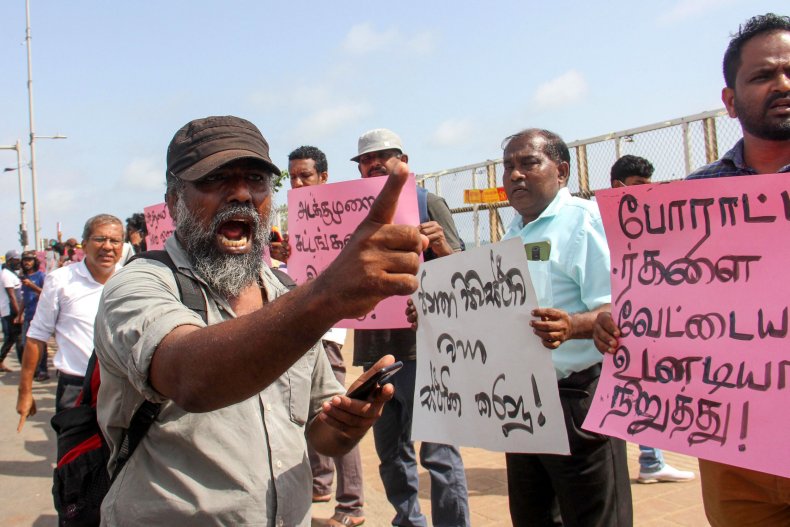 The immediate effect of the economic crisis has been shortages in access to essentials such as fuel, cooking gas, electricity, food, and medical supplies. As of July 22, the World Food Programme estimates that 6.3 million people, or roughly one quarter of the population, are food insecure and that this number may rise as the crisis continues. As much as 90 percent of the population is skipping meals because of they don't have the money for food.
Widespread public protests led to the resignation of the country's prime minister, Mahinda Rajapaksa, in May. When his brother, Gotabaya Rajapaksa, gave no indication of a timeline for stepping down as president, protesters occupied his home and office earlier this month, forcing him to flee the country and resign.
Some observers have blamed Sri Lanka's troubles on its dealings with China, which has made substantial investments in the country. Recently, CIA Director William J. Burns became the latest U.S. official in recent years to attribute Sri Lanka's economic crisis to Chinese debt. Of Sri Lanka's total foreign debt, loans from China's government are in the range of 10 percent to 12 percent. Adding Chinese commercial loans to a wider base of public and publicly guaranteed debt, a new analysis estimates the figure for Chinese loans rises to roughly 20 percent.
But despite China's deep involvement in the island nation, it is not the primary culprit in the current debt crisis. In fact, international sovereign bonds constitute the largest proportion of Sri Lanka's external debt — at 36.5 percent of total foreign debt and 47 percent of total foreign debt repayments by the end of 2021. They are owned mostly by private investors in the United States.
This is not to say that China should be given a pass for its economic dealings with Sri Lanka, considering how it extracted an excessive 99-year lease for operational control of Hambantota port. It also does not excuse Sri Lanka for avoiding dealing with a balance-of-payments crisis that was a long time coming. But U.S. officials should understand the structural and domestic causes of crises within Sri Lanka and other small states before framing crises in terms of great-power strategic competition.
So what comes next? After being elected president by parliament to serve the rest of Gotabaya Rajapaksa's term before 2024 elections, Ranil Wickremesinghe began his time in office with police and military forces breaking up the main protest site. This action concerned many observers, including the U.S. ambassador to Sri Lanka. Wickremesinghe's top priorities will be to conclude a bailout with the International Monetary Fund (IMF), including a first-ever debt restructuring for Sri Lanka, and to engage with bilateral development partners such as China and India. Wickremesinghe is considered to have an advantage in that he has extensive relationships with international stakeholders and previous experience negotiating with the IMF. However, the new leadership's use of force against peaceful protesters will not help assuage concerns within the IMF about political stability in Sri Lanka before concluding agreements.
The protests against the Rajapaksas were notable for attracting broad participation from across demographic groups, including Sinhalese, Tamil, and Muslim citizens. Within the context of an unprecedented national crisis, the new government could choose to build on this unity. However, at present, the new president, whose home was set on fire during the protests, remains unpopular and will need to gain the public's confidence amid austerity measures that are expected to last for years. The road ahead remains precarious in Sri Lanka.
Nilanthi Samaranayake is director of the Strategy and Policy Analysis Program at CNA, a non-profit research organization in Arlington, Virginia. She studies small states in great power rivalry and U.S. alliances and strategic partnerships. @nilanthis
The views expressed in this article are the author's own.