China's Proposed Security Law Would Be a 'Death Knell' for Hong Kong Freedom, U.S. Says
On Friday, the U.S. condemned China's National's People's Congress (NPC) proposal to impose national security legislation on Hong Kong, saying it "would be a death knell for the high degree of autonomy Beijing promised for Hong Kong under the Sino-British Joint Declaration."
The proposal, which was unveiled late Thursday, would ban "treason, secession, sedition and subversion." There is fear that if the draft bill is passed, it could severely impact the freedoms in Hong Kong.
"The United States strongly urges Beijing to reconsider its disastrous proposal, abide by its international obligations, and respect Hong Kong's high degree of autonomy, democratic institutions, and civil liberties, which are key to preserving its special status under U.S. law," Secretary of State Mike Pompeo said.
Tighter security measures from Beijing would increase China's authority over the semi-autonomous state. Article 4 of the draft bill states: "When necessary, relevant national security organs of the Central People's Government will set up agencies in Hong Kong to fulfil relevant duties to safeguard national security in accordance with the law."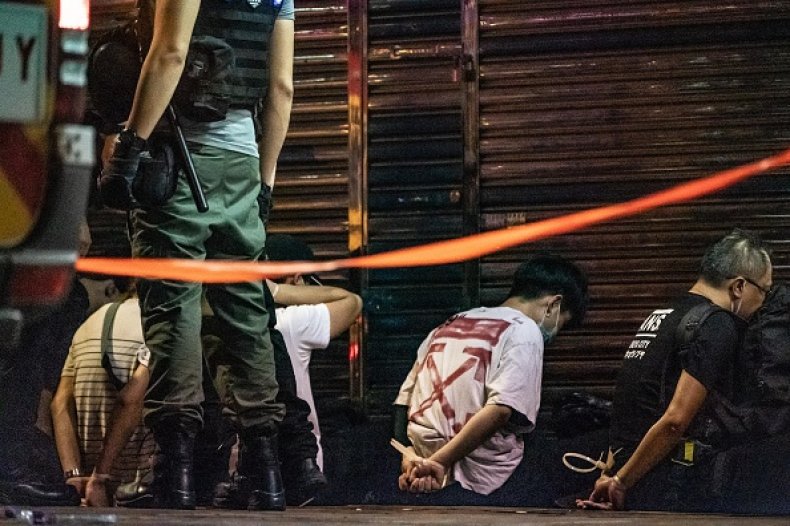 Protests against China's ongoing efforts to undermine the independence of the Hong Kong gained global attention last year when the Hong Kong government introduced the Fugitive Offenders amendment bill.
The sometimes violent demonstrations enraged Beijing, which viewed the protests as a threat to China's national security, and prompted the NPC to take greater actions over the liberties of Hong Kong.
Speaking to state media, Vice Chairman of the Standing Committee of the NPC Wang Chen said, "Considering Hong Kong's situation at present, efforts must be made at the state-level to establish and improve the legal system and enforcement mechanisms."
The current proposal, which comes in response to last year's protests, has been met with outrage from pro-democracy activists.
Protesters have already begun to mobilize. A group gathered outside China's Liaison Office in Hong Kong early Friday before being shut down due to what police officers have cited as social distancing measures.
Speaking on behalf of the State Department, Pompeo said, "We stand with the people of Hong Kong."
White House economic adviser Kevin Hassett told CNN the administration is "studying very closely" the possibility of imposing additional tariffs against China for their actions against Hong Kong. "We're absolutely not going to give China a pass," Hassett said, "It's a very difficult, scary move."
Pompeo has called the proposal a "decision to bypass Hong Kong's well-established legislative processes and ignore the will of the people of Hong Kong."
The latest statement made by the secretary of state continues to heighten the increasing tensions between U.S. and China.
Earlier on Wednesday, China threatened to take "necessary countermeasures" against the U.S. after Pompeo extended congratulations to the president of Taiwan.