China's 'Red' Restaurants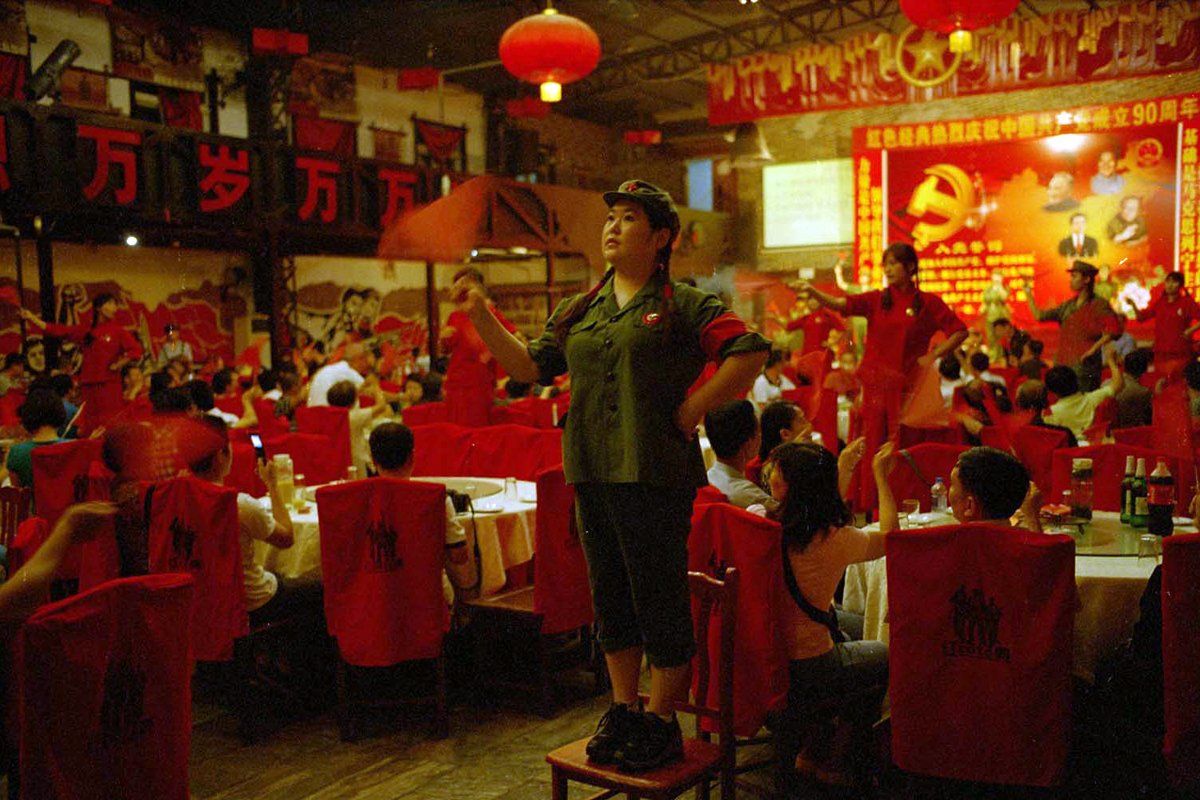 It's a typical Saturday night at the Red Scene restaurant, which is packed with well-to-do Chinese diners. The younger ones clap in time to the music, while a gaggle of middle-aged patrons—many of them red-faced and tipsy—are on their feet, dancing and singing along with the stage performers. Tables groan under heaping platters of food. This could be any one of Beijing's popular dinner shows, which draw audiences with the promise of Chinese opera or Western cabaret. But at Red Scene, the waiters and performers are all dressed as Red Army soldiers, Red Guards, workers, and peasants. And the skit is showcasing the persecution of an evil landlord, who is being beaten and forced to wear a pointed dunce cap—a scene straight out of China's Cultural Revolution, one of the most tumultuous times in the nation's history. The epoch remains controversial for a huge number of Chinese who were submitted to such "criticism sessions"—or even knew people who'd been "struggled" to death—for being too bourgeois.
Such restaurants are part of a boom in Chinese tourism and entertainment venues catering to revolutionary nostalgia. To many, the idea of a Cultural Revolution–themed dining establishment is paradoxical, since tasty cuisine was certainly not that era's strong suit. The first "Red restaurants" sprouted in Beijing in the '90s, offering little more than a few socialist-realist posters and food that was minimalist in the literal sense of the word. One served dandelion-leaf salad and raw cucumbers to symbolize the grass and bark that some poor Chinese ate during the hardscrabble '60s and '70s. Now Red-restaurant cuisine is more in line with middle-class tastes. In Mao's hometown, "the Chairman's Favorite"—roast fatty pork—is a must, while Red Scene offers a pricey shrimp dish for $27 alongside less-expensive cornmeal cakes and country-style bean curd. By Western standards, Red Scene's clients aren't big spenders—an average check is about $12 per person—but that isn't mere peanuts for most Chinese, either.
The emergence of songs, dances, and vignettes evoking Cultural Revolution conflict is an equally significant change over the past decade. Before that, anything that exacerbated "class struggle," or focused on the gap between the haves and the have-nots, was considered too sensitive for public airing. But Red Scene, which opened in 2005 and serves an average of 400 customers a night, is a good example of how many older Chinese have forgotten the dark side of that era—and how a younger generation never really knew it to begin with. During the skit vilifying an arrogant landlord, diners applauded and waved little red flags (conveniently provided by the wait staff).
This year, such "Red" venues are peaking in popularity because the Chinese Communist Party celebrated the 90th anniversary of its founding in July. Local governments are promoting "Red tours" to legendary sites along the Long March route, and organizers of a Red China Tourism Expo said such sites across the nation have received 1.35 billion visitors—or a fifth of all tourism traffic—in recent years. They expected a fivefold annual increase in 2011 over 2010 numbers.
Many of the Red-restaurant clientele were urban youths during the Cultural Revolution. In a nationwide campaign, they were sent to the countryside to reap the fruits of manual labor. These sojourns were often filled with long days of backbreaking work in the fields and lonely evenings. Still, many were inspired by communal life down on the farm. One such youth, Huang Zhen, decided to open Beijing's Red Flag Fluttering restaurant in 2007, "so that people can remember the past," he told Xinhua News Agency. Huang, now 58, instructed waiters to memorize Mao's quotations and to dance the "loyalty dance" of the Cultural Revolution era, which involves a lot of fist-clenching to symbolize revolutionary ardor.
At Red Flag Fluttering, the majority of customers are in their 60s and 70s, usually arriving in groups to wallow in nostalgia for their years as youths "sent down" to the farm. "They like ... the revolutionary songs, dances, and pictures, [which] bring their memories back to their Cultural Revolution experiences," explains one waiter. He says customers also like the Red-themed dishes, such as one called "A Revolutionary Big Family," consisting of nearly a dozen types of seafood and meat, and "Warriors Who Dashed Over the Luding Bridge," a dish of chicken named after the site of a famous Red Army victory. As for the skits on class struggle, the waiter shrugged. "We simply want our customers to be entertained and to recall their old experiences without thinking too deeply of these social issues."
But the popularity of Red restaurants has also stirred controversy. One reader wrote in to a local paper to complain about Red Flag Fluttering. "The Red Guard uniforms are disgusting ... They remind me of the unpleasant past." The reader said she'd gone to the restaurant with a dozen elderly friends, but "one of us who suffered a lot during the Cultural Revolution felt extremely uncomfortable. So we all left." And how do authorities regard the restaurants? Although stage performances are subject to government censorship, there seems to be little official meddling so far. "We have nothing to do with the government, so we don't care too much about its attitude," says the waiter at Red Flag Fluttering. "As a matter of fact, we don't even know the attitude of the government."