China's Rocket Force Conducts 'Carrier Killer' Exercises With Ballistic Missiles With Range of 2,500 Miles
China's army recently conducted training exercises with a ballistic missile known as a "carrier killer" that can travel nearly 2,500 miles.
According to the South China Morning Post, China Radio International reported on Tuesday night that the People's Liberation Army Rocket Force recently held a nighttime rocket training exercise. The report added the purpose of the exercise was to increase the Rocket Force's ability to transfer weapons and missiles quickly.
The state-run Global Times also reported that the Rocket Force was training with DF-26 "carrier killer" ballistic missiles. According to the South China Morning Post, the DF-26 missiles can travel up to 2,485 miles and can be used as a nuclear strike or as a traditional ground strike.
The Global Times reported that the drill also simulated an attack on the rocket's launch area.
"We have been holding night exercises on a regular basis recently, which usually lasted past midnight. They featured the random changes of launch positions and targets, consecutive fire strikes and relocations," Col. Jiang Feng, the deputy commander of the brigade, told China National Radio, the Global Times reported.
Missiles like the DF-26 "carrier killer" were banned in 1987 after the U.S. and then-Soviet Union signed the Intermediate-Range Nuclear Forces Treaty. According to the nonpartisan Arms Control Association, the treaty banned "nuclear and conventional ground-launched ballistic and cruise missiles with ranges of 500 to 5,500 kilometers."
In 2018, then-President Donald Trump announced that he was pulling out of the treaty, citing claims that Russia and China were both developing weapons banned under the treaty. "Unless Russia comes to us and China comes to us and they all come to us and they say, 'Let's all of us get smart and let's none of us develop those weapons,' but if Russia's doing it and if China's doing it and we're adhering to the agreement, that's unacceptable," Trump said in 2018.
While speaking to the South China Morning Post, Song Zhongping, a Hong Kong-based military expert and a former instructor in the People's Liberation Army, said, "China's rocket force has been trained to launch various missiles, and the DF-26 is one that can strike aircraft carriers at sea, where China's biggest threat comes from."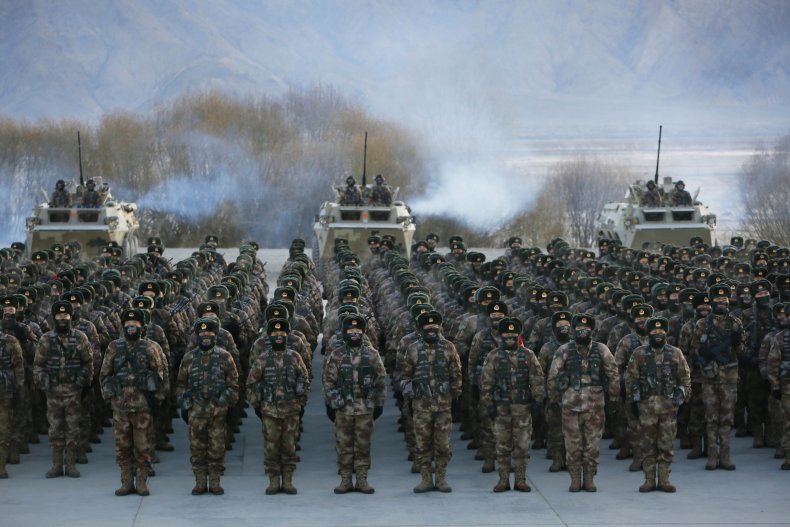 Earlier this week, the People's Liberation Army conducted other military tests. The Chinese military released footage of the training exercise, which showed its Navy's beach landing capabilities in the sea across from Taiwan.
The Global Times said that the training exercise was to build a "a concrete basis for winning possible future battles against Taiwan secessionists, following the latest US provocation by sending a military transport aircraft to the island of Taiwan."
Newsweek reached out to the Chinese military for further comment but did not receive a response in time for publication.