China's State Media Taunts Trump on Twitter for Claiming He Won Election
The People's Daily, the largest newspaper group in China, mocked President Donald Trump on Saturday after he falsely tweeted that he won the presidential election "by a lot."
The newspaper—which is an official newspaper for the Central Committee of the Chinese Communist Party and boasts 7 million followers on Twitter—wrote "HaHa" and included a laughing emoji as a reply to Trump's earlier tweet declaring he won the election, just hours before Joe Biden was announced as the projected winner.
Trump's tweet was immediately flagged by Twitter for falsely indicating a winner of the hotly contested race before it was officially called. The AP and networks projected Joe Biden as the 46th president of the United States shortly afterward, with Biden picking up Pennsylvania's 20 Electoral College votes.
On Thursday, Trump falsely claimed that he had won Pennsylvania—also by "a lot"—despite thousands of ballots not yet being counted statewide. Biden led by more than 30,000 votes in the state.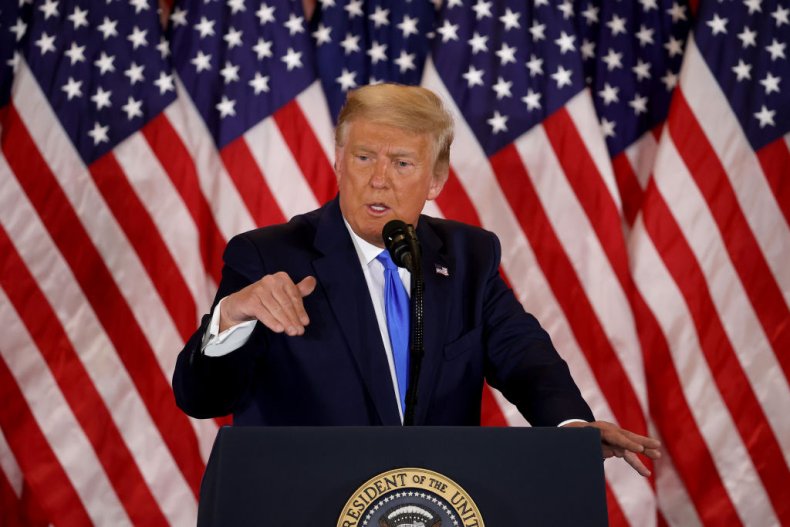 But the People's Daily wasn't the only publication to take aim at Trump. Publimetro, a Colombian daily newspaper, published the headline "Who's the Banana Republic now?" on its front page with a photo of a man with a U.S. flag mask, according to the Associated Press.
Saturday's cover of Der Spiegel, a leading German news magazine, was titled "the Squatter" and showed a defiant Trump holding a rifle in the Oval office. A picture of Biden, having clearly been shot at by the gun, can be seen hanging in the background.
Australian weekly newspaper The Saturday Paper plastered a photo on its front page of Trump's hand in a fist, titled: "One Small Hand Clinging to Everything Except Reality." Meanwhile, The Guardian in Britain stated Trump was in a "fight against reality."
The People's Daily taunt comes after years of tumultuous relations between the U.S. and China, with a longstanding trade war and conflicts surrounding the coronavirus pandemic, technology, human rights and security creating the most strained relations between the two countries in 40 years.
The Associated Press reported last month that Chinese leaders had hoped for Joe Biden's victory in the presidential election, which could potentially cause some cooperation in certain areas of conflict between the U.S. and China. But both Democrats and Republicans aren't convinced about taking a softer approach to China any time soon.
World leaders have taken to social media to congratulate Biden for winning the election after a long week of baseless allegations from the Trump administration that voter fraud in battleground states caused a "rigged" election. UK Prime Minister Boris Johnson congratulated Biden and Harris on Twitter for their "historic achievement," while Canadian Prime Minister Justin Trudeau wrote that he's "really looking forward" to working with them.
"Our two countries are close friends, partners, and allies," Trudeau tweeted. "We share a relationship that's unique on the world stage. I'm really looking forward to working together and building on that with you both."
Indian Prime Minister Narendra Modi tweeted a special congratulations to Harris, the first Black American, first South Asian American and the first woman to ever be elected vice president.
"Your success is pathbreaking, and a matter of immense pride not just for your chittis, but also for all Indian-Americans," Modi wrote. "I am confident that the vibrant India-US ties will get even stronger with your support and leadership."