China's Xi and Russia's Putin: Dangerous Men Meet in Central Asia | Opinion
Can any good come of this?
The world's two most dangerous actors, Xi Jinping and Vladimir Putin, are meeting in the middle of this month. The in-person get-together, the 39th since Xi became Chinese president in 2013, will take place in the Silk Road city of Samarkand, in Uzbekistan.
China has not confirmed the meeting with Putin, but it will undoubtedly take place at the summit of the China-sponsored SCO, the Shanghai Cooperation Organization, on the 15th and 16th. Xi's trip to Kazakhstan on the 14th and neighboring Uzbekistan will be the first time he has left Chinese soil since January 2020.
Many analysts argue Washington should try to separate Russia and China, peeling one off from the other as Nixon did during the Cold War. Right now, that goal is unattainable. But the SCO meeting offers Washington an opening to deal with these two large states.
There will be a lot going on in Uzbekistan this week. "The summit may be the most important SCO gathering in the organization's 21 years," Gregory Copley, the president of the International Strategic Studies Association, tells Newsweek.
Beijing and Moscow see the summit as an opportunity to reassert dominance in the region after America's calamitous withdrawal from Afghanistan last year. The debacle largely ended American influence in the region.
Five of the seven Central Asian "Stans," as they are called, have an agenda apart from China and Russia. Uzbekistan, Kazakhstan, Kyrgyzstan, Turkmenistan, and Tajikistan know they must maintain cordial relations with Beijing and Moscow, but as Copley, also editor-in-chief of Defense & Foreign Affairs Strategic Policy, says, they are trying to "shape their strategic policies so that they can ensure maximum freedom from the two powers."
Their success in accomplishing this goal will depend in part on whether they can strengthen relations with the West. Even after Afghanistan, the Central Asian states believe they can still work with America.
Washington, not a SCO member, has much at stake there. As Copley notes, "the Central Asian states represent the West's best hope of keeping Moscow and Beijing from consolidating power over the entire Eurasian map."
China and Russia are now closer than they have been in decades. For instance, they announced their "no-limits" partnership in a 5,300-word joint statement following the last Xi-Putin meeting, which took place in Beijing on February 4.
China has gone all-in supporting Putin in Ukraine since then. Beijing, many believe, even green-lighted the invasion at the February summit. Yet whether Xi did so or not, he has propped up Russia.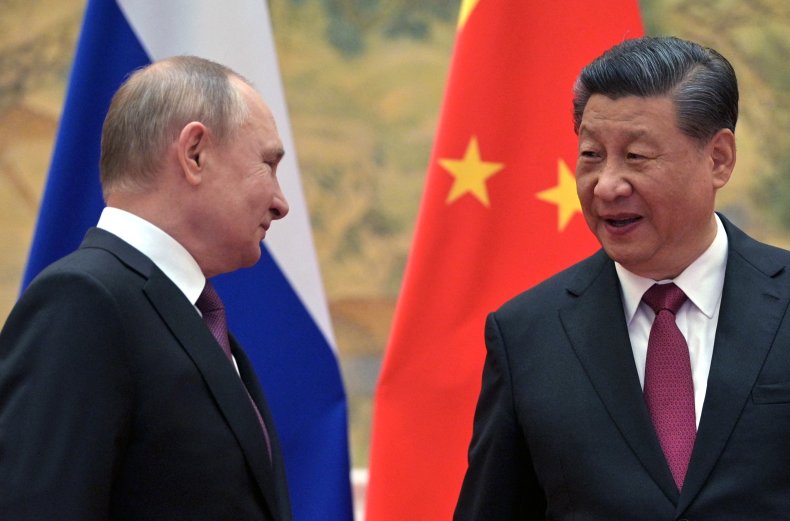 China, with elevated commodity purchases, effectively finances Russia's war. Furthermore, Beijing has been providing banking, diplomatic, propaganda, and military help to Putin.
Li Zhanshu, China's third-ranked leader, just voiced Beijing's full endorsement of the Kremlin, even as Russian forces were suffering humiliating losses in Eastern Ukraine. Last Friday, according to official Russian sources, Li told members of the State Duma that "China understands and supports Russia on issues that represent its vital interests, in particular on the situation in Ukraine."
Li's comments, as reported by Moscow, go beyond previous official Chinese assertions of backing for the Russian war effort, but there have so far been no retractions from Beijing.
The first time the world will know whether Beijing endorses Li's comments and continues backing the Russians will be this week in Uzbekistan, when Xi Jinping meets Vladimir Putin.
So how does America deal with China and Russia? For starters, both have weak economies. Russia's has been shaken by sanctions imposed after the Ukraine invasion, and China's is exhausted and fragile, especially because Beijing's massive stimulus programs, which have reliably created growth for decades, are not working well now.
Russia's barbaric war and China's assistance provide opportunities to undermine both. Americans should remember that it was President Ronald Reagan's targeting of the Soviet economy—by, among other things, lowering prices for commodities—that was primarily responsible for the ultimate collapse of the Soviet state.
We are seeing echoes of that approach now. The Biden Treasury Department warned on Friday that, with regard to Russian oil, it will impose sanctions on buyers making "significant purchases of oil above the price cap" proposed by the G7, EU, and the U.S. That is a step in the right direction, albeit far from what is ultimately needed.
The takedown of the Russian and Chinese economies, even in their weakened conditions, is, of course, a long-term effort. The first element in the plan could be to ensure that neither Beijing nor Moscow controls the five Central Asian states.
As Copley points out, these countries, none of which has ocean access, have a new route to global markets. "They can now trade across the Caspian Sea through Azerbaijan, which, as of November 2020, has a land border with Turkey and then to the outside world."
Monday's clashes between Azerbaijan and Armenia threatens this trade, but in the meantime Washington can, among other things, further open its market to the five states, giving them one more path to a future without Beijing or Moscow. In a long campaign of economic attrition with these two malign regimes, that is not a bad place for America to start.
Gordon G. Chang is the author of The Coming Collapse of China. Follow him on Twitter: @GordonGChang.
The views expressed in this article are the writer's own.