Chinese Artist Becomes National Hero After Australia War Crimes Tweet Causes Diplomatic Storm
The young Chinese artist who triggered a diplomatic storm with his Photoshopped depiction of the Australian army's alleged war crimes in Afghanistan has become a national hero in China.
The little-known Beijing computer graphics artist who calls himself Wuhe Qilin doubled his number of followers on China's Twitter-like service Weibo since one of his controversial images was tweeted out by Chinese diplomat Zhao Lijian on Monday.
The doctored image, which remains pinned to the top of Zhao's timeline, shows a grinning Australian soldier killing a young Afghan child. It had been liked more than 61,000 times on Twitter at the time of writing.
The tweet by China's foreign ministry spokesperson caused a fresh war of words between Canberra and Beijing, which has since rejected repeated opportunities to offer an apology while denying that the image was fake.
Australian Prime Minister Scott Morrison called the picture "repugnant" and said his government had contacted Twitter to have the post removed, but the website has kept the image live, albeit hidden behind a graphic warning.
Patriotic social media users in China have flooded the Weibo page of the Beijing illustrator, who describes himself as a "Wolf Warrior" artist. The phrase refers to two Chinese Rambo-style movies of the same name, and now defines a new style of assertive and aggressive approach to diplomacy.
Zhao is often described with the same moniker.
Wuhe Qilin's follower count has risen sharply since praising Zhao's use of his image and writing: "I hear Morrison has some opinions about my illustration?"
On Tuesday, he solidified his cult status among China's Weibo users when he created another image titled "To Morrison."
The illustration shows Morrison covering dead bodies with a large Australian flag while pointing a group of photographers toward a young boy in red—presumably representing the artist himself—trying to draw the atrocities on a canvas.
The caption below reads: "Apologize!!"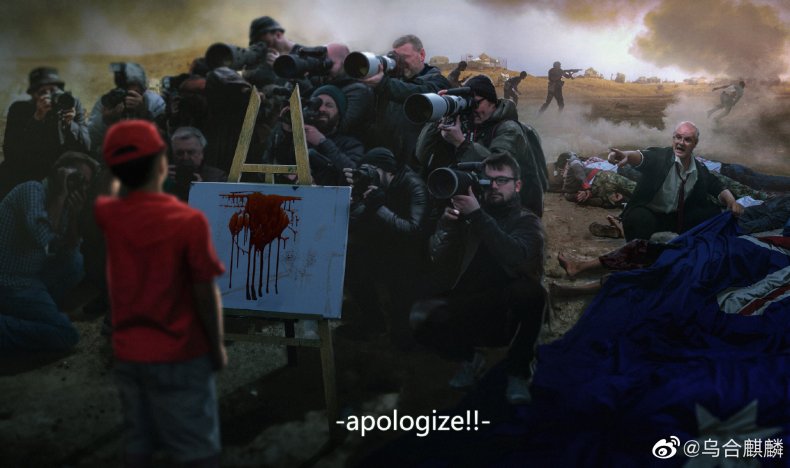 Twitter users have flooded Prime Minister Morrison's most recent tweet with replies containing the picture, which has been liked more than 1 million times on Weibo.
In a 1,000 essay for hawkish Chinese Communist Party newspaper Global Times on the same day, Wuhe Qilin admitted that the illustration was created in Photoshop on November 23.
He said he found it "hard to believe" that Australia's head of state would take issue with his work. Morrison's anger should have been directed at the Australian government and army instead, he wrote.
The artist said he was "inspired" to create the illustration after reading reports about last month's Australian Defence Force inquiry into Australian special forces war crimes during the war in Afghanistan.
The Brereton Report found that the country's elite troops unlawfully killed at least 39 prisoners and civilians between 2005 and 2016.
"Of course, the elements and the scene depicted in the illustration were not factual," Wuhe Qilin wrote in the state-owned newspaper. "In reality, an Australian soldier did not stand on an Australian flag and use it to cover the head of a young Afghan holding a lamb."
He insisted the picture was created "based on facts" in the ADF report. He said audiences should not focus on whether the image was real, but instead look at its content.
Wuhe Qilin had not responded to Newsweek's request for comment at the time of publication.
This week's diplomatic row has brought ties between Australia and China to a new low, just days after Beijing sought to choke Australian wine imports with tariffs ranging between 107 and 212 percent.
Political tensions between the Asia-Pacific neighbors have seen China target Canberra's lobster, barley, coal and sugar.
Australia said it would consider challenging its largest trading partner's recent wine blockage at the World Trade Organization.