Chinese Billionaire Jack Ma Re-Emerges Following Disappearance Rumors
Alibaba stock prices rose sharply on Wednesday after Chinese billionaire Jack Ma re-emerged for the first time in three months, following speculation he had fallen afoul of and been "disappeared" by the government.
Ma appeared on a teleconference call with more than 100 teachers from rural China as part of his foundation's annual award ceremony to honor educators in the countryside, according to a report by Zhejiang Online, a news portal operated by the government of Ma's native Zhejiang province in east China.
Through the Jack Ma Foundation, the former Alibaba Group CEO has hosted teachers in the resort city of Sanya in southern Hainan province every year since 2015, but the 2021 ceremony was held online due to public health concerns, a spokesperson was quoted as saying.
Ma, who is currently 19th on the Forbes Real Time Billionaires list, praised China's 2.9 million rural educators and promised to meet them after the pandemic ends, the report said. The article carried a video of his remarks and showed him inspecting a newly built elementary school in Tonglu, a county roughly 55 miles southwest of Zhejiang's provincial capital Hangzhou, where Alibaba is headquartered.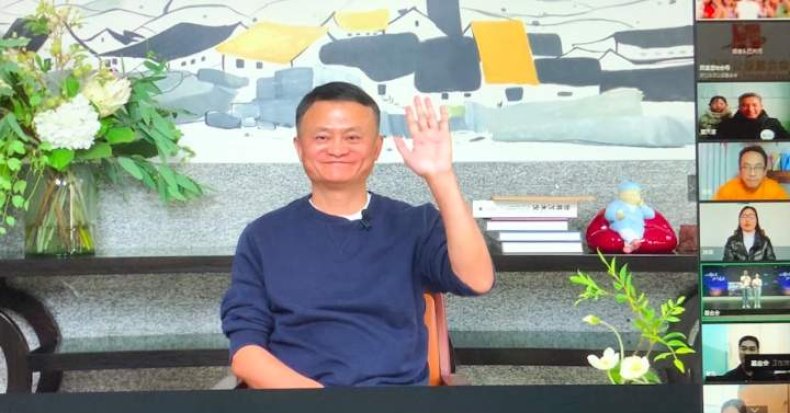 Ma's unexpected re-emergence was marked by a sharp rise in Alibaba stock in Hong Kong. Prices peaked at 10 percent and closed with an increase of more than 8 percent.
Media speculation about Ma's failure to appear in public since October was seemingly not lost on officials in Zhejiang. The provincial news website referenced Ma's "disappearance" and subsequent public appearance for the first time in many weeks.
However, neither Ma nor the report shared further details about the businessman's recent agenda.
Ma's last appearance was at the Bund Summit in Shanghai in late October 2020, when he made sensitive comments about China's tightly regulated financial system. He said it was "stifling innovation" and needed to be overhauled for the good of future Chinese youths.
Rumors about his disappearance began shortly after he failed to appear on the November finale of his entrepreneur game show Africa's Business Heroes. Ma was replaced by an Alibaba executive and media outlets were informed of a "scheduling conflict."
Meanwhile, financial regulators in China suspended what was to be a record-setting initial public offering of Alibaba's fintech arm Ant Group. The IPO was halted on November 3, a day before its launch on the Shanghai and Hong Kong stock exchanges.
The blow to Ma's Ant Group was followed by an antitrust probe into Alibaba. Regulatory authorities ordered both companies to undergo structural changes to meet new legislation.