Chinese Passenger Plane Takes off in Shanghai after Three Years of Delays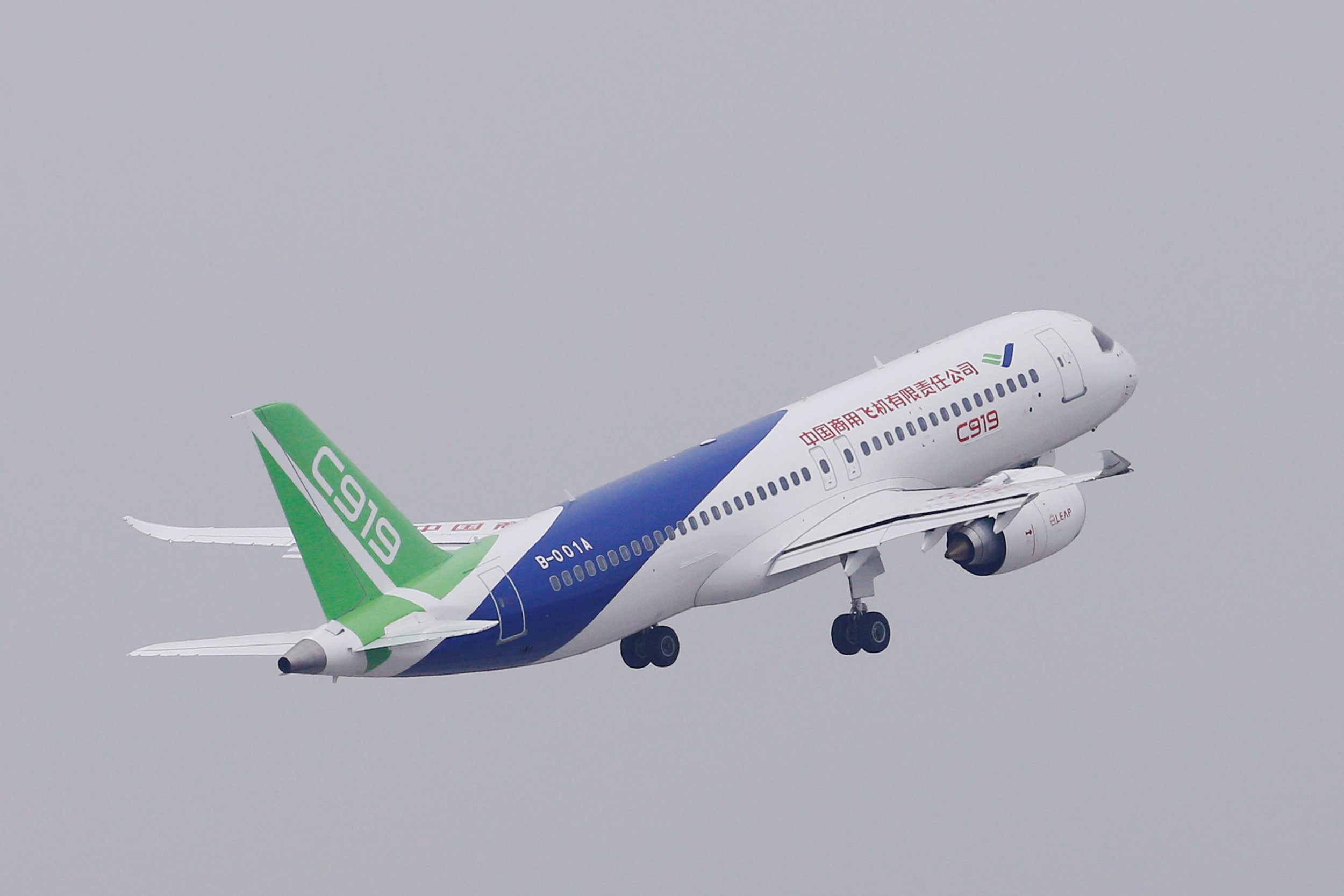 China finally launched its C919 airliner in Shanghai Friday after almost three years of delays in a bid to take on the aviation duopoly of Boeing and Airbus.
Around 3,000 people were at Shanghai's Pudong International Airport to watch the C919—which is built by the state-owned Commercial Aircraft Corporation of China (COMCAR)—take off on an 80-minute flight before returning home, Reuters reported. Its maiden flight has been delayed twice since 2014.
COMCAR already has 570 orders from 23 clients but aviation website Airline Reporter points out that most—apart from 20 orders from GECAS, an aviation asset management service—are from other state-owned Chinese airlines and questions remain over whether the C919s will have international appeal.
But Beijing sees to domestic demand as critical to future growth, especially given the huge increase in air travel amongst the Chinese middle class and the opening of new markets in the west of the country.
China Daily, a state run newspaper, ran an article titled: "Is this an end to an era of Boeing and Airbus" which discussed recent job cuts at both aviation companies. Airbus and Boeing control around 42 percent of the market for new plane orders apiece, with other companies including Bombardier and Cessna.
"The significance is huge, it's the first ever large-frame aircraft made in China. It has a great impact for the Chinese people and the domestic market," Xiong Yuexi, a professor and plane design expert at Beihang University in Beijing told Reuters.
The plane will be able to carry between 158-168 passengers, depending on seating layout, and is constructed mainly from aluminium.
Previous Chinese attempts to build an international aviation company have been thwarted by safety fears. The Xian MA60 was involved in serious incidents in both Myanmar and Tonga while the Chinese-made Harbin Y-12 has been described as "a deathtrap. "
"China knows it still has a long way to go before it's seen as competitive or even desirable by Western markets, especially considering its past attempts," Sinolink Securities analyst Si Jingzhe, told Reuters.
"Aviation is a complex market and you need experience over a long time. Boeing has 100 years, Airbus has over 40 years."