A 'Chinese Coronavirus'? Officials accuse Trump of stoking xenophobia and violence against Asian-Americans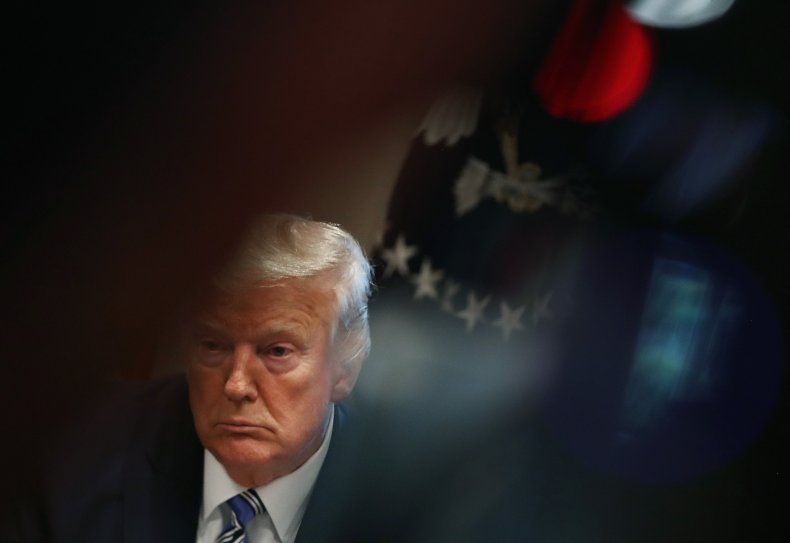 This story is being co-published with Capital & Main.
Organizations and lawmakers throughout California as well as nationally are condemning recent rhetoric by President Donald Trump describing the novel coronavirus. They say his words, intentionally or not, encourage prejudice and violence against people of Chinese or Asian descent. On Thursday a group of civil rights organizations announced the creation of a reporting center to track anti-Asian violence and discrimination in California and across the country. Assemblymember David Chiu (D-San Francisco), chair of the California Asian and Pacific Islander Legislative Caucus, told Capital & Main that the creation of the site was motivated by more than 300 recent incidents collected from media outlets and other organizations.
"This follows on [Trump's] history of declaring war on immigrant communities, and he knows he is hurting the AAPI [Asian-American Pacific Islander] community," Chiu said. "He is actively sowing division to deflect from his own failings."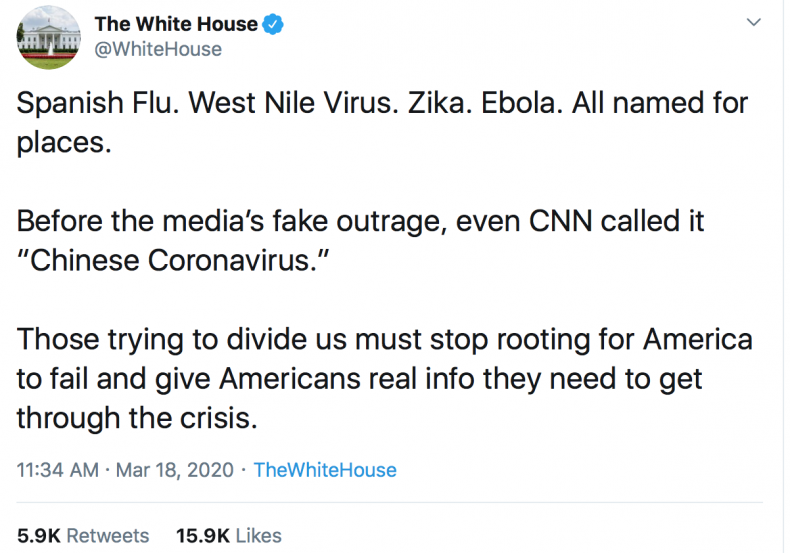 Cynthia Choi, co-executive director of Chinese for Affirmative Action, a San Francisco-based advocacy organization, said she has talked to Asian-Americans who have been attacked in recent weeks, including a woman in San Francisco who was spat on in the street and yelled at by a stranger and blamed "for bringing the virus to the United States." An even more violent incident, she said, was that of a 12-year-old child in the Los Angeles area who had been taken to the ER after being beaten and told he'd introduced coronavirus to the country. "All of this as we are doing our part in a health emergency and caring for others," Choi said. "Now we have this added burden of feeling scapegoated."
Choi and other advocates are placing much of the blame for the escalating anti-Asian violence on President Trump and his use of the term "Chinese virus," seemingly as an insult to China, but with real repercussions for Asian-Americans. Even in his Oval Office address of March 11, Trump referred to coronavirus as a "foreign virus."
Chinese officials condemned Trump's rhetoric, NBC News reported. The Centers for Disease Control and Prevention (CDC) has discouraged such phrasing, and earlier this month CDC director Robert Redfield said it is "absolutely wrong and inappropriate" to call COVID-19 the "Chinese coronavirus."
The CDC's website states: "People in the U.S. may be worried or anxious about friends and relatives who are living in or visiting areas where COVID-19 is spreading. Some people are worried about the disease. Fear and anxiety can lead to social stigma, for example, towards Chinese or other Asian Americans or people who were in quarantine...Stigma hurts everyone by creating more fear or anger towards ordinary people instead of the disease that is causing the problem."
The World Health Organization advises against using geographic terms with new diseases.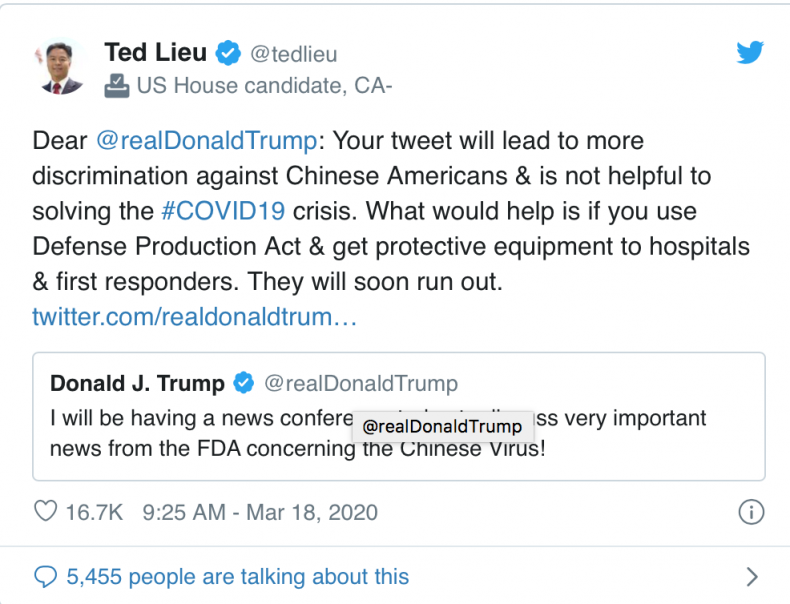 Trump, when pressed by reporters on Wednesday, claimed that his use of "Chinese virus" was justified because the disease came from China, and denied that it was racist or xenophobic. Sen. Elizabeth Warren (D-Mass.) on Tuesday tweeted that Trump's phrasing is discriminatory and harmful to COVID-19 response efforts. U.S. Rep. Ted Lieu (D-Los Angeles) wrote an op-ed in the Washington Post accusing Trump of stoking xenophobic panic, and also slammed his response to the crisis.
"The president's view that the virus was a Chinese problem contributed to his failure to understand the importance of testing people domestically for the virus and of having enough medical equipment to deal with the outbreak," Lieu wrote.
Chiu said elected officials across the country need to step up and denounce rhetoric that demonizes Asian-Americans. In an open letter to California Governor Gavin Newsom this week, Chiu asked him to publicly denounce discriminatory acts.
And Newsom did just that. At the end of a Thursday night conference call announcing a statewide stay-at-home order due to COVID-19, he condemned the rising anti-Asian rhetoric, xenophobia and hate crimes, comparing it to the Yellow Peril and Chinese Exclusion Act periods. "We're better than that, we're watching that, and we're going to begin enforcing that," he said, though he did not elaborate on how he would be enforcing it.
The novel coronavirus, and the disease it causes, COVID-19, originated in Wuhan, China, and has spread to 160 countries and regions. China, after a period of denial about the virus, has ramped up testing and treatment, and for the first time since December this week reported zero new cases in Wuhan.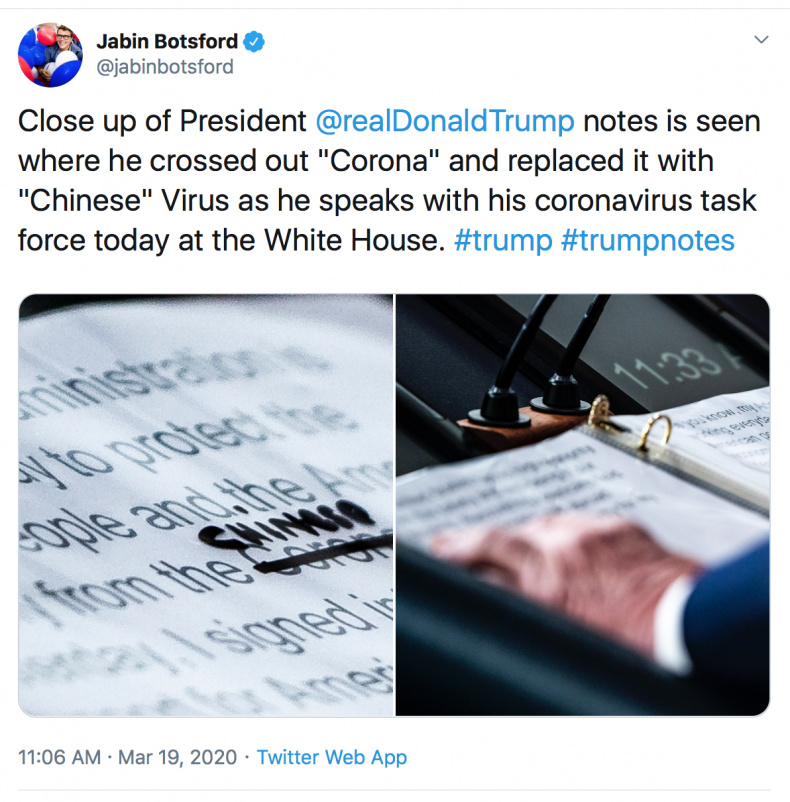 Republicans, for now, are either silent or are defending Trump's language. Sen. John Cornyn (R-Texas) backed up Trump, saying that "these viruses are transmitted from the animal to the people and that's why China has been the source of a lot of these viruses like SARS, like MERS, the swine flu," a statement that's misleading and ironic, as the earliest cases of swine flu came from California and Cornyn's state of Texas. Other GOP leaders, such as Sen. Tom Cotton (R-Ark.), Rep. Paul Gozar (R-Ariz.) and U.S. House minority leader Kevin McCarthy (R-Calif.) have repeatedly used terms like "Chinese coronavirus" and "Wuhan virus." On Tuesday, CBS News reporter Weijia Jiang tweeted that a White House official called coronavirus the "kung-flu" to her face.
Brian Levin, director of the Center for the Study of Hate and Extremism at the California State University, San Bernardino, said that he's seen a recent spike in anti-Asian hate crimes in New York City, but not in Seattle, an original hotspot in the COVID-19 outbreak in the U.S. "Possibly because the image [of coronavirus] in Seattle is with the elderly, not Asians," he explained. The first outbreak in the Seattle area happened at a nursing home in Kirkland, Washington.
But he admits that hate crimes against Asian-Americans in Seattle and elsewhere could be on the rise. "When people are fearful they are more likely to invoke stereotypes. What comforts fears is a simple explanation with a small number of villains. It feels better to blame a group."
Levin agrees that rhetoric does matter and that the person with the biggest megaphone can increase, or decrease, xenophobic-motivated acts of hate. "When Bush spoke out to prevent acts of violence against Muslim-Americans in the wake of 9/11, hate crimes tracked by the FBI declined for a year."
Those calling on the president to cease and desist equating the virus with China, however, are not likely to get their wish. At a Thursday press briefing, a Washington Post photographer captured a photo of Trump's speech, where Trump, in Sharpie script, crossed out "Corona" and wrote "Chinese."
copyright Capital & Main