Chinese Developer Evergrande Says It Could Run Out of Money, Prompting Government Meetings
China's second-largest real estate developer, the Evergrande Group, a company that faces over $300 billion in liabilities, said in a Friday filing to the Hong Kong stock exchange that it must pay its creditors $260 million despite struggling to find money for its recent payments.
"In light of the current liquidity status...there is no guarantee that the group will have sufficient funds to continue to perform its financial obligations," the company said in its statement reported by Reuters.
Reuters wrote that this news set off a chain of meetings with government officials, starting with a Friday appointment in Evergrande's home state, the Guangdong province, where the company's Chairman Hui Ka Yan met with officials. After this meeting, the government agreed to send a "working group" that would "oversee risk management, strengthen internal controls and maintain normal operations," Reuters reported.
From here, China's central bank, the People's Bank of China, got involved, reassuring that any potential effects of an Evergrande collapse on the market could be contained. However, it would not guarantee that this mitigation would be done through a bailout.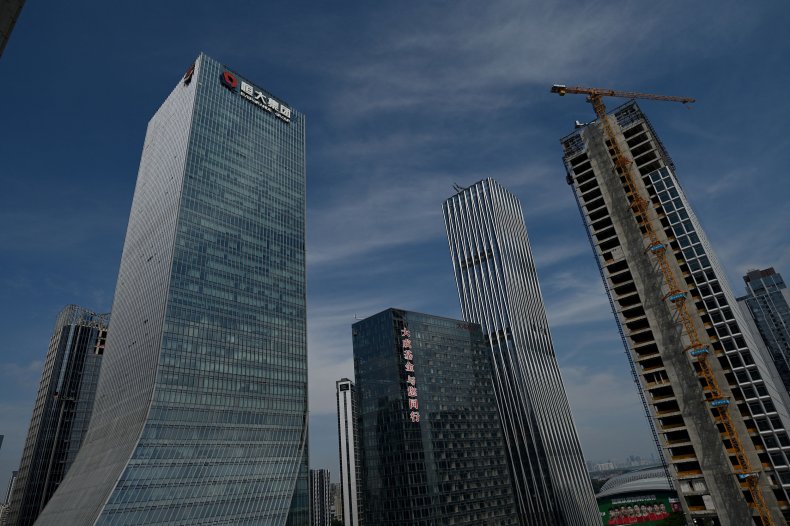 "Evergrande's problem was mainly caused by its own mismanagement and break-neck expansion," the People's Bank of China said, adding that it would not allow the collapse of one single firm to undermine its markets, Reuters wrote.
Analysts have offered a variety of predictions regarding how an Evergrande collapse could impact the global economy. Some have said it could be China's Lehman moment, harkening to the bankruptcy of former U.S. bank Lehman Brothers that helped precipitate the 2008 financial crisis. Others have affirmed that the situation is containable, given the Chinese government's vast regulatory powers, including the People's Bank itself.
Scott Kennedy, trustee chair in Chinese business and economics at the Center for Strategic and International Studies (CSIS), spoke with Newsweek in October about whether the bank could be trusted regarding its pledge that the risk could be contained. He said that this trust hangs on the bank's ultimate intentions.
"If it's about reasserting the role of the state, across the economic system. If they give that message, then it's entirely believable," he said. "If they're trying to provide reassurance that there can be a narrower range of assets that the state authorities guarantee, and that the market will take on a larger role for pricing risk and managing the complications from investments that go awry, I think that is that is a harder sell."