Chinese Fashionistas Embrace Personal Style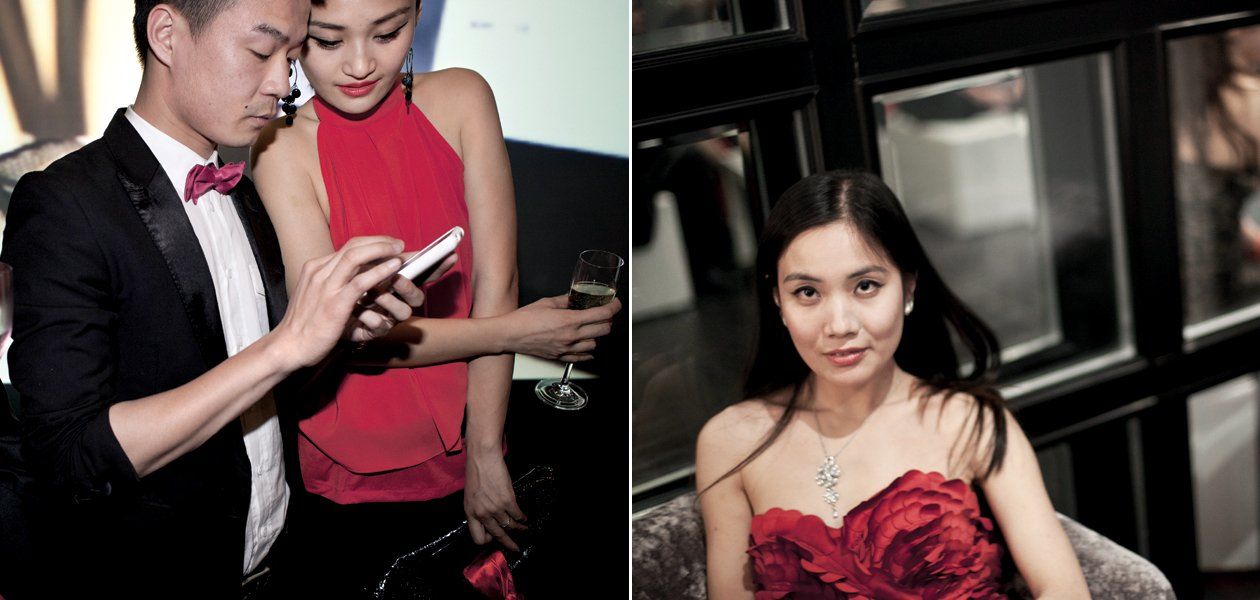 When Angelica Cheung was growing up in Beijing in China's Maoist era, her grandma sewed her a pair of fitted black-and-white pants. She loved those pants—her grandma was a skilled seamstress—and proudly wore them to school. But her classmates taunted her, calling her "xiao zi, xiao zi," or petty bourgeoisie. Cheung stopped wearing the beautiful pants because of the bullying. "Maybe that's why I love black and white so much now," she says, with an easy laugh.
These days, no one is denigrating Cheung over her fashion choices—as editor in chief of Vogue China, she's an icon in the country's fast--growing world of fashion and luxury. The magazine's fifth-anniversary edition last September boasted 622 pages—a factoid that reflects the decade-long explosion of China's luxury market, now on track to become the world's largest by 2020. This isn't just another case of the newly rich in a developing country embracing top-drawer brands from the West—though there's plenty of that. Instead, China is becoming a destination in its own right for fashion's elite. Last week designer Diane von Furstenberg's DVF label threw a Red Ball in Shanghai and launched an exhibition at Pace Beijing, the first big New York commercial gallery to open a branch in the Chinese capital. German fashion photographer Peter Lindbergh just opened his first exhibition in China. Upcoming events on the mainland read like a fashion who's who: Burberry, Lanvin, Armani.
A few decades ago, von Furstenberg's dresses—with their fluid fabric and plunging necklines—would have stopped traffic in China. Today, her designs are popular among Chinese fashionistas. Von Furstenberg—who is married to Barry Diller, CEO of NEWSWEEK/THE DAILY BEAST's parent company, IAC—says she has long been fascinated by the Middle Kingdom and became convinced of the country's potential as a huge fashion market. "I never doubted China would become grand, because it has been grand in the past," she says. Four years ago DVF opened its first store in Shanghai, and in 2010 the designer made a New Year's resolution: "I want to be known in China." Last year she opened a second shop in Beijing, which quickly exceeded initial sales projections by 30 percent.
DVF's Red Ball cemented China's role as a venue for legendary fashion bashes. The designer held the event in a massive studio belonging to conceptual artist Zhang Huan, known for his use of ashes from Buddhist temples in paintings. The black-tie affair drew more than 500 partygoers, including actress Jessica Alba and high-end shoe designer Christian Louboutin, who plans to open a series of shops on the mainland. The event recalled the iconic "happenings" of Andy Warhol and New York's art and fashion glitterati transposed onto the landscape of contemporary Shanghai. (Indeed, Warhol is among the artists on display in DVF's Pace Beijing exhibition, which lasts through May 14.)
China's love affair with Western fashion began back in the 1980s, with the introduction of post-Mao economic reforms. Yet even among those who could afford the new luxury items, something of the old collectivist mindset remained: there was a tendency toward being "brand slaves," says Nels Frye, editor in chief of the bilingual LifeStyle magazine who also blogs on street fashion. But Frye has seen a decisive shift in the past few years in terms of a growing willingness to take fashion risks: "The big story emerging now is a move toward greater individuality, he says. "Today, individual identity and style are becoming more important than belonging to a group."
That's a huge change for China. It's difficult for Westerners to comprehend the extent to which personal choice was subordinated to the collective will in China's recent past. The chaotic 1966–76 Cultural Revolution mandated that both men and women restrict their clothing styles to frumpy "Mao suits" in somber shades of army green, gray, or navy blue. In an extreme case of repression, former first lady of China Wang Guangmei—the elegant wife of President Liu Shaoqi—was tormented for wearing pearls and a form-fitting traditional Chinese qipao dress during a state visit overseas. Radical Red Guards persecuted Wang and subjected her to "struggle sessions," forcing her to wear a "necklace" of Ping-Pong balls painted with human skulls to symbolize her "feudal" and "bourgeois" fashions.
Mao's death in 1976 ended that era of madness. Almost immediately, women began curling their hair, wearing splashes of color, and begging friends to bring them fashion magazines from abroad. Fu Yuanyuan, a stylish 30--something who personifies the new Chinese consumer, remembers being in primary school when she first heard of a fashion brand—Australia's Jeanswest. Even though she was too young to have suffered under Mao, Fu feels a vicarious sense of loss nonetheless. "I don't have old family photos of my mom and aunties being glamorous," Fu says. "My mom wore an Army uniform day in and day out … I would ask to see family heirlooms, pieces of vintage embroidery, or anything old, but it was all destroyed." In terms of style, Fu says, China's younger generation is "going through a process of self-education." They are beginning to see fashion "fused seamlessly with art, architecture, design, even cars," says Megan Connolly who offer tours of Beijing's art and culture scene with her sister KC. "Many Chinese today simply want to be surrounded with stylish things."
In contrast to Mao's day, Chinese can now wear whatever clothes they can afford. That fashion freedom stands in contrast to other areas of self--expression—literature, media, popular music—where official restrictions and censorship remain. "There's been a feeling of being hemmed in, of being frustrated," says blogger Frye. "Fashion is one area where young Chinese feel they can be totally free."
Yet at the same time, Chinese fashion tastes are still considered to be more conservative than those in the West, at least in Beijing (Shanghai fashions can be more revealing). Up-and-coming Chinese designer Lu Liu, who studied at Parsons in New York, has an explanation for the trend: "Surveys show that the top consumers of luxury goods in China are men—even if what they're buying is for women," she says. "And men don't want their girlfriends being too sexy or too wild."
There's also an element of self--censorship that lingers among the wealthy. This may be due to a sensitivity in official circles about China's rich-poor gap. Last week Beijing's municipal government unveiled a new clampdown on advertising seen as encouraging conspicuous consumption. Yet this is unlikely to totally dampen the growing appetite for stylish status symbols among China's increasingly affluent citizens. The Chinese are more and more confident that personal style is theirs alone to dictate—at long last.
With Lisa Movius in Shanghai