Chinese Flight Attendants Advised to Wear Diapers to Lower Chances of COVID Infection
The Civil Aviation Administration of China (CAAC) issued strict new guidelines to prevent the spread of the coronavirus on flights, including a recommendation that flight attendants wear disposable diapers to avoid using airplane bathrooms.
The advice appeared in a November 25 edition of a document titled Technical Guidelines for Epidemic Prevention and Control for Airlines, which outlined 38 pages of guidelines for airlines to prevent the spread of COVID-19.
On high-risk flights to and from countries where coronavirus infections exceed 500 in every one million people, the CAAC recommends that flight attendants avoid germy bathrooms by wearing diapers, Bloomberg reported.
The section also advises that cabin crew wear "medical masks, double-layer disposable medical gloves, goggles, disposable hats, disposable protective clothing, and disposable shoe covers."
Additional advice for airplane safety includes dividing the cabin with disposable curtains into a "clean area, buffer zone, passenger sitting area, and quarantine area."
The last three rows on a plane should be designated as an emergency quarantine zone, the CAAC said.
Airplane bathroom safety has been a hot topic since the pandemic started. In June, the International Civil Aviation Organization (ICAO) suggested that toilet access should be limited on flights, and passengers and cabin crew should use separate bathrooms, the BBC reported.
Some airlines have even begun implementing inventive new measures to decrease the risk of the virus spreading in bathrooms.
Japanese airline ANA announced earlier this year that they were testing out a new hands-free bathroom door, CNN reported, that passengers could open with their elbow or forearm. And Boeing successfully secured a patent on a self-cleaning bathroom that would use UV light to clean 99.9 percent of germs after every bathroom use.
The new measures come as airlines around the world scramble to ramp up efforts to ensure customers that air travel is safe.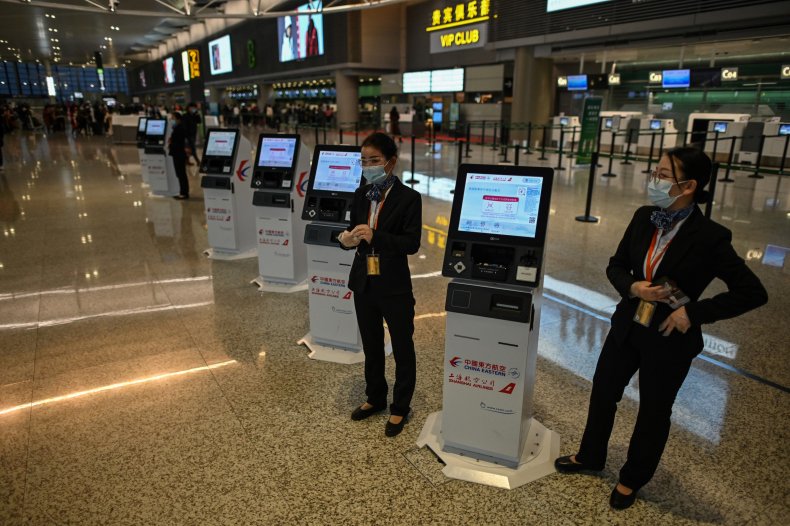 China's aviation industry was hit hard by the coronavirus pandemic early on, after the country issued strict lockdowns, pausing both domestic and international travel.
But this summer, BBC News reported that domestic flights in Chinese airports reached 86 percent of 2019 levels, signifying a positive rebound for the market.
Nonetheless, experts predict global air travel will rebound slowly, with its volume unlikely to recover until 2023 or 2024.
For those traveling in the U.S., the Centers for Disease Control and Prevention (CDC) recommends that travelers wear a mask, get a flu shot, avoid close contact with others, and wash hands regularly.
But as coronavirus cases and death rates continue to rise, the CDC and health experts have warned Americans to avoid all unnecessary travel, especially for the upcoming Christmas holiday.
"The safest thing to do is to stay home," the CDC has repeatedly stated.