About 10 people have died and 23 remain trapped, Reuters reported, after an 80-room hotel in southeastern China that was being used to observe coronavirus patients or those recently in contact with the COVID-19 illness collapsed Saturday.
The Ministry of Emergency Management said as of Sunday that 48 people were rescued.
The Xinjia Express Hotel in Quanzhou collapsed around 7 p.m. local time Saturday, requiring emergency workers to rescue at least 34 people who were trapped inside the large "quarantine hotel," state media outlets reported. Licheng district authorities said about 70 people were inside either being treated or offering medical observance of potential coronavirus patients at the time of the building's collapse.
The five-story hotel, which Chinese health officials had converted into a temporary coronavirus quarantine center, had isolated dozens of potentially infected people for the past month.
An unidentified hotel employee told the Beijing Youth Daily publication that the owner of the building had recently conducted "foundation-related construction," but officials had no confirmed the exact cause of the collapse. Several agencies including the Office of the Work Safety Commission under the State Council sent employees to help find any more people still potentially trapped in the rubble as of 11:15 p.m. local time.
"I was just having dinner and I suddenly heard a loud bang and thought it was an explosion. It was not until I ran to my balcony that I saw that the entire hotel building had collapsed," a local man told Mnw.cn Saturday, joining several nearby residents and bystanders who said the collapse happened suddenly.
"After hearing the loud noise, I ran out of the store and could only saw the dust on the street. When the dust settled, I found the building had collapsed," an adjacent cake shop employee told the Caixin.com.
Pictures posted to social media Saturday afternoon by Quanzhou locals showed emergency workers scurrying and digging through the collapsed structure. The hotel opened in June 2018 and utilized rooms between the fourth and seventh floors, Beijing Youth Daily reported.
More than 147 firefighters and 26 emergency crews arrived at the scene in the wake of the collapse, according to the Ministry of Emergency Management.
Senior State Council officials are currently en route to Quanzhou, which is about 335 miles northeast of Hong Kong and off the Chinese mainland coast from Taiwan.
The exact number of people inside the building at the time of collapse is still unknown, authorities in the Lichen district told the South China Morning Post.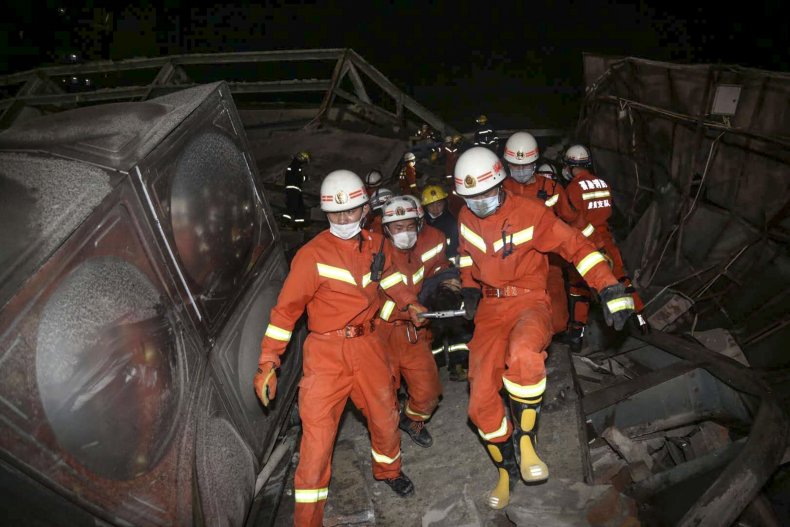 The coronavirus illness first emerged in the Wuhan province of China in December and has since spread to dozens of countries across the globe. China itself has reported more than 80,000 cases, with 99 new infected patients being confirmed on Saturday alone.
Updated March 8, 2020, 7:43 AM ET, with the number of fatalities.