Chinese Kindergarten Gruesomely Butchers Pig on Stage to Teach Children About Anatomy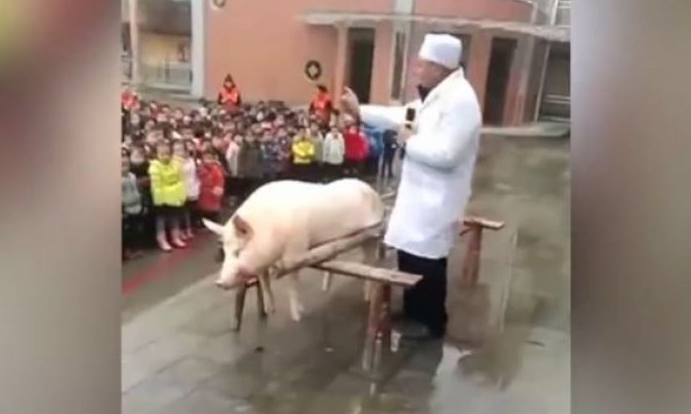 Updated | A Chinese teacher butchered a pig in front of an excited class of kintergarden students in Badong County, in the northern province of Hubei, as part of a lesson on anatomy.
The children at Fuwawa Kindergarten packed around an outdoor stafe as they watched the pig, which was tied to a wooden rack, being dissected.
In the footage posted to Pear Video, a China-based video platform, a man is shown holding up the innards and organs for the children to see, while wearing a white chef's hat and jacket.
After the demonstration, Huang Fenli, the kindergarten's principal explained to local media that pig slaughtering was a practised tradition in the area and not at all traumatic for the children, reported The Straits Times.
"We are guiding the children from the perspective of anatomy to learn about the structure and organs of a pig, so as to lay their foundation for biology in the future," she said.
She also claimed that all parents were advised of the event beforehand and that the school had not received any objections or complaints.
After being uploaded to social media on Sunday, the video went viral on Chinese video-sharing platform, Miaopai. More than 8.4 million people have viewed the post, and thousands have shared their thoughts in the comments section.
While several users expressed their concern for the children's mental wellbeing, an overwhelming majority came in defense of the school.
"Children who have been to the vegetable market have seen a similar scene. Do not think that children are so fragile. Children can understand that food and pets are still different," one user wrote.
Another user condoned the event, writing: "When I was a kid, I often helped to kill chickens and kill ducks, which was a must for housework."
After the demonstration, the pig was cooked and served to the children and their parents as part of the school's celebrations leading up to Chinese New Year.
Watch the footage posted to Pear Video below:
Correction: This story has been updated to correct the name of the province where the kindergarten is located to Hubei. The name of the county has also been corrected to Badong.