Chinese Laundry Detergent Maker Offers 'Apology' Over Racist Ad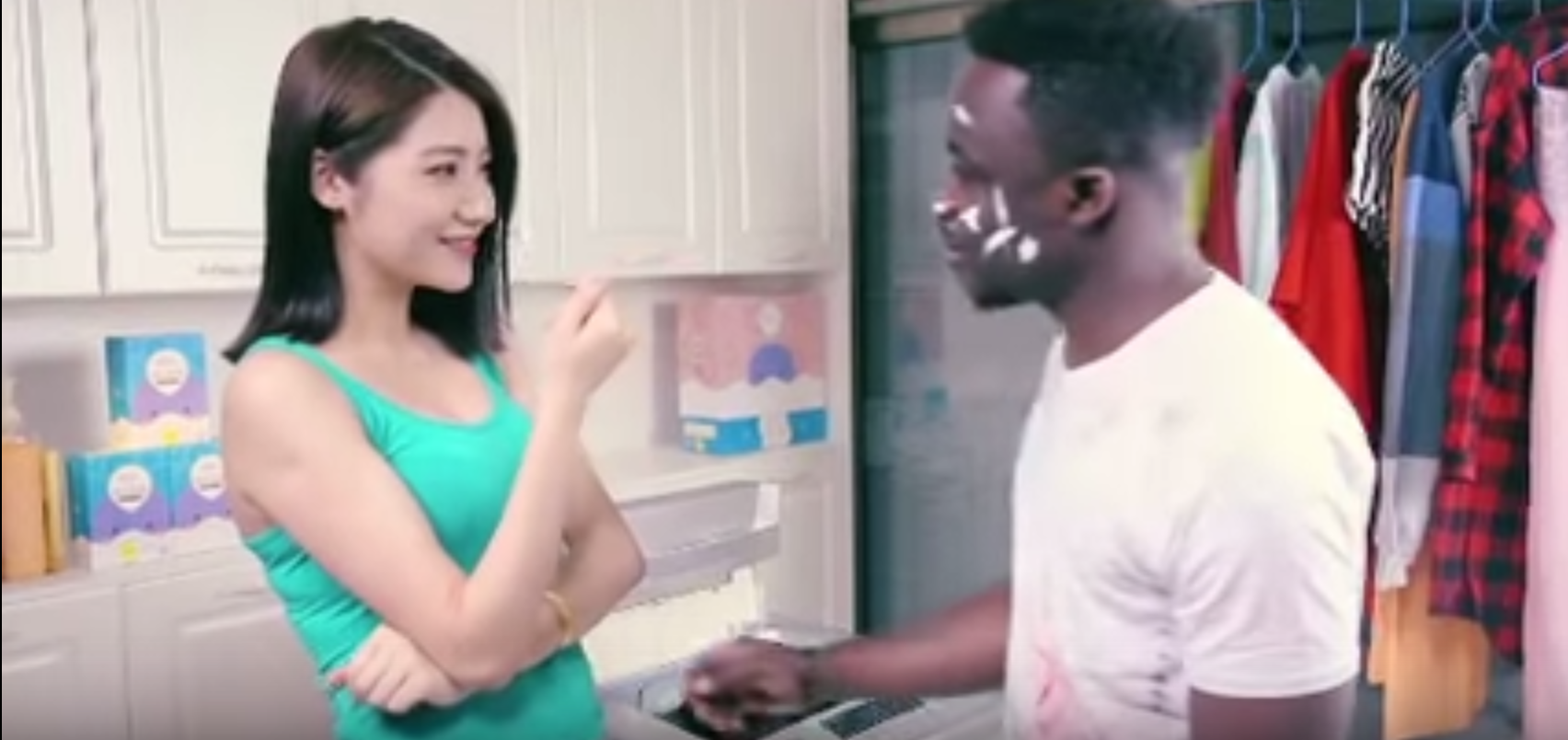 Americans have never been so opinionated about laundry detergent as when a Chinese advertisement began making the rounds this week, shocking viewers with what westerners perceive as blatant and unequivocal racism.
The company that makes the Qiaobi detergent featured in the ad, Shanghai Leishang Cosmetics Ltd. Co., released a statement Saturday saying it was sorry for the harm it caused, but to call it a full-fledged apology would require a bit of a leap.
The roughly 50-second ad depicts a young woman doing her laundry when a black man with paint stains on his white T-shirt and all over his face enters the room, twirling a paintbrush and stopping to whistle and wink at her. She beckons him closer, but just as he gets near enough to lean in for a kiss, she feeds him a detergent pod and stuffs him in the washer. The man who emerges—after some clamoring and commotion—is Asian and fair skinned, wearing a sparkling-clean white T-shirt.
Though the ad reportedly appeared on Chinese social media as early as March, criticism escalated this week as it spread outside of the country, with viewers tweeting sentiments like "I am disgusted," "WTF," "most racist thing ever," "this is what happens when no diversity exists" and, "I had high expectations for how racist this Chinese laundry detergent ad would be, and it massively exceeded them." Such comments were not limited to western social media; CNN reports that some users on the Chinese social media network Weibo also expressed outrage. One wrote, for example, ""My god… Don't Chinese marketing people get any education about race?"
Related: Watch: Chinese Detergent Ad Sparks Racist Storm
The ad has been posted on YouTube by multiple users, with one garnering more than 7.1 million views since Thursday. The commercial has been halted in China following this week's protests, the Associated Press reports. Though the Shanghai Leishang Cosmetics Ltd. Co. said it condemns racial discrimination, it put the onus on foreign media for making a fuss.
"We express regret that the ad should have caused a controversy," the company said in the statement released late Saturday, according to the AP. "But we will not shun responsibility for controversial content."
"We express our apology for the harm caused to the African people because of the spread of the ad and the over-amplification by the media," the company continued in its tepid, evasive "apology." "We sincerely hope the public and the media will not over-read it."
The Chinese newspaper The Global Times quoted a Mr. Wang from Leishang calling critics of the ad "too sensitive," the AP reports, while a Qiaobi official told the advertising publication Campaign Asia-Pacific that the commercial employed "a little artistic exaggeration" for "comic effect" and that the company had "no intention to stir up emotions or show disrespect to other nationalities."