Chinese Mall Installs 'Husband Storage' Pods For Men Who Simply Can't Take Spending Time With Their Wives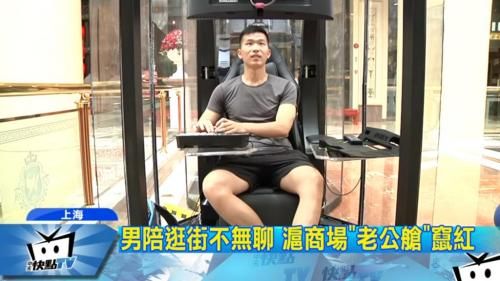 A mall in Shanghai has made the baffling decision to introduce "husband storage" facilities—glass pods where women can drop off their husbands while they go shopping.
There are a number of questions raised by these pods—mainly, If men really hate shopping with their wives so much, why couldn't they just go shopping at other stores?? I assume that the Global Harbor Mall, where these glass cylinders were installed and which contains 270,000 square meters of floor space, has plenty of other stores which are catered more toward men. There are even non-shopping alternatives, like admiring all the fresco decorations, or sitting on a bench by the food court and contemplating life. Why do men across the globe continue to complain about being "dragged" to the mall with their wives and waiting while she tries on 20 dresses when there is an easy solution to their boredom (and it's not dropping them off at daycare)?
On the bright side—for the husbands, at least—each individual pod at Global Harbor Mall contains a computer monitor and gamepad, so they can play retro video games to their hearts' content. According to Chinese newspaper The Paper, the games are currently free, but in a few months customers will be required to scan a QR code using their phones and pay a small fee for each playthrough. Also, the pods currently don't have ventilation or A/C, leading one man to be "drenched in sweat" after five minutes of gaming.
This isn't the first time that China has explored the concept of "husband storage" in malls; "husband cloakrooms" began springing up in 2010 and gained traction in 2014. They're essentially rest areas with seating, TV and even smoking sections. Not an entirely bad concept within a mall—everyone could use a break sometimes from the noise and chaos of capitalism—but why they're exclusively being advertised to bored men and not also to, I don't know, elderly people or women with toddlers, I'm not entirely sure. In the U.S., NPR reported on the phenomenon of "men at malls" in 2006 and found at least one store catered to men waiting for their partners, offering snacks and comfy chairs.
The Global Harbor pods have already become a meme on Weibo and other Chinese social media, with several users asking, "Why couldn't the guys just stay at home and play video games?" Why indeed.