Chinese Man Extradited to U.S. to Face Charges for Funding Turtle-Smuggling Ring
A Chinese national was extradited to the U.S. on Wednesday to face charges of money laundering in connection with an illegal turtle-smuggling ring, according to information released by the U.S. Department of Justice.
Kang Juntao of Hangzhou City, China was initially charged in February 2019. Between June 2017 and December 2018, Kang allegedly arranged for turtles belonging to five protected species to be purchased in the U.S. and shipped to Hong Kong. Once overseas, the turtles were allegedly sold on the black market. According to Kang's indictment, the turtles were worth approximately $2,250,000.
"Wildlife trafficking is a serious crime that impacts imperiled species at home and abroad," said Aurelia Skipwith, Director of the U.S. Fish and Wildlife Service in a Thursday statement.
Kang was in contact with a "special agent working in an undercover capacity" known in the indictment as Person One. Kang arranged for Person One to receive the turtles, which were protected by the Convention on International Trade in Endangered Species of Wild Fauna and Flora (CITES) treaty. Specific permits must be obtained to trade animals and plant life protected by the CITES treaty. Since the wildlife are already rare, a glut of commercial trade could potentially cause some species to go extinct. Kang did not apply for the proper permits, nor were the turtles of shipments declared to customs officers.
Using a PayPal account, Kang sent funds from China to Person One in New Jersey to fund the smuggling operation. Person One and other individuals were directed by Kang to send 1,500 turtles to Hong Kong. Smugglers used packages with false labels to ship the turtles overseas. According to the DOJ, the animals "were inhumanely bound with duct tape and placed in socks so as not to alert customs authorities."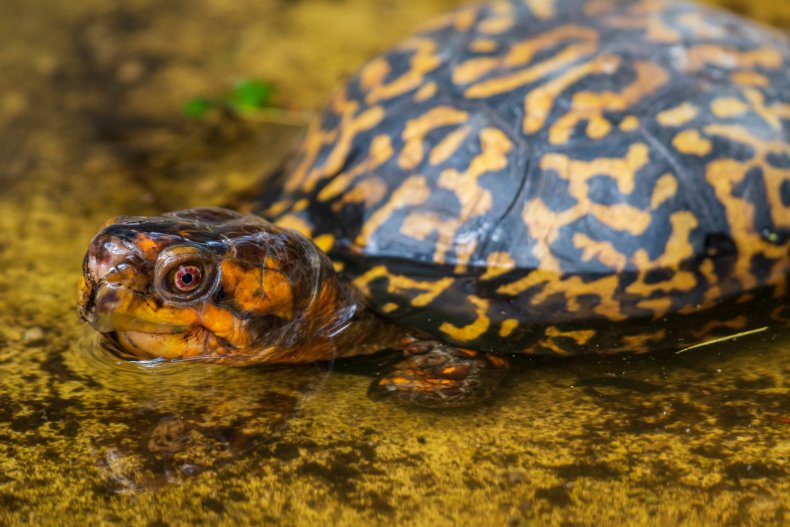 Authorities alleged that Kang had trafficked in the eastern box turtle, the Florida box turtle, the Gulf Coast box turtle, the spotted turtle and the wood turtle. All five species are protected under the CITES treaty.
Kang was arrested in Malaysia in January 2019 before his extradition to the U.S. on Wednesday. Newsweek reached out to CITES for comment.
According to the 2020 World Wildlife Crime Report, tortoises and freshwater turtles comprise 9 out of the top 10 discovered in seizures. However, the most widely trafficked animal in the world may be the pangolin.
An armored mammal, the pangolin's scales have been used for medicinal purposes in some countries. The meat of the pangolin is considered a delicacy in some cultures. Although international trade of pangolins of African and Asian pangolins is banned under the CITES treaty, more than 80 tons of illegally procured pangolin scales were seized in 2019.