Chinese Media Calls Rocket Debris Fears 'Anti-Intellectual' After Long March 5B Lands
Chinese media has lashed out at U.S. scientists and NASA for raising concerns about the Long March 5B rocket being out of control when it re-entered Earth's atmosphere on Saturday.
An op-ed published on Global Times' website on Sunday argued that it was "seriously anti-intellectual" to think the debris from the Chinese rocket was "especially risky," and accused U.S. media of publishing "smears" about the spacecraft.
The outlet aligned with the Chinese Communist Party also said U.S. "fussiness" over the rocket's descent was a "low ploy," but accepted that Beijing needed to "release more information actively" in future.
"During the nearly 60 years of space activities, the calculated fall of rocket debris has not caused casualties so far," Global Times wrote. "In addition, the risks of falling rocket debris are the same, no matter whose rocket it is. It is seriously anti-intellectual to claim that China's rocket debris is especially risky."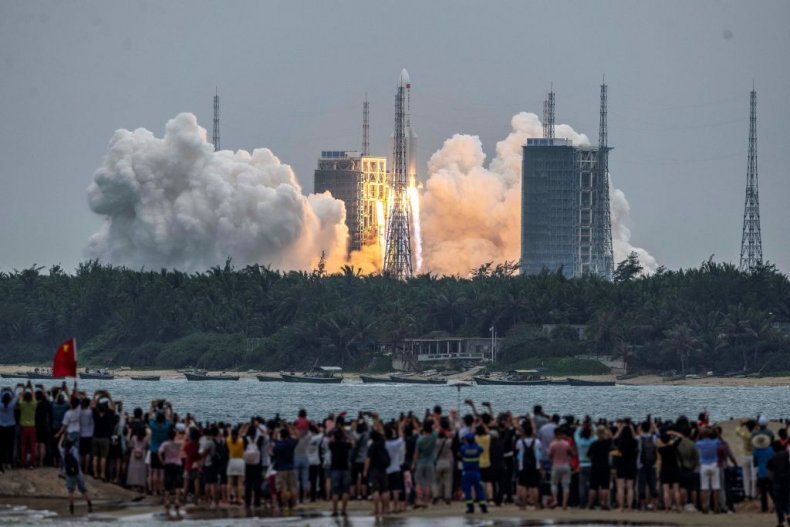 The communist party mouthpiece later added that Washington would "keep nitpicking and discrediting" Chinese efforts to construct a space station, and called on Beijing officials to "communicate with the global community in time and balance the mud thrown at Beijing by Washington as much as possible."
China's official space body announced on Sunday that the Long March 5B rocket landed in the Indian Ocean near the Maldives, and claimed that most of the debris from the spacecraft had burned up.
U.S. Space Command later confirmed that the rocket re-entered over the Arabian Peninsula on Saturday night, but said it was unknown if the debris from the aircraft struck land or water. "The exact location of the impact and the span of debris, both of which are unknown at this time, will not be released by U.S. Space Command," the unit added.
Chinese media lashed out at U.S. scientists and NASA after the space agency accused Beijing officials of failing to "meet responsible standards" and said it had a responsibility to minimize risks to people and property.
"Spacefaring nations must minimize the risks to people and property on Earth of re-entries of space objects and maximize transparency regarding those operations," NASA Administrator Sen. Bill Nelson said in a statement. "It is clear that China is failing to meet responsible standards regarding their space debris.
"It is critical that China and all spacefaring nations and commercial entities act responsibly and transparently in space to ensure the safety, stability, security, and long-term sustainability of outer space activities."
Newsweek contacted NASA for a response and further comment on the Long March 5B landing.