The Chinese military is expanding bomber operations and likely training for attacks on the U.S. and its allies, a new Pentagon report has suggested.
The document suggests China is rapidly expanding its military footprint, investing heavily to create a modern force capable of projection across surrounding maritime areas, Reuters reported.
Using an acronym for China's People's Liberation Army, the report explained, "Over the last three years, the PLA has rapidly expanded its overwater bomber operating areas, gaining experience in critical maritime regions and likely training for strikes against U.S. and allied targets."
It is not yet clear why China is expanding bomber operations, "beyond a demonstration of improved capabilities," the report added. PLA bombers made headlines in June when they conducted landing and take-off training on China's artificial South China Sea islands for the first time. The success of the exercises meant that the nuclear-capable B-6K aircraft can now reach all of Southeast Asia.
The South China Sea has been a significant area of contention for Washington and Beijing in recent years. The dispute is illustrative of how China's diplomatic and military clout is growing as the U.S. attempts to maintain its hegemony over East Asia.
The report estimated that Chinese military spending would top $240 billion by 2028, compared to its 2017 total of $190 billion. By comparison, the American military budget for 2019 will be $716 billion.
China's artificial islands have been built to enforce its territorial claims in the region, drawing condemnation from five neighbors with overlapping claims and from the U.S. The islands have been steadily fortified to create a network of military bases, giving Beijing effective control of the area. Several of the larger bases have been equipped to host China's most potent weapons, with 10,000-foot runways, hangars to house fighter planes, deepwater piers for warships and cutting edge electronic warfare systems.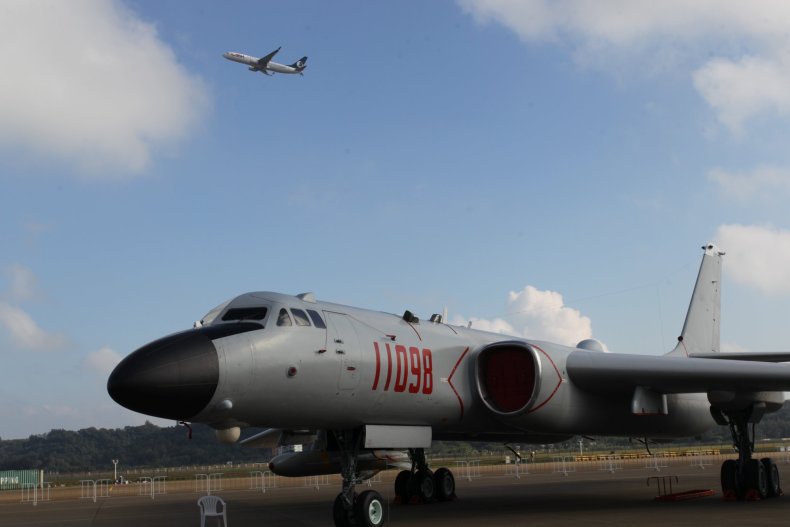 The U.S. has conducted numerous reconnaissance flights and "freedom of navigation" missions close to the islands to demonstrate its belief that the area still constitutes international waters, but Beijing has remained steadfast.
Relations have deteriorated to the point where the U.S. withdrew an invitation to China to take part in multinational naval exercises—the biennial June Rim of the Pacific war games. State Councilor Wang Yi, China's most senior diplomat, said the decision was "a very unconstructive move, nonconstructive move."
The new Pentagon report also suggests China is continuing its effort in space weapons development. Beijing is known to be working on anti-satellite technology, which would allow China to knock out communications and intelligence gathering systems in orbit in the event of a war, blinding an enemy. Chinese and Russian advances in this field have been given as a key reason for the establishment of President Donald Trump's controversial Space Force.
This year, military tensions have been overshadowed by a potential trade war that threatens to spin out of control. Chinese negotiators are planning to visit the U.S. this month in the latest attempt to avert a costly dispute.