Chinese Military Says It Should 'Strike Enemies By Surprise,' No Longer Just Self Defense
The Chinese military has expressed a desire to update its warfighting tactics to include offensive maneuvers, not just self-defense.
In an official social media commentary, the People's Liberation Army stressed the need to integrate ground movements with aerial capabilities, while pre-empting enemy moves with strikes of its own. The remarks came as Chinese President Xi Jinping sought to overhaul the physical and strategic structure of the world's largest standing armed forces.
"Proactive planning could break the passive situation and completely control how warfare should come out," the commentary read, as cited by the Hong Kong-based South China Morning Post.
"If a land war is fought according to pre-designed plans, troops … can strike enemies by surprise and make maximum use of weaponry, bringing the possibility of victory closer in leaps and bounds," it added.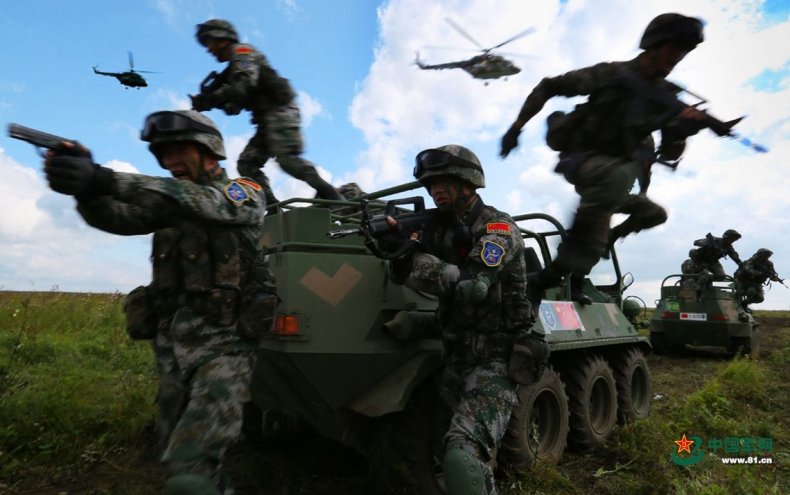 The article stressed the need to incorporate drone technology into military strategy and noted that China's expanding interests meant it would increasingly need to deal with the U.S. military, which maintains some 279 bases in the Asia-Pacific region. Washington has offered tacit military and diplomatic support to Taiwan, a self-ruling island nation over which Beijing claims sovereignty, and the U.S. has challenged China's sweeping claims over the South China Sea region, sometimes leading to tense encounters between the two.
In order to prepare the country for a potential conflict, Xi has urgently stressed the implementation of his efforts to reorganize the military. On Wednesday, he told a Central Military Commission meeting that carrying out these changes was "a major political responsibility," according to the official Xinhua News Agency. In addition to strategic modernization, Xi's vision for the military ranged from rooting out corruption to elevating personnel incomes.
During last year's 19th Communist Party Congress, Xi pledged to transform the People's Liberation Army—once an underground communist guerrilla front—into a world-class military by 2050. As tensions with the U.S. rise over their regional dispute and a global trade war, Xi has upped the ante of his bid to prepare the nation for combat.
Last month, the Chinese leader told his country's Southern Theater Command, which overlooks both Taiwan and the South China Sea, to "concentrate on preparing for war," according to the People's Liberation Army's official website. As the country's maritime forces conducted a historically large-scale display of power in the region in April, Xi made an appearance to state that in April that it was "urgent" to build a more powerful navy.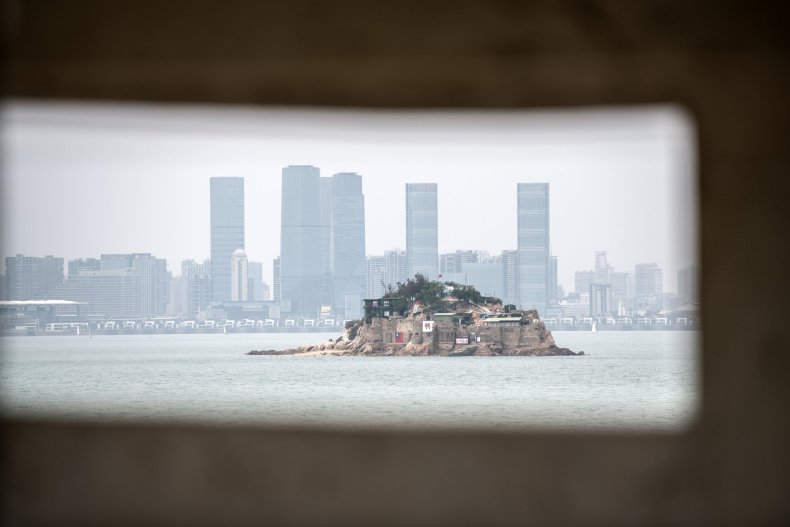 While the U.S. military enjoyed a significant lead in terms of strength over China and even Russia, a number of defense officials have voiced concern regarding what they viewed as a diminishing power gap between the Pentagon and its near-peer competitors. In particular, China's concentration on naval power prompted questions about the future of U.S. defense dominance.
China has also sought a closer military relationship with Russia and other regional powers, seeking to capitalize on its expanding global outlook. Xi's signature "One Belt, One Road" policy has set out to revolutionize the country's trade ties and economic footprint around the world, something that the U.S. has considered a threat to its own international influence.