A large group of Chinese people have recently donated to the far-right group the Proud Boys. The donors gave money in hopes that the gang will oppose "communism" in the United States.
People with Chinese surnames donated nearly $85,000 to the group's recent online fundraising campaign, USA Today reported. The campaign sought to pay the medical bills of members stabbed during clashes in Washington during December 2020.
The donors' information was hacked from a crowdfunding site called GiveSendGo. The information was then published on the whistleblower site Distributed Denial of Secrets (DDoS). In June 2020, DDoS published 270 gigabytes of internal U.S. police documents.
"You have to understand how we feel–we came from communist China and we managed to come here and we appreciate it here so much," Rebecca Kwan, a $500 Proud Boys donor told USA Today. "The Proud Boys are for Trump and they are fighting Antifa, and can you see anything good that Antifa did except destroy department stores and small businesses?"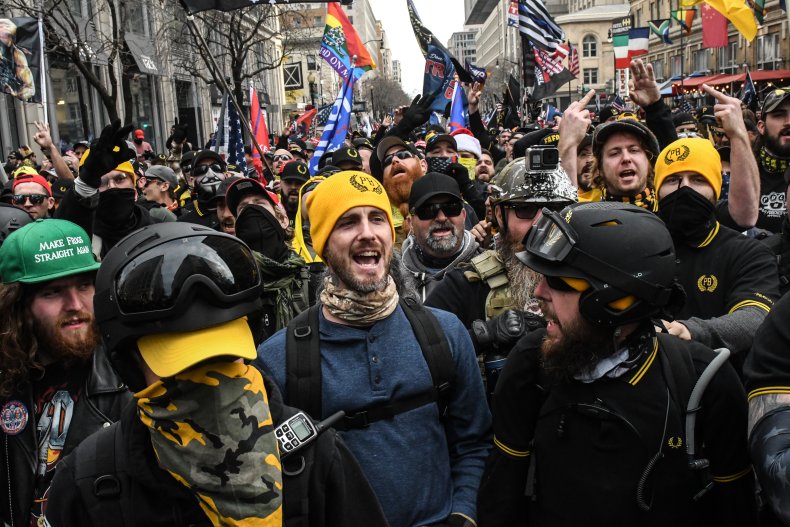 Various other Chinese donors that spoke with the aforementioned publication praised the Proud Boys as "heroes" and "patriots" despite the fact that at least 21 of its members have been arrested for participating in the January 6 insurrection at the Capitol.
Researchers said that the Chinese donations appear to have come from regular people rather than as the "coordinated inauthentic behavior" of automated bots or government agents. The donors could be radicalized Chinese expats or "deeply conservative" Chinese Americans who support the misogyny and racism of far-right movements, experts said.
The Chinese Communist Party also could've funneled money to the Proud Boys to help aid their extremism during this sensitive time in U.S. politics, Anna Puglisi, an expert on Chinese government espionage at Georgetown's Center for Security and Emerging Technology, told USA Today.
While Antifa (anti-fascist protesters) often demonstrate alongside Black Lives Matter (BLM) supporters during racial justice protests, communism isn't a part of either group's stated goals.
Nevertheless, the Proud Boys has positioned itself as an opponent of communism and "cultural Marxism" allegedly supported by Antifa, BLM and other progressive social movements. The Proud Boys, comparatively, are a self-described anti-feminist, Western chauvinist group.
Immigrants who have lived under communist regimes and those immigrants' descendants may oppose the communism that they experienced outside of the United States. However, the politics of such regimes often differ from what the Proud Boys refer to as communism, Jared Holt, a scholar of extremism at the Atlantic Council's Digital Forensic Research Lab, told USA Today.
"The Proud Boys are happy to label anything that is antithetical to their own causes, many of which are progressive, as 'communist,'" he said.
Proud Boys leader Enrique Tarrio has claimed his group is not a white supremacist organization. Nevertheless, former member Jason Kessler helped organize the 2017 Unite the Right rally in Charlottesville, Virginia which was attended by neo-Nazis and white supremacists.
Tarrio was arrested on January 4 for tearing down and burning a BLM banner from Asbury United Methodist Church, a historic church in Washington D.C. with a predominantly Black congregation. Tarrio bragged about his actions on social media, calling BLM "a racist movement that has terrorized the citizens of this country."
On February 3, Canada designated the Proud Boys as a terrorist organization, alongside ISIS and al-Qaeda.
Newsweek contacted the Organization of Chinese Americans for comment.