11 Chinese Nationals Found Hidden Inside Washing Machine, Furniture in a Moving Truck at Border
Eleven Chinese nationals have been found hiding inside furniture and appliances in a moving truck as part of a bid to be smuggled into the U.S. from Mexico, authorities said.
Officers from the U.S. Customs and Border Protection (CBP) thwarted the human smuggling attempt at the San Ysidro port of entry in San Diego, California, on Saturday, the agency said in a news release.
CBP said a 42-year-old U.S. citizen was stopped by officers after he arrived at the border crossing from Mexico driving a moving truck at around 5.25 p.m.
The officer conducting inspections at the border crossing referred the driver and the truck for another "more intensive" inspection, according to the CBP.
After a more thorough search of the contents on the truck, CBP officers discovered 11 Chinese nationals had been hiding in the truck. The CBP said officers freed some of them from a washing machine, a chest and a dresser.
The driver, who has not been identified, was taken into custody and later transported to the Metropolitan Correctional Center to await criminal proceedings.
An immigration hold was placed on the Chinese nationals for pending criminal and immigration proceedings, the CBP said.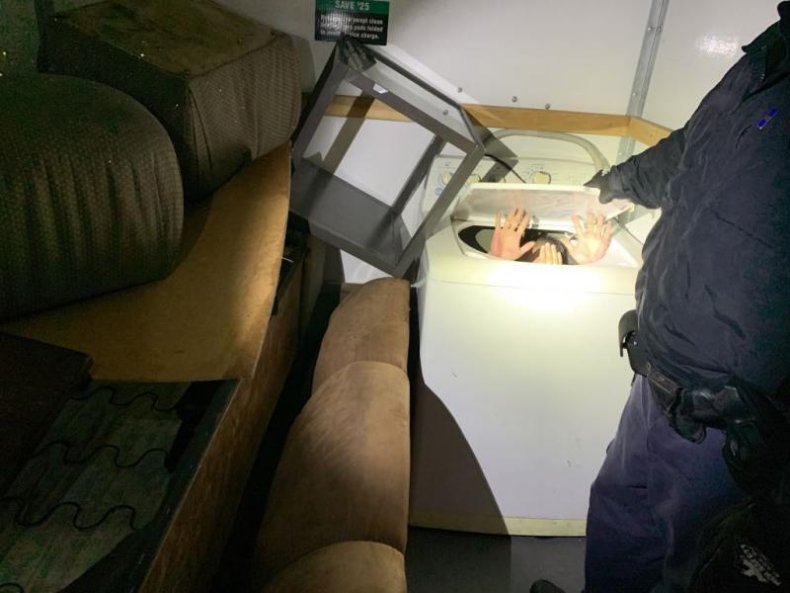 Peter Flores, CBP Director of Field Operations for San Diego, said the Chinese nationals were not seriously injured, but warned that people smuggling can have "deadly consequences."
"CBP cannot stress enough the dangers of smuggling people," he said. "These are human beings that smugglers subject to inhumane conditions that could have deadly consequences. Fortunately no one was seriously injured."
The incident comes a month after CBP officers at the San Ysidro port of entry found six Chinese nationals concealed in another moving truck, hiding behind a false wall.
Also last month, CBP said its officers thwarted another dangerous human smuggling attempt at the Calexico West port of entry in California when they found a Mexican teenager had been stuffed into the dashboard compartment of a vehicle.
The agency said the 17-year-old Mexico was found in a 2001 Ford Taurus driven by a 28-year-old man on November 25. CBP said they escorted the teenager to a secure location for health checks and further processing.
Record checks revealed the teenager had been apprehended in March attempting to illegally cross into the U.S. at the Otay Mesa port of entry in California.