Will Trump Turn On China? President's 'Unpredictability,' Convinces Beijing Time is Right to Build New Military Hovercraft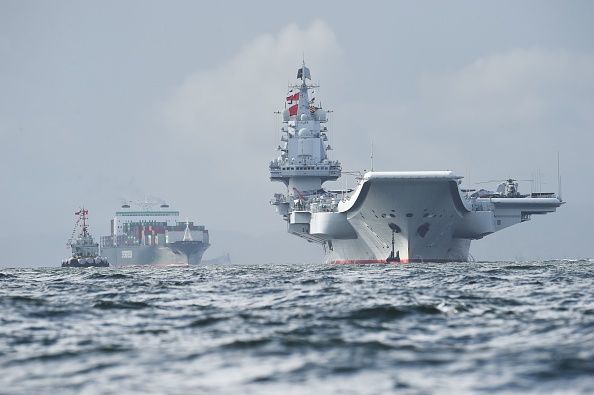 Satellite imagery of China's Jiangnan Shipyard near Shanghai showed China's continuing moves to boost its naval fleet—with the production of additional Yuyi-class air-cushioned landing craft—or hovercraft.
Janes's Defense Weekly reported that the five Type 726As appeared to be nearly completed, and could soon join Six Yuyi-class hovercraft believed to be already in service with the People's Liberation Army.
The Yuy-class hovercraft would perform the same function as the U.S. navy's hovercraft —transporting weapons systems, equipment, cargo and military personnel from ships to beaches.
China has displayed a new military assertiveness in recent years, building bases in parts of the South China Sea whose ownership is disputed by several nations, and reportedly planning a network of overseas naval and military bases.
In March, the People's Liberation Navy secured increased funding from China's defense budget, as Beijing seeks to check U.S. naval hegemony. In recent months China has launched its first home-built aircraft carrier and added new warships to its fleet.
It commissioned 18 ships in 2016, including missile destroyers, corvettes and guided missile frigates, according to state media. A week rarely passes without a new addition to the fleet being announced, with new naval chief Shen Jinlong appointed in January to lead the push.
Chinese vessels have been involved in stand-offs with Vietnamese and Fillipino ships, and in 2016 a Chinese naval vessel even confiscated a U.S, Navy underwater drone off the coast of the Philippines—but later agreed to return it.
So what is motivating China's bid to accelerate strengthening its navy? One Beijing-based Asian diplomat told Reuters in February that President Donald Trump's unpredictability was one factor.
"It's opportunity in crisis," said the diplomat of China's recent naval moves. "China fears Trump will turn on them eventually as he's so unpredictable and it's getting ready."
China's navy still lags behind that of the U.S. - which has 10 aircraft carriers to China's two and which Trump has pledged to strengthen further.
China boosted its overall defense budget by 7 percent ahead of the National People's Congress in Beijing in March, but observers believe the real figure China spends on its armed forces may be much higher. Over the last two decades, China increased its military budget by more than 10 percent year on year in all but 2016-2017 when it rose by 7 percent each year.