China's COVID Whistleblower Doctor First Reported Patients One Year Ago
Internet users in China are flooding the social media page of the late whistleblower doctor Li Wenliang, who was censured by Wuhan police after issuing what turned out to be the world's first COVID-19 warning one year ago today.
The 33-year-old ophthalmologist, who worked at Wuhan Central Hospital in central China's Hubei Province, was later infected with the virus himself and died in early February, before a Chinese government inquiry cleared his name.
On December 31, 2019, health authorities in Wuhan first alerted the World Health Organization about a cluster of cases of mysterious pneumonia. However, Li had already sounded the alarm the day before by warning friends and colleagues in a private chat group about seven hospital patients infected with severe acute respiratory syndrome (SARS).
His private message went viral, and days later Li was summoned and given an official reprimand by the Wuhan Public Security Bureau for "spreading false rumors online." He was made to sign a statement acknowledging his offense.
After Wuhan officials admitted to the severity of the outbreak and the WHO declared it a Public Health Emergency of International Concern on January 30, Li revealed on China's Twitter-like service Weibo that he was hospitalized in intensive care with a cough, fever and breathing difficulties—all symptoms of COVID-19.
"My parents are hospitalized, too," he wrote on January 31. "From my hospital room, I can still see all the support and encouragement netizens are giving me."
"Thank you for your support," he added. "Rest assured, I will cooperate with the treatment and be back as soon as possible!"
On February 1, Li made his final post, confirming his coronavirus diagnosis, before passing away from related complications six days later.
It was not until after the WHO had declared COVID-19 a pandemic in March that an official government inquiry exonerated Li and retracted his reprimand. The Chinese Communist Party issued a "solemn apology" to his family and honored him with the title of "martyr."
To date, more than 82 million coronavirus cases have been reported worldwide, including nearly 1.8 million deaths, 4,634 of which occurred in China, according to government figures.
Li's final Weibo post on February 1 has amassed more than 3.8 million likes and had already reached the website's post count limit of 1 million comments by the summer.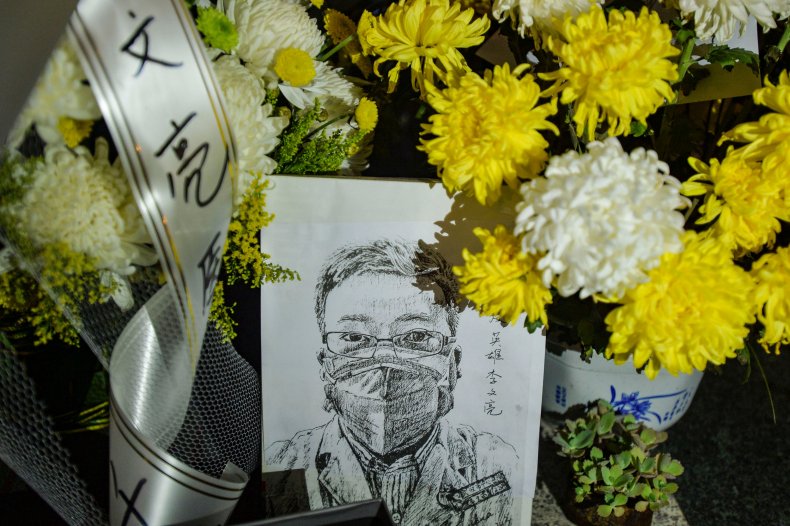 Social media users are paying tribute to Li, who is survived by a wife and two children, with hundreds to thousands of new posts every minute wishing him happy new year and describing him as a "hero."
"It's been a year. How are you doing over there, Doctor Li?" wrote one commenter. "We haven't forgotten about you. You will remain a hero in our hearts forever."
"If only we had listened to you sooner, life might have been a lot more normal," another Weibo user wrote.
China declared victory over the coronavirus in the spring but has been grappling with a surge of new locally transmitted cases this month.
Beijing initiated partial lockdowns of residential neighborhoods on Tuesday after the capital reported seven new cases of community transmission on top of so-called "imported" cases.
On Wednesday, the city reported one additional local case.
Also on Tuesday, a court in Shanghai sentenced Chinese journalist Zhang Zhan, 37, to four years in prison for her citizen reporting on the COVID-19 outbreak in Wuhan.
Zhang reported from the epicenter of the outbreak for three months, posting on websites such as Twitter and YouTube—both blocked in China—before reports revealed she had been arrested in May.
China's state-run media outlets have described Zhang's actions as "troublemaking."
In an editorial written by Hu Xijin, chief of Chinese Communist Party tabloid Global Times, Zhang's reporting was said to be "in conflict with China's social governance system."
Despite criticism from the likes of President Donald Trump for the way Beijing handled the early stages of the pandemic, the Chinese government maintains its methods in containing the virus have been a success throughout.