Chinese New Year 2021 Google Doodle Celebrates Year of the Ox
Today's Google Doodle marks the Lunar New Year, when hundreds of millions of people around the world will welcome the Year of the Ox.
February 12 is the first day of the Chinese lunar calendar, which begins the day after the first new moon appears between January 21 and February 20 each year.
The Year of the Ox, which follows the Year of the Rat, is traditionally associated with a slow and steady pace. The ox is believed to symbolize hard work, positivity and a fertile harvest.
In China, New Year celebrations last for 16 days and the first week is a public holiday. The Lunar New Year is also celebrated in other Asian countries such as South Korea, Thailand and Indonesia, as well as in Chinese communities worldwide, including the U.S. and U.K.
Celebrations are usually extravagant with fireworks, dancing and parades, but it's likely events will be subdued this year because of the COVID-19 pandemic. The holiday normally marks the world's busiest travel period, as hundreds of millions go home to spend time with their families.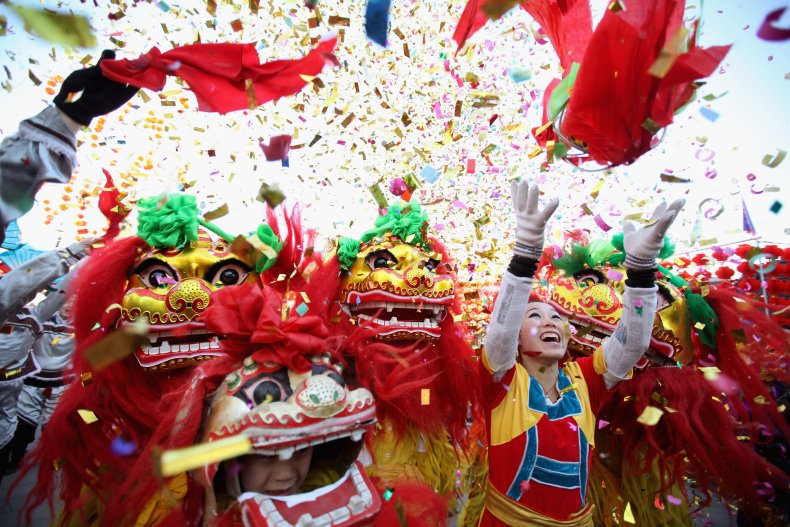 This year, many gatherings will be held online. In the U.S., the Chinese embassy announced virtual celebrations on its social media platforms and other media channels from February 6 to 11.
As depicted in today's Google Doodle, the Lunar New Year is often celebrated with lively lion dances. The lion symbolizes power and wisdom and the dance is performed to bring good fortune. Families across the world will be celebrating with traditional foods, including nian gao (new year cake) and tang yuan (sweet rice balls).
The Chinese calendar is made up of 12 months—alternating in length by 29 or 30 days—equivalent to 354 days.
The cycle of 12 animal zodiac signs derives from Chinese folklore. The animals follow one another in an established order and are repeated every 12 years: rat, ox, tiger, rabbit, dragon, snake, horse, sheep, monkey, rooster, dog and pig.
Each animal is associated with certain characteristics, which some believe are also exhibited by people born that year.
The last time the Year of the Ox was celebrated was in 2009. According to the Chinese zodiac, people born in a Year of the Ox are strong, fair, patient, reliable and determined, with strong values regarding family. They are also believed to be stubborn and opinionated.
Historical figures and celebrities born in previous Years of the Ox include Vincent van Gogh (1853), Adolf Hitler (1889), Charlie Chaplin (1889), Walt Disney (1901), Margaret Thatcher (1925), Bruce Springsteen (1949) and Barack Obama (1961).