In a small corner of Yunnan province, tucked away within the pristine, snow-capped Himalayan Mountains, there is a hidden paradise just below the 22,000-foot-tall Meili Mountain where perhaps one of China's finest wines is produced. It is as rich in ruby color as it is fresh with the taste of high-altitude, and every sip of the silky red wine is immersed in the dense and diverse culture surrounding the vines from whence it came.
It is Ao Yun—an impeccable blend of China-grown Cabernet Sauvignon and Cabernet Franc. It's superb for fine or casual dining, and it's good for celebrating too, making it a stellar option for the upcoming Chinese New Year festivities. The holiday, arriving on February 5, marks the Year of the Pig, which, in Chinese culture, represents wealth and good fortune. Considering Ao Yun's elegance and deep roots within the cultural fabric of Yunnan province, it makes quite the perfect option for celebrating a Lunar New Year expected to be rich in abundance.
Not to mention, its distinguished taste pairs well everything, especially the heaping of dumplings and fish normally consumed during Chinese New Year dinners and breakfasts.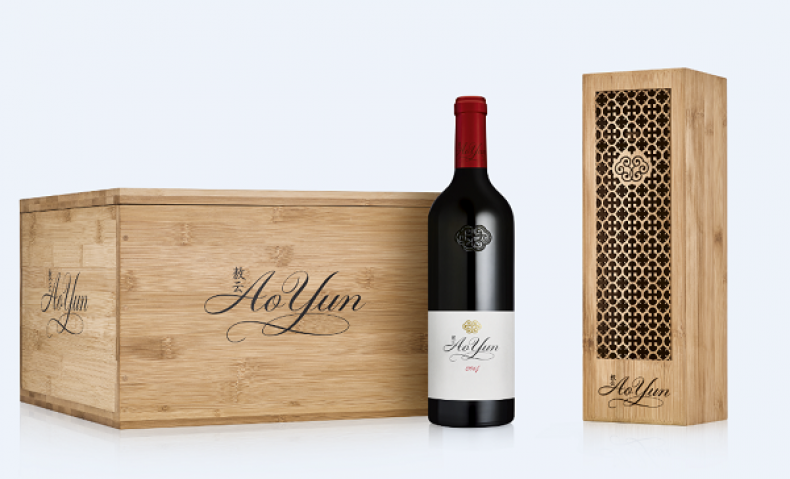 Deep in intense red color—which winemaker Maxence DuLou of Moët Hennessy Estates & Wines says is a result from the strong UV light the grapes are exposed to in the high-altitude region—Ao Yun is a fine wine buzzing with aromas of fresh cut cedarwood, cool mint and even a hint of cinnamon but loaded with fruity and mineral flavors on the palate, like peony pressed with black raspberry on a bed of graphite. Although leaning on the drier side, Ao Yun is particularly easy to drink and offers an elegant and polished finish that begs for a pour of another glass.
"There is no limit in the food pairing," DuLou told Newsweek during a tasting of Ao Yun's 2013 and 2014 vintages in New York City in early January. "We try to be creative pioneers, so I would say to be creative with the food [pairing] as well."
He noted the wine could also be enjoyed by just about anyone, but particularly those who aren't afraid to try something new and different.
"It's something very unique, so people that are pioneers, creatives, should taste this wine. People that are curious. It's another expression of Cabernet Sauvignon and Cabernet Franc. It's for those who want to discover," he said. "We are not selling 200 years of history. We are selling an adventure, and the people that are buying this wine are part of this adventure. They are pioneers with us."
With the potential for long-range aging—Ao Yun can be aged some 20-plus years—the wine could also make for one memorable experience for those hoping to reflect on this particular Year of the Pig later on down the line.
A relatively new wine initially developed by local villagers in 2000, DuLou and his team arrived in the region with hopes of creating a fine wine with a unique character in 2008. Although similar complexities to the fine wine produced in Bordeaux, France, Ao Yun has its own distinctive taste that expresses the sense of the place where it is grown. Located in the Adong, Xidang, Sinong and Shuori villages—a UNESCO World Heritage recognized region of Yunnan—Ao Yun vineyards are the only in the land, and the cultures that encapsulate the area are a vital component of the wine's exceptional taste.
"Even if you have the best climate and soil of the world, you could not make wine if you don't have people that know what they are doing and are managing the vineyard and the winemaking," DuLou said. "We had the chance to have a Tibetan farmer work with us [and he] understands the plant very well. We work with a lot of other minorities groups [within the villages] too. We've have some Hunan, which is the majority of Chinese, Tibetan, Nakhi, Buyei—we have all of these people and each one of them gives something different. So it's kind of a melting pot of culture. I'm the only occidental, and I am very happy to work with them."
About 120 families within the four villages have a hand in Ao Yun's production from the farming of the land to the harvesting of the grapes, bottling and so on. That makes the very people that live among vineyard one of the most crucial aspects of its creation simply because they understand the landscape, the terroir, environment and climate. DuLou, a Sauternais native with nearly 20 years of winemaking experience under his belt, said it's the people that also drive the refined uniqueness of Ao Yun.
"If we talk about culture I'd say that they are all different cultures, but they are all Chinese and they are all very creative and moving forward people. For me, that is the most important. They are not afraid of change, and we are changing things every day. Every day we are learning, and every day we are optimizing the process and improving the quality of the wine," he said.