Chinese Passenger Jet Skids Off Runway While Landing in Downpour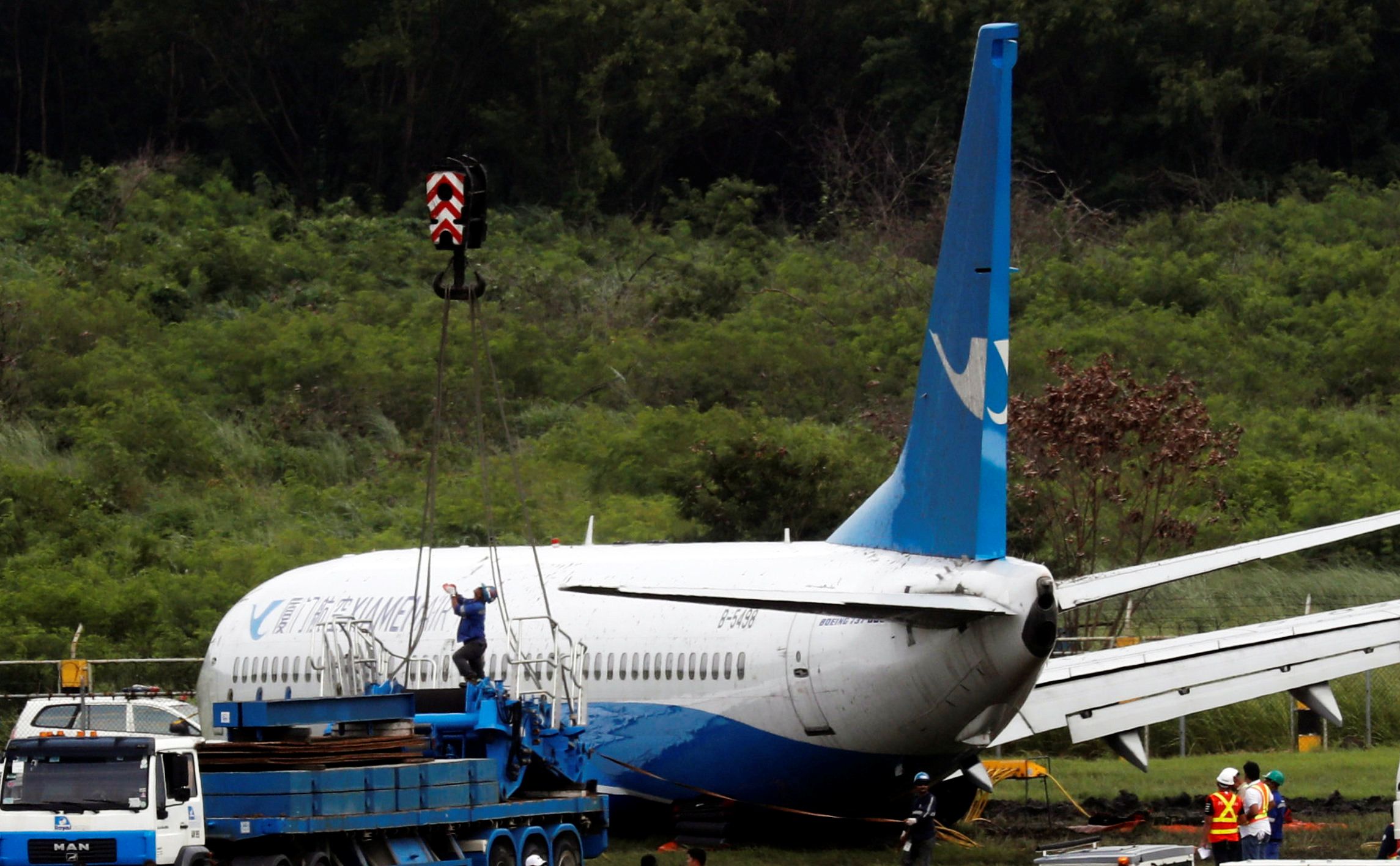 A Chinese passenger plane crashed at Manila's Ninoy Aquino International Airport early on Friday morning as it veered off the runway during a landing in a heavy downpour.
Xiamen Air's Boeing 737-800 skidded off the runway and came to a halt on a grassy area nearby at around 12:05 a.m. local time, reported Xinhua News Agency. Four people onboard the plane—out of a total of 157 passengers and eight crew—suffered "superficial scratches" while evacuating the plane, said Ed Monreal, the airport's general manager. No one was seriously injured.
In a statement posted to Weibo, a popular Chinese social media platform, Xiamen Airlines said that the "Xiamen Airlines Flight MF8667 from Xiamen to Manila experienced a runway excursion while landing at Manila Airport at 23:55 Beijing time. The crew immediately initiated emergency evacuation procedures."
Following the incident, the passengers were taken to a hotel near Terminal 1. "Everyone is safe, but they had to use the emergency chute because it was muddy," said Eric Apolonio, the Civil Aviation Authority of the Philippines spokesman.
On Friday morning, hours after the incident, the aircraft was still seen sitting on its belly near one of the airport's runways. Authorities confirmed they had already gone in to remove its cargo, along with its cockpit voice recorder and flight data recorder—two pieces of equipment that are necessary in determining the accident's cause.
"The Manila (airport control) tower told us that the aircraft tried to land once, aborted, then circled back. After landing the tower lost contact with it," civil aviation chief Jim Sydiongco said, reported Channel New Asia.
Tracking data on FlightAware.com showed that the plane attempted to land on the runway around 15 minutes prior to the accident, but instead, circled around to try again.
The Ninoy Aquino international Airport was partially shut down that morning. The airport's main runway was closed until around 4 p.m. A runway that facilitated the landing of smaller planes continued to operate throughout the incident.
Authorities have revealed that thousands of passengers' travel plans have been hindered after airlines were forced to cancel, reroute or delay their flights.
The plane was traveling from Xiamen, in southern China, to Manila. The journey took just over two and a half hours.
Chinese Passenger Jet Skids Off Runway While Landing in Downpour | World