Chinese Police Let Traffic Offenders off If They Confess Online and Get More than 20 Likes
Chinese traffic police in Dazhou, Sichuan Province have been letting people who commit minor moving violations off the hook if they confess on social media—and their post gets 20 or more likes.
The pilot scheme was launched on Monday and is currently only being enforced in the Tongchuan District, reported local news. If successful, it will be rolled out to other parts of Dazhou.
So far, 10 people have reportedly taken the opportunity to avoid a fine by confessing on Weibo, a popular microblogging platform. The Dazhou Traffic Police Brigade reposted screenshots of their confessions on its official social media account.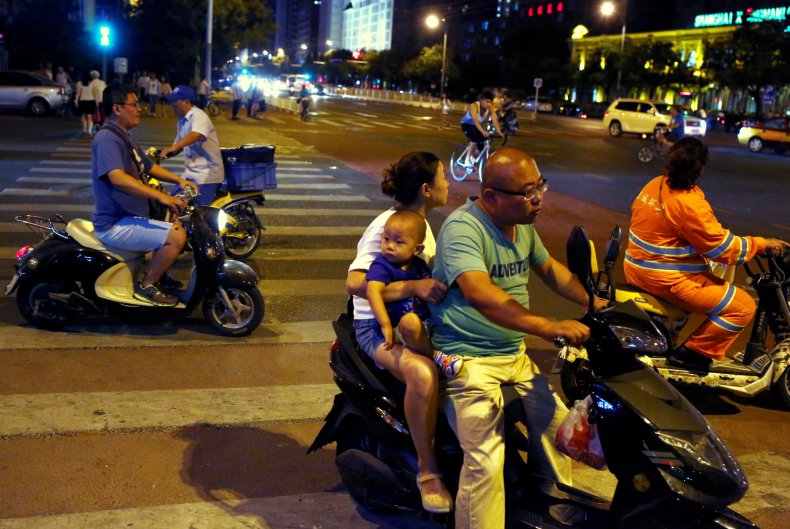 Newsweek subscription offers >
"I was seized by traffic police when driving my scooter in the wrong direction at an intersection," one driver wrote. "I have learned it was wrong after education by the traffic police officer. I would like to remind internet users to learn from my lesson and not to think it was OK to commit mistakes when driving a scooter."
The user's post had 28 likes by the time authorities had reposted it online.
The Dazhou Traffic Police Brigade took to Weibo on Tuesday to clarify that they were only letting off citizens who commit minor offences while walking, biking or scootering. The Brigade believes that the online confessions allow offenders to deeply reflect on mistakes, which could better prevent future violations.
Pedestrians, bicyclists and scooter drivers are constantly violating traffic rules and verbal warnings are not enough of a deterrent, an officer told local reporters, according to Beijing News.
Newsweek subscription offers >
"People are generally very interested in collecting 'likes' on social media. Self-exposure this way will bring more attention to road safety," the officer added.
In other parts of China, provincial authorities have implemented their own unconventional traffic schemes. Last month, Intellifusion, a Shenzhen-based AI company, claimed it was working on a system that would let authorities identify jaywalkers with facial recognition software before instantly fining them via text message.
In April 2017, Shenzhen Traffic Police installed facial recognition technology and huge LED screens at major intersections to shame and deter jaywalkers. The high-definition cameras capture photos of people illegally crossing the road before instantly processing their face through a database. Once the offender is identified, the LED screen displays their photo next to their family name and part of their government identification number for all to see.
Authorities said they identified over 13,930 offenders in the first 10 months since the system was installed at just one busy intersection alone.
Chinese Police Let Traffic Offenders off If They Confess Online and Get More than 20 Likes | World