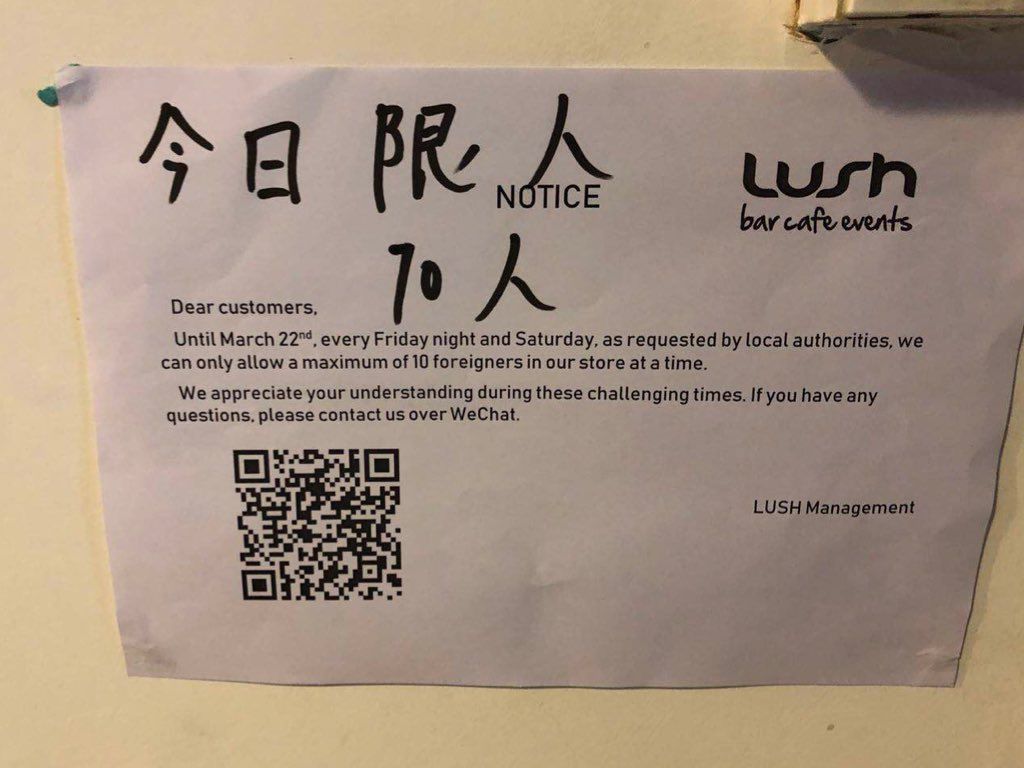 Chinese police have reportedly limited the number of foreigners that some restaurants in Wudaokou, Beijing's popular student district, can serve at any given time, as authorities boost security for the country's largest annual political event.
Authorities have told at least three restaurants in the city's Haidian District, home to Tsinghua University and Peking University, to limit foreign customers to a maximum of 10 at a time on weekends until the end of the National People's Congress, reported the South China Morning Post.
"Until March 22, every Friday night and Saturday, as requested by local authorities, we can only allow a maximum of 10 foreigners in our store at a time," a notice at Pyro Pizza said. "We appreciate your understanding during these challenging times."
A worker at the restaurant, who has not been named, told the Post that authorities made the request in person late last week. "We were told that if we did not comply, our business would be shut down immediately," she said.
However, a representative at the Zhongguancun police station denied the existence of such an order and said that though security has been increased, there have been no limits imposed on foreigners in restaurants.
"We've never issued such a notice. We merely told bars and restaurants to control the total number of customers during peak hours, without making any specific requirements," the representative said.
Employees at both Pyro Pizza and Lush Cafe in Wudaokou—two restaurants that were reportedly subject to the crackdown—told Newsweek they had never heard of the limit and have been letting the usual number of foreigners into their establishments. Both restaurants do not serve Chinese cuisine and claim a large majority of their clientele are foreign students who reside in the area.
Brian Hart, a former student at Peking University, who has visited Lush Cafe where one of the notices were posted, said that an image of the notice has been circulating among his expat friends, which has lead to various discussions and jokes.
"I think many international students and expats aren't that surprised by these kinds of things. We usually just find it pretty funny. It's not really representative of my experience at most places in China," he told Newsweek.
One meme posted to Twitter features a picture of a Chinese police squad storming out of a van toward a nearby shop, with the caption: "When there are 11 foreigners in Pyro Pizza."
The 2018 National People's Congress opened on March 5 at the Great Hall of the People in Beijing. Over 3,000 delegates are attending for a period of usually two weeks. On Sunday, the congress voted almost unanimously to approve an amendment to the Constitution to abolish the two-term limit and effectively allow President Xi Jinping to stay in power indefinitely.
Although criticisms of the move have been heavily censored in Beijing, Chinese students in Western universities worldwide have stood together to voice their dissent to China's return to the one-man-rule system that governed during the reign of Communist leader Mao Zedong.