Chinese Police Using Facial-Recognition Sunglasses to Instantly Find Criminals in Crowds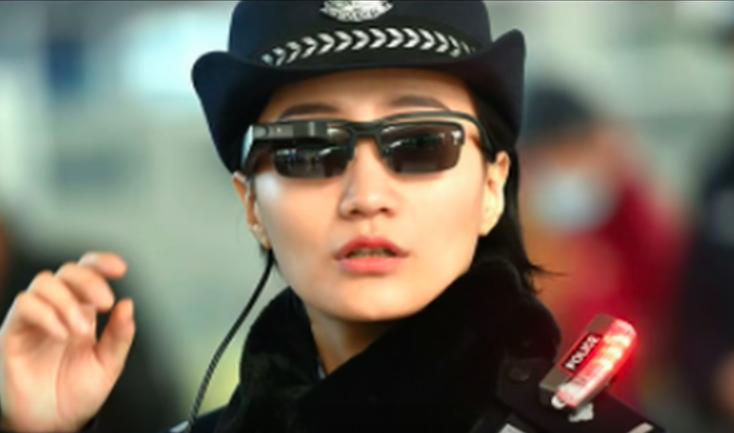 The Chinese government is equipping its police with real-time facial-recognition sunglasses to instantly locate criminals in crowds.
The glasses are capable of recognizing one specific face surrounded by up to 10,000 others in 100 milliseconds, The Wall Street Journal reported, citing data from LLVision Technology Co., the Beijing-based developer of the technology.
The glasses were trialed by authorities at Zhengzhou East railway station, in Henan province, over the Chinese New Year travel period to "prevent security risks, hunt down fugitives and spot fake IDs," reported local media.
Over the first five days of February, the face-scanning glasses helped identify seven fugitives and 26 people who were traveling with fraudulent IDs, according to China's official state newspaper People's Daily.
Officers patrolled the four entrances of the station, one of the country's biggest transportation hubs. The glasses, which were connected to an internal police database through an app, spotted seven alleged criminals connected with crimes ranging from human trafficking to hit-and-runs.
The facial-recognition sunglasses are the latest in Beijing's push to monitor its citizens and have prompted fears that the ruling Communist Party will utilize the technology to control political dissidents and ethnic minorities.
"The potential to give individual police officers facial-recognition technology in sunglasses could eventually make China's surveillance state all the more ubiquitous," Amnesty International researcher William Nee told The Wall Street Journal.
China currently boasts the largest monitoring system in the world, with approximately 176 million CCTV cameras in public and private hands. According to The Wall Street Journal, the country is set to add another 450 million cameras by 2020. The U.S., by comparison, has around 50 million.
Last December, Chinese authorities located and captured BBC reporter John Sudworth in just seven minutes, in a stunt demonstrating the power and effectiveness of the government's surveillance systems.
CCTV is also used in China by private organizations to monitor workers and mine human data, a practice that has attracted criticism from activists as an abuse of human rights.
China has no enforceable protections for privacy rights against state surveillance, reported Human Rights Watch (HRW).
"Until China has meaningful privacy rights and an accountable police force, the government should immediately cease these efforts," said Sophie Richardson, China director at HRW.