Chinese Pollution Data Censored During Climate Change Summit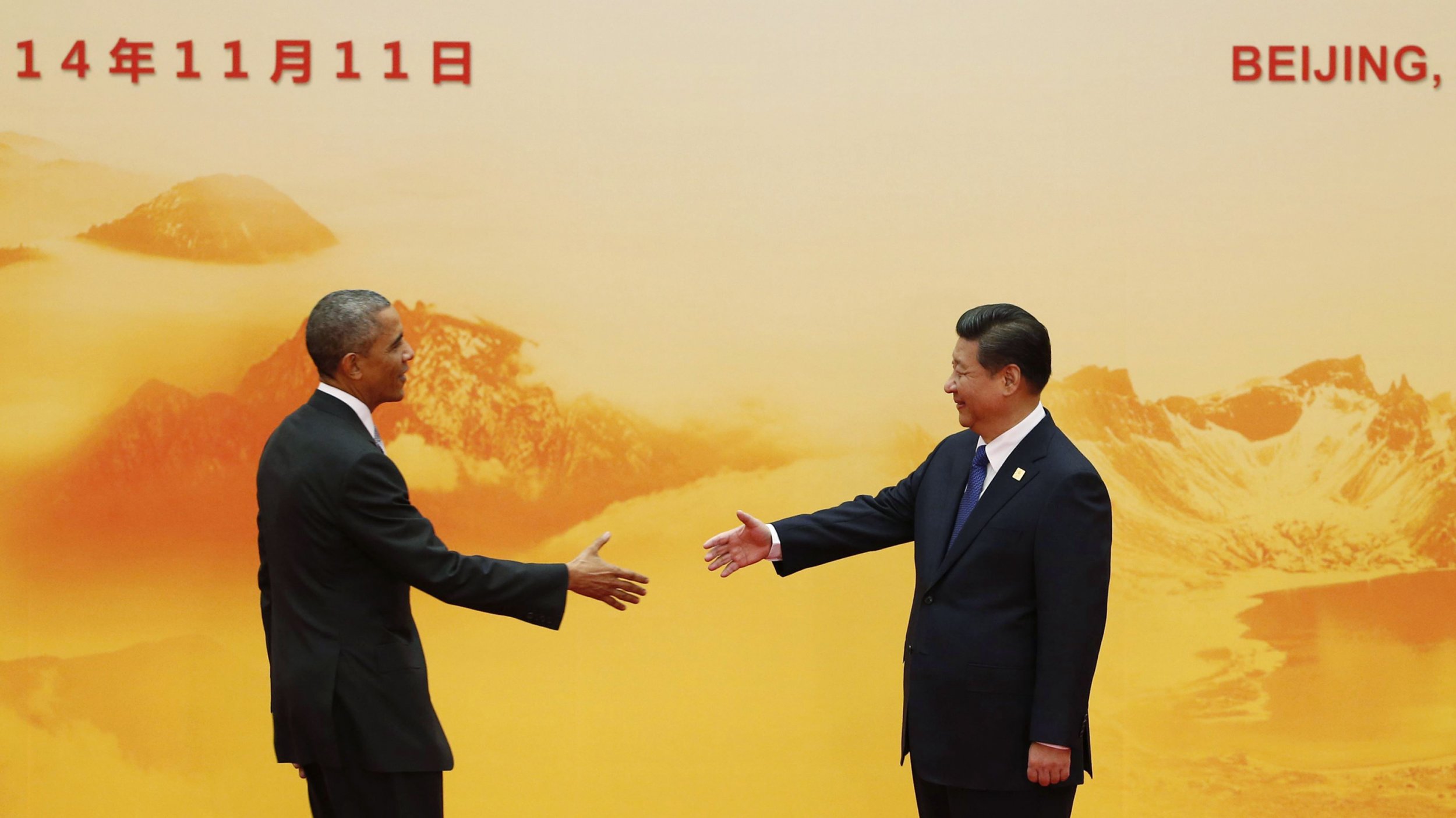 As China and the U.S. agree a landmark deal on global carbon emissions, it has emerged that Chinese authorities have ordered air pollution monitoring websites and apps to remove American data on emissions.
The agreement struck by Barack Obama and his counterpart Xi Jingping in Beijing sees China, the world's biggest emitter of CO2, agreeing to limit emissions for the first time. But authorities in Beijing were simultaneously suppressing data from the U.S. embassy that many Chinese citizens use to keep track of the level of pollution in the air outside, leaving them to rely on the much less reliable - and typically lower - official statistics.
Air pollution is a persistent issue for major Chinese cities like Beijing, Shanghai and Hong Kong, whose citizens are disproportionately prone to asthma and other respiratory illnesses. Several major cities have worryingly high levels of PM2.5, fine particles which pose a great risk to human health, increasing the likelihood of cancer and premature death.
Many city residents receive updates on the levels of air pollution and the presence of harmful particulates from websites and apps which display official state data alongside American statistics. The latter are widely considered to be more reliable.
However, in the last few days, several monitoring websites have taken down U.S. air pollution data, citing intervention from Beijing officials.
Beijing-air.com, a website which usually hosts U.S. and Chinese pollution data in tandem, posted a statement saying it had "received instructions from authorities saying that this month's air quality readings will be based only on what is released by the Beijing environmental protection bureau." The U.S. data column has not been updated since.
Meanwhile, a spokesperson for Fresh-Ideas Studio, the company responsible for one pollution monitoring app, told AFP on Tuesday that Beijing officials had demanded U.S. embassy data be erased from their software.
"We cannot continue to show air quality data released by the U.S. embassy in our software," a representative of Fresh-Ideas Studio wrote in an e-mail to users. "We hope you can understand."
Such moves form part of a long-running campaign by Chinese officials to present their polluted capital city in a better light during moments of international exposure. Prior to the 2008 Beijing Olympics, authorities were forced to roll out a drastic anti-smog plan in order to make the city acceptable to foreign visitors. The recent banning of U.S. pollution data has been widely attributed to the failure of government efforts to control smog ahead of this month's APEC conference at which the climate deal was negotiated.
The agreement sees China agreeing to cap its greenhouse gas emissions by 2030 or earlier. Until now China has only ever committed to slow the rate of growth of its emissions. The U.S. committed to reduce its emissions by 26-28% from 2005 levels by 2025.
The agreement opens the way to a global deal on greenhouse gas emissions at a United Nations conference in Paris next year.