China's Xi Jinping Imagined a Scenario Where He Wouldn't Be a Communist
Chinese leader Xi Jinping reportedly envisioned a scenario where he would not be a communist, according to a posthumous memoir by late Japanese Prime Minister Shinzo Abe, underscoring the pragmatic nature Abe said informed the Chinese Communist Party leader's posture on the world stage.
According to a preview of the book published by Nikkei Asia the morning of its release, Xi once told Abe that he "would not join the American Communist Party if he were born in the U.S., and would instead be part of the Democratic or Republican party," marking what Abe called the sign of a "fierce realist."
Newsweek has reached out to China's Ministry of Foreign Affairs for comment. But if anything, the admission could reflect Xi's ability to rise within the paradigm of his surroundings as a man who once declared "only socialism can save China."
The son of Xi Zhongxun—a Chinese communist revolutionary among the ranks of the first generation of political officials in the People's Republic of China—Xi was sired within the party's elite, securing his first position in the party at the age of 26 that would lead to a lifelong career in China's politics.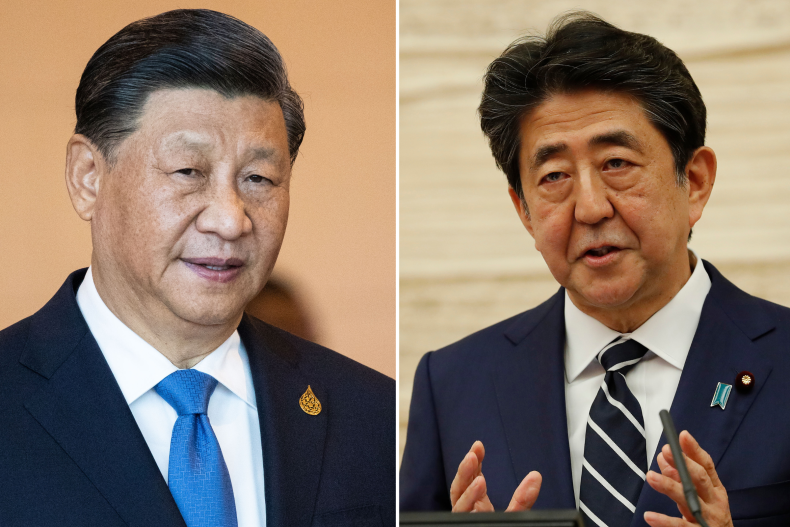 By the time he was appointed governor of the Fujian Province in 1999, he had already served the party in two provinces, and by the time he was elected leader of the party and its president, he had achieved a doctorate in law and Marxist theory that would be put to use in administrative roles in two other regions.
Since his 2012 election as general secretary of the Chinese Communist Party, Xi has only sought to consolidate his power in achieving the socialist-driven vision of prosperity and glory he initially envisioned under his "Chinese Dream" initiative laid out at the start of his administration.
Xi's theories of governance and social order have since become an integral piece of the party's constitution amid a larger push by his government urging the country's citizenry to forgo the excesses of capitalism and the cultural influences of the West in favor of a unified Chinese identity.
Chinese Communist Party officials openly rebuked the United States-led Summit for Democracy in 2021, for example, with figures like Jiang Jinquan, director of the policy research office of the party's central committee, criticizing the American system of government as a "game of the rich" that has disillusioned those it purports to serve.
"Democracy is not an exclusive patent of Western countries and even less should it be defined or dictated by Western countries," Jiang said at the time, according to official reports.
However, Chinese leaders' adherence to the tenets of communism, some have opined, may be more a function of pragmatic leadership than mere ideology.
From the late 20th century into today, China has sought to strengthen its sense of national identity meant to serve as a bulwark to the influences of the West. In that working understanding, experts say, the communist system of government established under Mao Zedong in the 20th century has remained a unifying thread, even as the modernized country has begun to embrace the contradictions of capitalism.
"The PRC leadership has chosen a national cultural identity course that attempts to put all major factors, past and present, no matter how disparate they may be, into one bundle, and to declare them to be comprehensively, coherently Chinese no matter what," the late Charles Hill, a career minister in the U.S. Foreign Service and a former research fellow at the Hoover Institution, wrote at the start of Xi's term in 2012.
"Communism is capitalism; capitalism is Communism. The result is what Mao Zhedong would call a fatal 'antagonistic contradiction,'" Hill wrote.
Still, the assessment of Xi as the "fierce realist" Abe described potentially has limits—particularly as he has pursued numerous avenues to consolidate power.
Last year, Xi achieved an unprecedented third term as head of the party, all but establishing him as the most influential leader of the country since Mao. However, some argued that the show of force actually exposed his vulnerability, leaving Xi and Xi alone as the person accountable for his administration's policies.
"Xi's biggest risk—and his greatest weakness as a strategist—is that he has put himself on the firing line," Ian Johnson, the Stephen A. Schwarzman senior fellow for China studies at the Council on Foreign Relations, wrote in a blog post for the think tank after Xi's reelection last year. "When things went badly for Mao or Deng, they could jettison underlings who were nominally in charge of various issues. Xi, however, has constructed a system that makes him look strong in the short run but leaves him no place to hide."
He has also worked hard to contain dissent in the country against his regime, imposing harsh crackdowns on free speech across China some claim run counter to public opinion polling conducted by the Center for Strategic and International Studies last year that lend nuance to the Chinese public's attitudes toward socialism.
"The Chinese populace has a wide range of views that are less vulnerable to state propaganda than most expect," CSIS analysts Ilaria Mazzocco and Scott Kennedy wrote in an overview of the polling data.
"Taking a closer look at current views, it is clear that Chinese citizens have complex yet coherent views that often differ significantly from official government ideological frameworks and policy," they wrote.
"In a word, Xi Jinping faces genuine popular domestic political challenges. There is what may be called a 'silent liberal majority' that complicates the main thrust of his own approach and is more aligned with the integrationist path the United States and others have hoped for," Mazzocco and Kennedy added.