Chinese Residents of Guangzhou Largely Prevented from Leaving Amid Delta COVID Outbreak
An outbreak of COVID-19 tearing through Guangzhou, China, in recent days has prompted officials to quarantine residents, who cannot leave unless they can demonstrate emergency need.
Even those permitted to leave must test negative for the virus within 48 hours of departure, according to new rules issued by the local government that took effect Monday. Anyone seeking to leave the surrounding province of Guangdong must also adhere to the guidelines.
Local officials are also restricting indoor dining, conducting mass testing and banning residents in virus hotspots from leaving their homes. Two districts in the city of 18 million are completely closed off. The variant causing the Guangzhou outbreak has been identified as the delta variant that originated in India and is said to be more infectious due to delayed symptoms.
Guangzhou reported another four locally transmitted cases in the 24 hours leading to Monday morning, bringing the total to more than 100 since May 21. The city has yet to report any deaths from the latest outbreak.
For more reporting from the Associated Press, see below.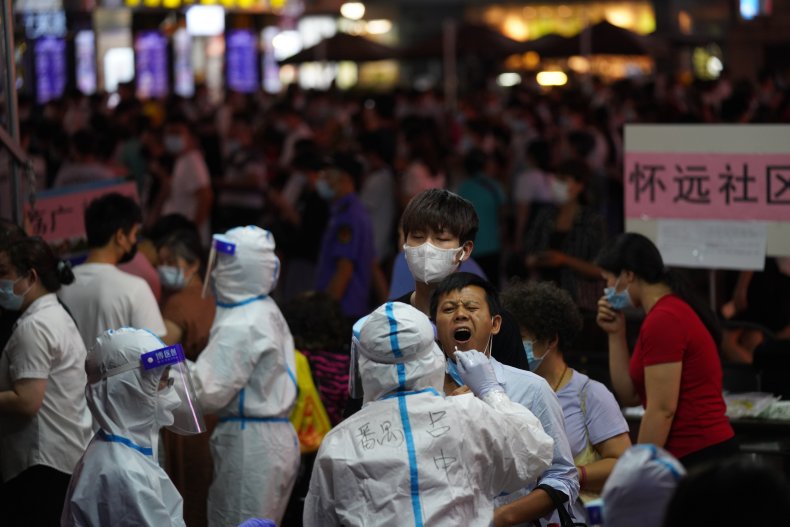 Okinawa is closing schools
Japan's southernmost prefecture of Okinawa is closing many schools to contain the nation's worst per capita rate of coronavirus infections.
Gov. Denny Tamaki said closing schools could curb the spread since roughly one in three cases were among people younger than 30.
Primary and secondary schools in 22 hotspot towns on Okinawa will be closed until June 20. The island and nine other regions of Japan are under a state of emergency, but Okinawa's infections have been near record-highs and hospital beds are occupied at almost full capacity.
Okinawa's health experts have indicated that an influx of tourists during the early May holiday week triggered the surge, which raises further concerns about how the Tokyo Olympics might affect Japan's virus situation. The Games are all but certain to be held, despite discouragement from medical professionals and opposition by the Japanese public.
Across Japan, daily infections stand between 2,000 and 3,000 in the past few days, down from the recent peak of over 7,000 in early May. More than 13,000 have died of COVID-19 in the country, three-quarters of which happened this year.
Japan has so far fully vaccinated about 4 million people or 3% of its population.
AstraZeneca rollout in Thailand
Health authorities in Thailand began their much-anticipated mass rollout of locally produced AstraZeneca vaccines on Monday, but it appeared that supplies were falling short of demand.
Hospitals have been posting notices for several days that some scheduled appointments would be delayed, adding to existing public skepticism about how many doses Siam Bioscience would be able to produce each month.
The government has said it will produce 6 million doses in June, then 10 million doses each month from July to November, and 5 million doses in December.
"The vaccines will be delivered as planned," Prime Minister Prayuth Chan-ocha told reporters Monday morning as he visited a vaccination station at an indoor stadium in the capital, Bangkok.
Prayuth's government has come under fierce criticism for failure to secure timely and sufficient vaccine supplies. It also face criticism for its reliance on Siam Bioscience, which is owned by the country's king and had no previous experience in vaccine production.
Prayuth said the Health Ministry had confirmed that vaccinations could begin Monday in every province.
India's phased lockdown easing
Businesses in two of India's largest cities were reopening Monday as part of a phased easing of lockdown measures in several states now that the number of new coronavirus infections in India is on a steady decline.
India's capital allowed businesses and shops to reopen with limited hours and the Delhi Metro, which serves New Delhi and adjoining areas, also resumed operations at 50% capacity. Last week, authorities in the capital allowed some manufacturing and construction activity to resume.
"Now the corona situation is under control. The economy must be brought back on track," New Delhi's chief minister, Arvind Kejriwal, told reporters on Sunday.
The strict lockdown measures had been in place since April at the start of a devastating surge in infections that lasted well into May and overwhelmed health care facilities in many parts of the country.
Some health experts fear the restrictions are being eased too soon and there are concerns that the virus is still spreading unchecked through India's villages, where testing and medical care are limited.
Kejriwal warned that any new surge in infections could be more severe and said the administration will build new oxygen-production facilities and expand the capacity of intensive-care units.
Newsweek, in partnership with NewsGuard, is dedicated to providing accurate and verifiable vaccine and health information. With NewsGuard's HealthGuard browser extension, users can verify if a website is a trustworthy source of health information. Visit the Newsweek VaxFacts website to learn more and to download the HealthGuard browser extension.