Chinese Security Guards Beat South Korean Journalists in Shocking Footage From Beijing Trade Fair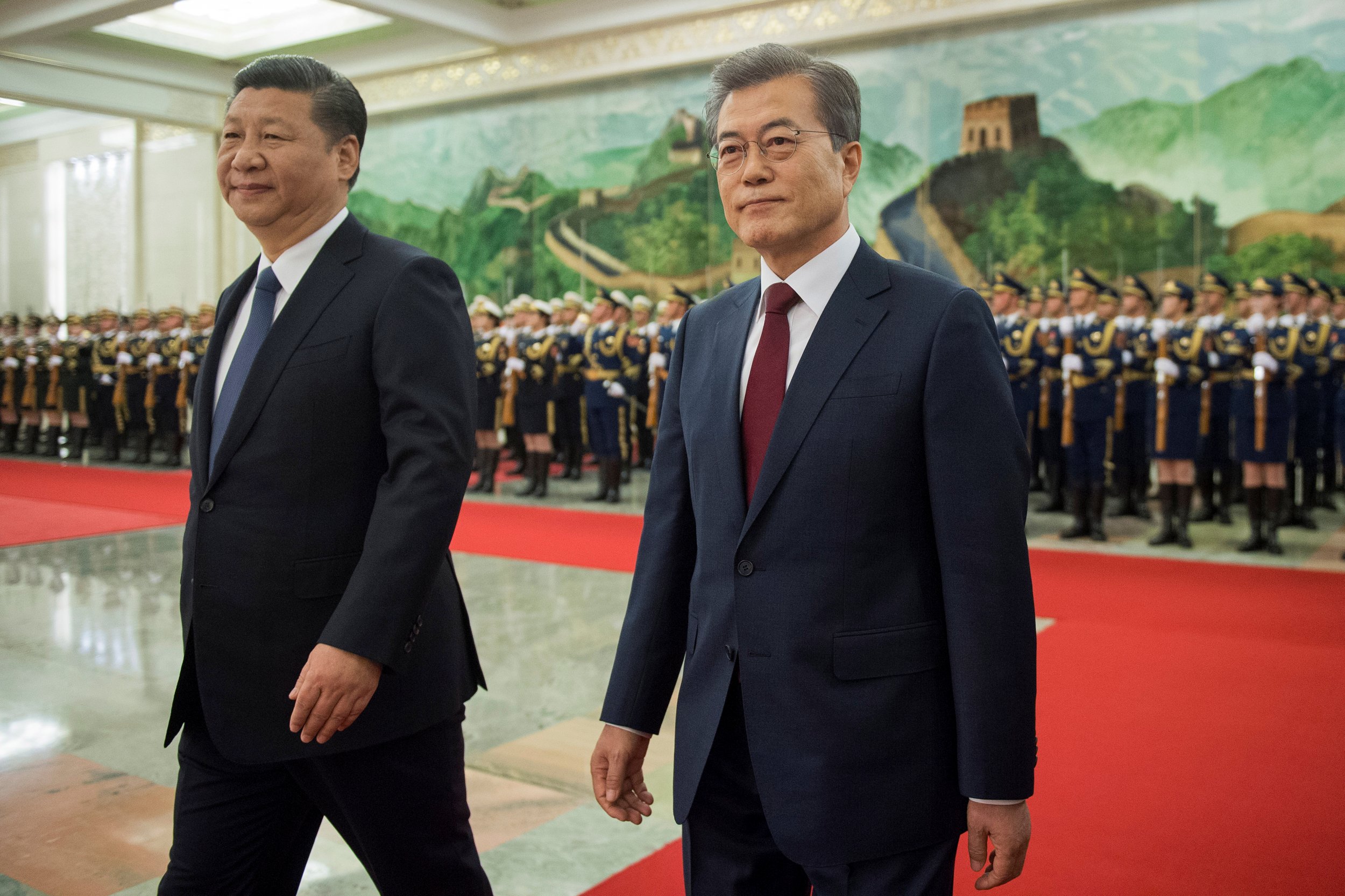 Chinese security guards attacked South Korean reporters traveling with South Korea President Moon Jae-in at a trade fair in Beijing, putting at least one in hospital.
The 14 reporters, who are part of the presidential press corps, were blocked from following President Moon as he visited booths representing South Korean businesses, news agency Yonhap reported.
When they complained, around 15 guards reacted violently, grabbing a photojournalist from the Hankook Ilbo newspaper by the collar to eject him from the venue. A Yonhap picture shows the journalist on the ground.
Another photographer from the Maeil Business newspaper was beaten up shortly afterwards as a scuffle broke out again between journalists and security guards—presidential officials were also pushed around as they tried to protect the reporter, according to South Korean publication Korea JoongAng Daily.
Edited video footage published in several South Korean media outlets show him surrounded by security personnel, with one of the guards appearing to punch him and then kicking him as he laid on the ground in front of a stand displaying South Korean music and culture.
He was taken to the hospital, where he was found to have a fractured eye-socket fracture and will likely have to return to South Korea earlier than planned to seek treatment, South Korean newspaper Chosun Ilbo reported.
The South Korean foreign ministry told reporters at a regular press briefing on Thursday the government had contacted Beijing about the incident.
"Emergency medical treatment was provided at the scene, and the government has expressed regret to the Chinese government, and strongly requested a clear investigation and follow-up measures," the spokesperson said.
It remains unclear whether the guards were police officers or hired from a private security company. One presidential official told Yonhap that, while the guards may have been hired by the South Korean event organizers.
News of the scuffle dominated South Korean media coverage of Moon's four-day state visit to China, during which the president is expected to discuss economic ties and tensions with North Korea with his counterpart Xi Jinping.
Moon and Xi met on Thursday after Moon's attendance at the trade fair, which featured 200 South Korean firms.
Moon also brought an entourage of South Korean singers and actors to woo his Chinese host after China banned concerts from major K-pop artists and dropped South Korean dramas and advertisement from TV channels in the past year and a half, Reuters reported.
Relations between South Korea and China have been frosty because of North Korea. While the two share a common goal of the denuclearization of the peninsula, China disapproves of South Korea's joint military drills with the U.S. and the deployment of the Terminal High Altitude Area Defense (THAAD) anti-missile system which, Beijing claims, could interfere with their country's defense system.
"For reasons known to all, China-South Korea relations have experienced some setbacks," Xi said before meeting the South Korean president, quoted in Bloomberg. "I hope and believe that your visit will be an important opportunity to improve relations as we seek to find ways to carve a better path based on mutual respect and trust," he added.