Chinese State Media Cartoon Depicts U.S. Cops With Pitchfork Hunting Black Man
Chinese state media shared a cartoon depicting a group of three American police officers carrying a pitchfork, torches and a gun while using a dog to chase a Black man.
The cartoon published by China's Xinhua News agency was posted to Twitter on Sunday with a caption that reads: "Statistics show, time and again, that some are disproportionately prejudiced against in the U.S. #FightRacism." In the cartoon, a speech bubble hovers above one of the police officers chasing the black man. He says: "Hunt that blackie!"
The officer holding the dog's leash is holding a torch that looks like the one held by the Statue of Liberty. The Black man, wearing a yellow hoodie, is running ahead of the officers and the dog as a lone tear drips from his right eye.
Newsweek reached out to the U.S. State Department for comment on the cartoon, but it did not respond in time for publication.
Chinese state media frequently point to social problems and injustices in the U.S. to criticize its global rival. It has cited immigration detention centers, systemic racism in the U.S. justice system and America's military interventions around the world, while also deflecting criticism of its own human rights abuses.
The Chinese cartoon comes as racial tensions remain heightened nationwide following the high-profile deaths of Black Americans at the hands of police in 2020. George Floyd, a Black man in Minneapolis, died after a police officer kneeled on his neck for nearly nine minutes in late May. Breonna Taylor died in March after being shot multiple times by Louisville, Kentucky, police entering her home at night on a warrant. She was killed as her boyfriend exchanged gunfire with the officers.
Floyd's and Taylor's deaths, along with a long list of other high-profile cases, have led to nationwide Black Lives Matter demonstrations, with activists calling for an end to systemic racism in policing and the justice system. A study published in June by researchers at Harvard's T.H. Chan School of Public Health found that Black Americans were more than three times as likely as white Americans to be killed during an encounter with police. Black Americans are also disproportionately represented in the U.S. prison population.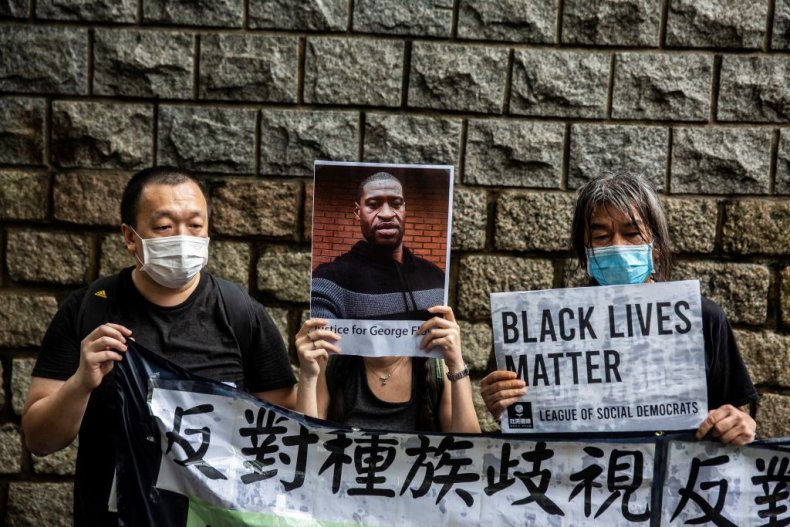 Meanwhile, China has been internationally condemned for its treatment of the Uighurs, an ethnic minority in the country's northwestern Xinjiang region. Up to 2 million people from the predominantly Muslim minority have been detained in concentration camps there, according to reports. There have been reports of killings, tortures and rapes, but China dismisses these claims.
Although China has said it has a "zero tolerance policy" regarding racism, Africans in the country have also faced significant discrimination, according to reports. Amid the coronavirus pandemic, many Africans in China were reportedly subjected to arbitrary testing and forced quarantines, despite not having traveled and not having contact with infected individuals. Many were also baselessly evicted from their homes and hotels, CNN reported.