Chinese State Media Demands U.S. Show Evidence That Coronavirus Came From Wuhan Lab, Accuses Mike Pompeo of 'Bluffing'
Chinese state media has reacted angrily to the latest suggestions from President Donald Trump and Secretary of State Mike Pompeo that the COVID-19 coronavirus pandemic originated at a research laboratory in Wuhan, and that Beijing has since been trying to hide the course of the subsequent outbreak.
Trump and Pompeo have repeatedly blamed China for the pandemic, which has now infected more than 3.5 million people and killed more than 247,000 people worldwide, according to Johns Hopkins University.
The outbreak was initially thought to have begun in a wildlife market in the central city of Wuhan, but the Trump administration has focused its attention on the Wuhan Institute of Virology, a few miles away from the suspect market. Last week, Trump claimed he is confident that the virus came from the WIV—whether released accidentally or otherwise.
Pompeo said Sunday he had seen "enormous evidence" supporting the theory, though did not provide the evidence nor elaborate on the information. U.S. intelligence has concluded that the COVID-19 virus was not man made or genetically modified, though officials are investigating whether it could have been released from the WIV.
The New York Times also reported last week the administration is pressuring some within the intelligence community to lend weight to the WIV theory. There is not yet any publicly available evidence supporting the WIV's involvement in the pandemic.
China has roundly rejected any accusation that it mishandled the outbreak or that the WIV was involved in the pandemic. On Monday, state-backed newspapers issued scathing attacks on Pompeo for claiming otherwise.
The Global Times newspaper—owned by the People's Daily which is the official publication of the Chinese Communist Party—published an editorial dismissing Pompeo's "groundless accusations."
Global Times—often used to voice the more nationalistic sentiment within the CCP—demanded that the secretary of state provide any evidence, suggesting he was "bluffing." The editorial also accused the administration of engaging in "unprecedented propaganda warfare" against China.
The CCP has been accused of trying to conceal the initial COVID-19 outbreak—for example by silencing whistleblower doctors in Wuhan—and failing to warn the international community of the scale and severity of the virus.
Reports have claimed that officials hid the danger so they could secure required medical equipment, plus that President Xi Jinping sat on a warning that the outbreak could become a pandemic, even as millions of people traveled in the run up to Lunar New Year.
CCP officials have also reportedly hidden the true number of infections and deaths from the outbreak. The regime in Beijing has been accused of propagating disinformation in an effort to cloud the global narrative of the pandemic and dodge blame for its public health and economic impact.
The Chinese government has repeatedly rejected any suggestion that it mishandled the coronavirus crisis, framing international attacks as propaganda designed to distract from other nations' bungling of their pandemic responses.
Chinese officials and media have been especially critical of the U.S., which is now the epicenter of the pandemic with more than 1.1 million confirmed cases and 67,600 deaths. Chinese media has claimed that Trump and his allies are attempting to blame Beijing for the administration's widely-criticized response, in the hope that it will boost the president's re-election campaign.
"By sacrificing his credibility as a politician, Pompeo is doing whatever he can to secure a victory for Trump and the Republicans in November," Global Times claimed. "With the November election approaching, and amid increasing threats from the virus, it would be a herculean task for the Trump administration to win a second term without borrowing the anti-China mojo from voters."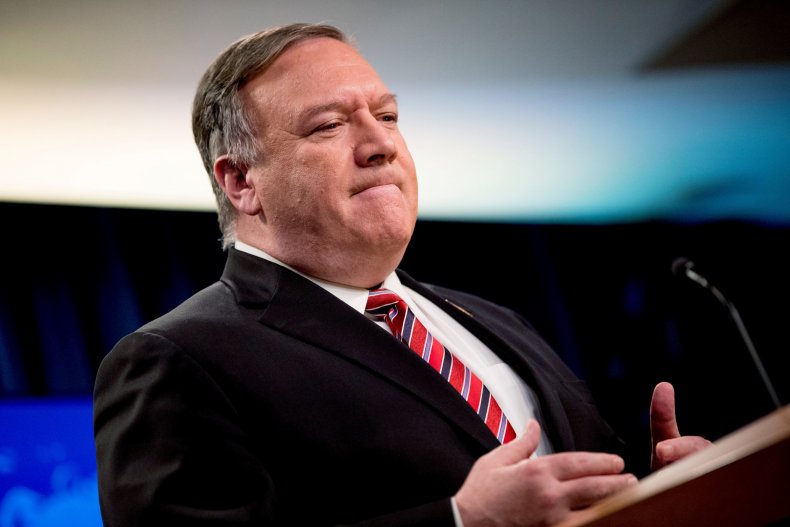 Other publications also hit out at the Trump administration over the weekend. The People's Daily said that U.S. politicians are turning the pandemic into "a political show, from repeatedly politicizing the disease and stigmatizing other countries, to the lousy cliché of claiming compensation." This "farce" is "astonishing people around the world," the newspaper argued.
On Monday, China Daily—owned by the CCP's propaganda department—said the U.S. "squandered the golden opportunity to bring the domestic situation under control" and warned that re-opening the country too soon could accelerate the death toll. "The U.S. government is busy picking fights, stigmatizing others and portraying itself as a victim that has been taken advantage of," the newspaper claimed.
Centers for Disease Control and Prevention Advice on Using Face Coverings to Slow Spread of COVID-19
CDC recommends wearing a cloth face covering in public where social distancing measures are difficult to maintain.
A simple cloth face covering can help slow the spread of the virus by those infected and by those who do not exhibit symptoms.
Cloth face coverings can be fashioned from household items. Guides are offered by the CDC. (https://www.cdc.gov/coronavirus/2019-ncov/prevent-getting-sick/diy-cloth-face-coverings.html)
Cloth face coverings should be washed regularly. A washing machine will suffice.
Practice safe removal of face coverings by not touching eyes, nose, and mouth, and wash hands immediately after removing the covering.
World Health Organization advice for avoiding spread of coronavirus disease (COVID-19)
Hygiene advice
Clean hands frequently with soap and water, or alcohol-based hand rub.
Wash hands after coughing or sneezing; when caring for the sick; before, during and after food preparation; before eating; after using the toilet; when hands are visibly dirty; and after handling animals or waste.
Maintain at least 1 meter (3 feet) distance from anyone who is coughing or sneezing.
Avoid touching your hands, nose and mouth. Do not spit in public.
Cover your mouth and nose with a tissue or bent elbow when coughing or sneezing. Discard the tissue immediately and clean your hands.
Medical advice
Avoid close contact with others if you have any symptoms.
Stay at home if you feel unwell, even with mild symptoms such as headache and runny nose, to avoid potential spread of the disease to medical facilities and other people.
If you develop serious symptoms (fever, cough, difficulty breathing) seek medical care early and contact local health authorities in advance.
Note any recent contact with others and travel details to provide to authorities who can trace and prevent spread of the disease.
Stay up to date on COVID-19 developments issued by health authorities and follow their guidance.
Mask and glove usage
Healthy individuals only need to wear a mask if taking care of a sick person.
Wear a mask if you are coughing or sneezing.
Masks are effective when used in combination with frequent hand cleaning.
Do not touch the mask while wearing it. Clean hands if you touch the mask.
Learn how to properly put on, remove and dispose of masks. Clean hands after disposing of the mask.
Do not reuse single-use masks.
Regularly washing bare hands is more effective against catching COVID-19 than wearing rubber gloves.
The COVID-19 virus can still be picked up on rubber gloves and transmitted by touching your face.