Chinese State Media Highlights Putin's 'Daunting' Losses in Ukraine
Chinese state-media highlighted Russia's "daunting losses on the battlefield," a rare admission of the ongoing challenges the Russian military faces in Ukraine from the Kremlin ally.
China remains one of Russian President Vladimir Putin's closest international allies amid the invasion, which drew large international rebuke when Putin launched his "special military operation" on the Eastern European country on February 24. More than seven months later, Putin's military has struggled to achieve any substantial goals in the invasion, with Ukraine claiming to have retaken thousands of square miles of Russian-occupied territory.
China Daily, a news website owned by the Chinese Communist Party, published an editorial on Sunday condemning the North Atlantic Treaty Organization (NATO) for plans to conduct a nuclear "determent" exercise in late October amid rising nuclear tensions.
"Despite its daunting losses on the battlefield, Russia has only resorted to 'partial mobilization' at home, and it continues to insist it is engaged in 'special military operations' rather than a war," the editorial reads. "The European Union and the United States and its allies have limited their aid to Ukraine to arms supplies and intelligence support, so that they won't be seen as 'participating.'"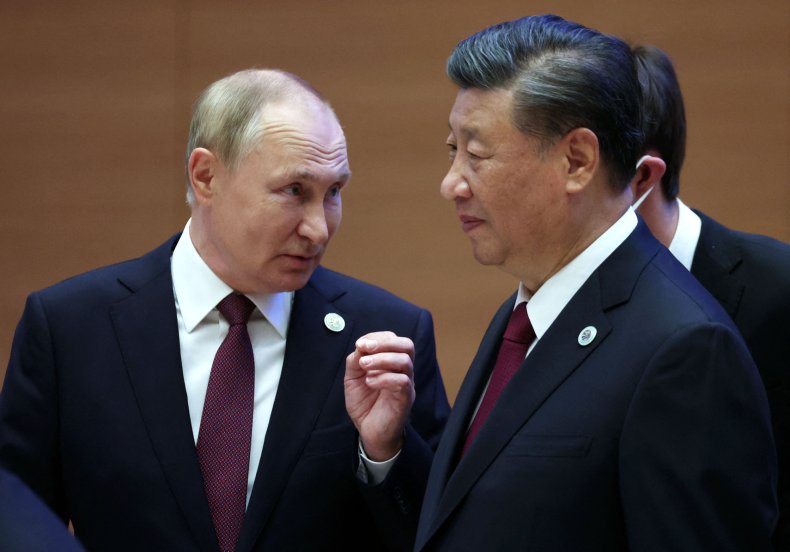 Other than the subtle acknowledgement, China Daily's editorial largely aligned with Kremlin interests, denouncing NATO for "Steadfast Noon," the nuclear deterrence exercise, which will not involve any live bombs, and was planned before Russia invaded Ukraine. The exercise will involve 14 alliance members and up to 60 aircraft, including fourth and fifth-generation fighter jets, as well as surveillance and tanker aircraft.
China has served as an important ally of Russia as it becomes a pariah on the global stage. China has also been a vocal critic of Western sanctions lobbed against Russia and has continued importing Russian goods—especially energy, a key component of Moscow's economy.
China's Concerns Over Russian Losses
In recent weeks, some Chinese authorities and media figures have raised concerns about the ongoing invasion.
In a September Global Times opinion piece, Hu Xijin, the newspaper's editor-in-chief, wrote that the war is "spiraling out of control" amid nuclear threats and allegations of Russian sabotage against the Nord Stream pipelines, which transported gas from Russia to Europe.
"But there is a real risk of a new explosive development in the situation, and the possibility of a chain of reaction, followed by 'more unruly' parties in the conflict. It brings to mind that this conflict may well be spiraling out of control, and that any kind of hardball tactics could be used next," he wrote.
Putin acknowledged Chinese President Xi Jinping's concerns during a meeting last month, with both countries continuing to present themselves as allies. However, Xi has not publicly mentioned what his concerns were, with Chinese-state television later saying that China is willing to continue providing Russia with strong support, according to Reuters.
"We highly value the balanced position of our Chinese friends when it comes to the Ukraine crisis," Putin told Xi. "We understand your questions and concern about this. During today's meeting, we will of course explain our position."
Still, China and Russia continue to strengthen their relations, as both nations find themselves at odds with the West, a NATO official told Newsweek earlier this month.
"China has been sticking politically with Russia throughout this process, amplifying their messaging, their disinformation—including on NATO, which China had not done in the past—in essence in partnership with Russia, which is supporting China's points of view when it comes to Asia," James Appathurai, NATO's deputy assistant secretary general for emerging security challenges, said.
Newsweek reached out to the Russian Ministry of Defense for comment.