Chinese State Media Marks 9/11 With Prediction of Another 'Deadly' Terrorist Attack in U.S.
The outspoken editor of a Chinese government mouthpiece marked the 20th anniversary of the September 11, 2001, terrorist attacks with a prediction that there will be another "deadly attack" in the U.S.
"The September 11 attacks was suicide attacks by 19 terrorists, but it was not the 'suicide attack' of the terrorism. Terrorism will accumulate power to launch the next deadly attack. Time will prove that it is a mistake for the US to regard China as its biggest adversary," tweeted Hu Xijin, who leads the Chinese Communist Party tabloid the Global Times.
Nearly 3,000 people were killed in the U.S. after two hijacked commercial planes crashed into the World Trade Center in New York City, one into the Pentagon in Arlington, Virginia, and a fourth into a field in rural Shanksville, Pennsylvania, 20 years ago Saturday. The terror attacks were orchestrated by al Qaeda founder Osama bin Laden.
China's ruling Communist Party used the international rage toward terrorism following the tragic events to reframe the narrative surrounding Beijing's repression of Muslim Uyghurs and other Muslim ethnic groups in the north-western region of Xinjiang.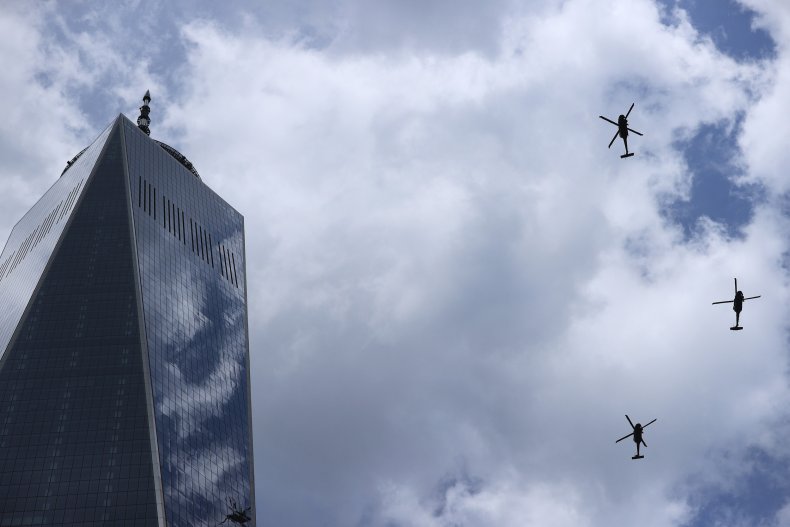 Zhao Lijian, a Chinese Foreign Ministry spokesperson, on Friday urged the U.S. to stop defining terrorists based on their ideologies and "political self-interest." He also stated that America's 20-year war in Afghanistan, which shares a land border with China, only led to the proliferation of terrorist organizations and fighters in the region.
"Terrorists are terrorists. Defining terrorists based on political self-interest is essentially condoning terrorist activities, which seriously undermines the international counter-terrorism cooperation," said Zhao.
President Joe Biden commemorated the 20th anniversary of the September 11 attacks with visits to the three sites where the hijacked planes crashed, starting with where the original World Trade Center once stood in downtown Manhattan. He then flew to Shanksville, Pennsylvania, before heading to the Pentagon in Arlington.
In remarks, Biden praised the first responders who helped rescue survivors and doubled down in his decision to end the U.S.-led war in Afghanistan. "If you had told anybody that we were going to spend $300 million a day for 20 years to try to unite the country after we got bin Laden, after al Qaeda was wiped out there," he said. "Can al Qaeda come back? Yeh but guess what? It's already back in other places."
Following the U.S. troop withdrawal from Afghanistan, China's foreign minister Wang Yi insisted that Washington D.C. had a duty to provide economic and humanitarian aid to the country, adding that Beijing will be supplying $31 million of food supplies, vaccines and other medicines.
Newsweek reached out to the White House for comment.