'Feeble Imitation of China': Chinese State Media Mocks U.S. Infrastructure Bill
Chinese state media is mocking a newly passed infrastructure bill the Biden administration is touting as a "once-in-a-generation" investment as a "feeble imitation" of their nation's accomplishments.
The Global Times, a newspaper produced by the ruling Chinese Communist Party, criticized the Infrastructure Investment and Jobs Act in an editorial published on Sunday.
"The bill will by no means solve all the U.S.' problems and give the country enough vitality to compete with China in the sphere of large-scale infrastructure projects," the opinion article read.
The infrastructure bill passed 228 to 206 in the House of Representatives last Friday. Thirteen Republicans bucked their party to support the legislation, helping push it across the finish line amid a handful of Democrat defections.
The Senate voted 69 to 30 in August to pass the infrastructure bill, with 19 Republicans joining all Democrats.
The $1.2 trillion package includes $555 billion in new funding for roads, bridges, broadband and more over the next five years. The White House has estimated that the investments will add about 2 million jobs per year on average.
The plan also invests $65 billion to rebuild the electric grid, $55 billion to upgrade water infrastructure, $39 billion for public transit and $25 billion to improve airports.
Chinese state media wrote that "it is tantamount to a fairy tale to revitalize U.S. competitiveness relying merely on a stimulus bill."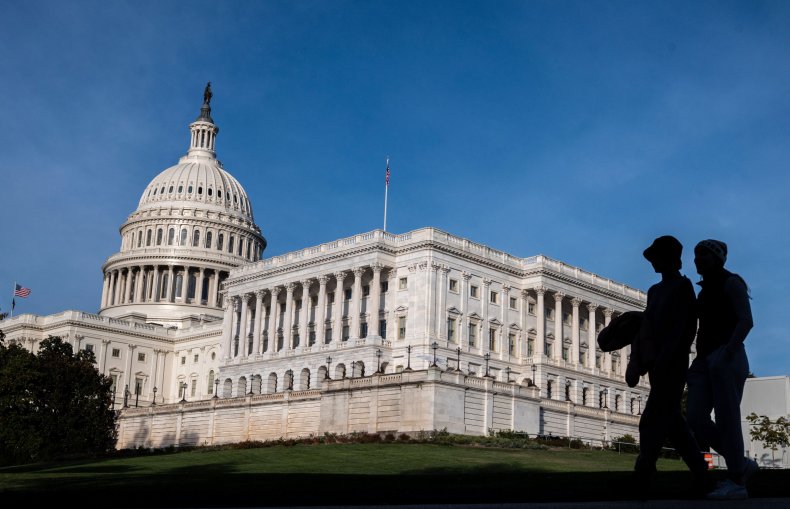 President Joe Biden celebrated the bill's passage as "a monumental step forward" for the nation.
The legislation, Biden said, is "a once-in-a-generation investment that's going to create millions of jobs modernizing our infrastructure—our roads, our bridges, our broadband, a whole range of things—to turn the climate crisis into an opportunity."
"And it puts us on a path to win the economic competition of the 21st century that we face with China and other large countries and the rest of the world," the president added.
The Biden administration is also working with congressional Democrats to pass a larger spending package to expand the social safety net and address the climate crisis. The $1.75 trillion "Build Back Better" plan passed a key procedural hurdle on Saturday when House Democrats voted to move forward and consider the sprawling social bill.
The Global Times editorial said the Biden administration's "sense of urgency" to invest in infrastructure comes from a sense of competition.
"Some U.S. political elites arrogantly believe that the U.S. should lead the world in all aspects for fear that China surpasses them in any way," the newspaper wrote. "They are lost in their pride and arrogance."
Newsweek reached out to the White House for comment.