Chinese Air Force Should Kill American 'Invaders' in Taiwan, State Newspaper Boss Says
The editor of China's national English-language newspaper suggested Thursday that the country should use airstrikes to kill American service members stationed in Taiwan.
Hu Xijin, the editor-in-chief of the Global Times, tweeted that China should take action against American "invaders" in Taiwan after an exclusive report from the Wall Street Journal revealed that two dozen U.S. troops had been secretly stationed there helped training Taiwanese soldiers.
"Why secretly? The US should send 240 servicemen publicly, in US military uniform, and make public where they are stationed," Xijin said. "See whether the PLA [Chinese Armed Forces] will launch a targeted air strike to eliminate those US invaders!"
The American soldiers, which reportedly include members of the U.S. Marine Corps and various other special forces teams, have been assisting members of the Taiwanese military for at least a year, according to the Journal. Tensions have been on the rise in the region, and Chinese military planes have been spotted off the coast of Taiwan, with a reported 150 flights seen in the past week. In the past, China has also threatened to take the island nation by force if necessary.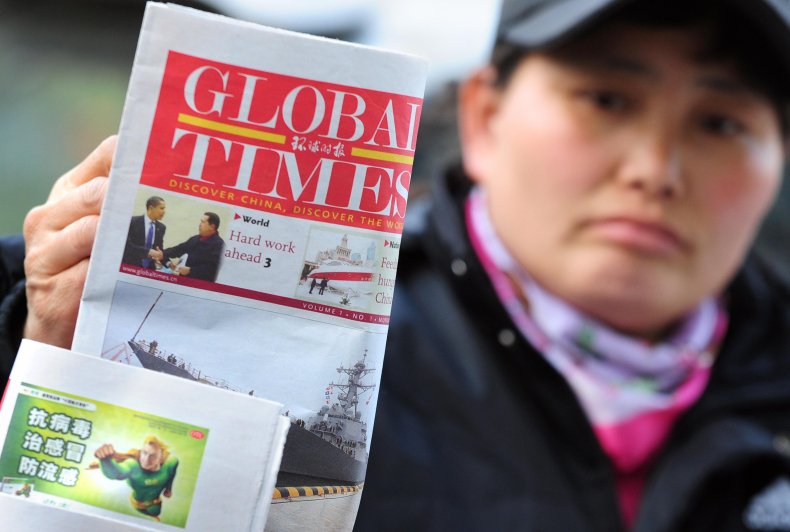 Both the White House and the Pentagon have reportedly become concerned with the level of readiness that the Chinese military has in regards to a potential assault on Taiwan, as well as their ongoing military armament. Additionally, the Taiwanese defense minister, Chiu Kuo-cheng, said Wednesday that he believed China would be able to launch a "full-scale attack" on Taiwan by 2025, and would likely suffer few casualties.
The Global Times, meanwhile, has continued to push an agenda of Chinese takeover and has criticized outlets in the past for considering Taiwan an independent nation rather than part of China. The Times is part of the People's Daily, the country's largest newspaper conglomerate which is itself run by the Chinese Communist Party (CCP). Beyond newspapers, the CCP controls a wide variety of state-run media, including the Xinhua News Agency, the world's largest newswire.
The New York Times and Foreign Policy have both referred to the newspaper as China's version of Fox News. The outlet has been criticized in the past for promoting conspiracy theories and spreading COVID-19 disinformation, especially in the first few months of the pandemic when cases in China were first being identified. Quartz called the publication "China's most belligerent tabloid."
Newsweek reached out to the Global Times' editorial department for comment but did not receive a response before publication.