China Unveils Innovative Assault Vehicles for Fighting on Off-road Terrain
The Chinese military unveiled a new type of all-terrain self-propelled howitzer, which it says is capable of manoeuvring off-road without sacrificing speed and agility.
The new assault vehicles were officially seen for the first time on screen Wednesday, when a report by China's state broadcaster CCTV showed them being tested during a live-fire exercise somewhere in east China.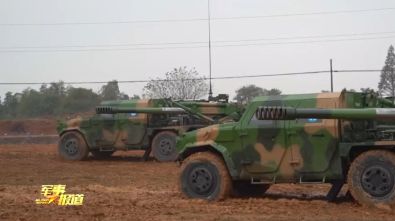 The footage shows the 122-millimeter guns mounted on the back of modified six-wheeled Dongfeng Mengshi armored vehicles. The Mengshi is China's answer to the U.S. military's Humvee.
The howitzers were fired during a combined arms exercise conducted by the PLA's 72nd Group Army, which is part of its Eastern Theater Command, CCTV said.
The light artillery vehicles were reportedly put in service in the second half of 2020. The gun is loaded using a semi-automatic system and can quickly switch between driving and shooting modes, the station said.
Li Qiuyu, a company commander quoted in the special report, claimed the new assault vehicle–mounted howitzers were more mobile than the army's heavier truck-mounted guns. They can be driven across all terrains and overcome obstacles in the battlefield, Li said.
Reports have suggested it may be less accurate due to its design sacrificing weight and stability.
While the vehicle's official designation has not been disclosed, Chinese media outlets have reported it as PCL-171, describing it as the "little brother" of the PCL-181, which was unveiled at China's National Day military parade last year.
The PCL-181 carries a 155-millimeter gun-howitzer. It has been seen protecting Chinese troop garrisons in the Himalayas, where a stand-off with Indian forces has been ongoing since the summer.
Despite being the first official footage of the PCL-171, the vehicles were already seen rolling through the streets of east China back in August. They are believed to have been put in service around the same time.
Social media images on Weibo, China's Twitter-like microblogging service, showed a motorcade of smaller self-propelled howitzers being captured on camera. They appear to match the assault vehicles unveiled by CCTV this week.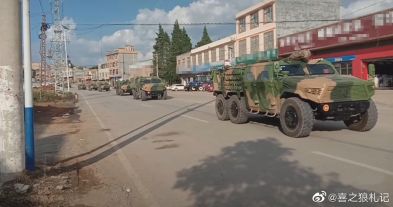 Last week, military website 81.cn published footage of the PLA's 79th Group Army conducting heavy artillery firing drills in the desert of Xinjiang, the autonomous region in northwestern China.
The army, which is under China's Northern Theater Command, practiced daytime and nighttime firing, the video report showed.