Chinese Virologist Claiming Covid Was Lab-Made Teases Another Reveal on Twitter
A Chinese academic spreading the conspiracy that China was responsible for releasing SARS-CoV-2 has suggested information will soon be released to explain why well-credentialed scientists across the world rejected her research.
Li-Meng Yan, a former post-doctoral fellow at Hong Kong University, has now promoted two non peer-reviewed papers which suggest the coronavirus strain that causes COVID-19 was created in a lab, describing it as being an "unrestricted bioweapon."
The second paper, released last month, accused academics and public health experts of corruption after the scientific community roundly rejected the unfounded claims in the first paper, which was released in September.
Both papers are affiliated with the Rule of Law Society, a nonprofit organization founded by Steve Bannon, a former adviser to president Trump who is currently facing unrelated fraud charges. Virologists say evidence suggests SARS-CoV-2 was likely to have first transmitted to humans from an animal source, potentially bats or pangolins.
On Twitter yesterday, Yan indicated she would soon attempt to explain why a multitude of legitimate scientists had rubbished her research, publishing multiple images she said contained "clues" to the answer. In one retweet, Yan promoted a post that claimed the "world's top medical experts" are "fully controlled" by the Chinese state.
Without elaborating further, Yan tweeted on Sunday: "People are always asking: Why so many scientists are working hard to deny and slander Lab-origin of COVID-19 and two Yan Reports in the media? Check the clues in the pic. I will tell you more later."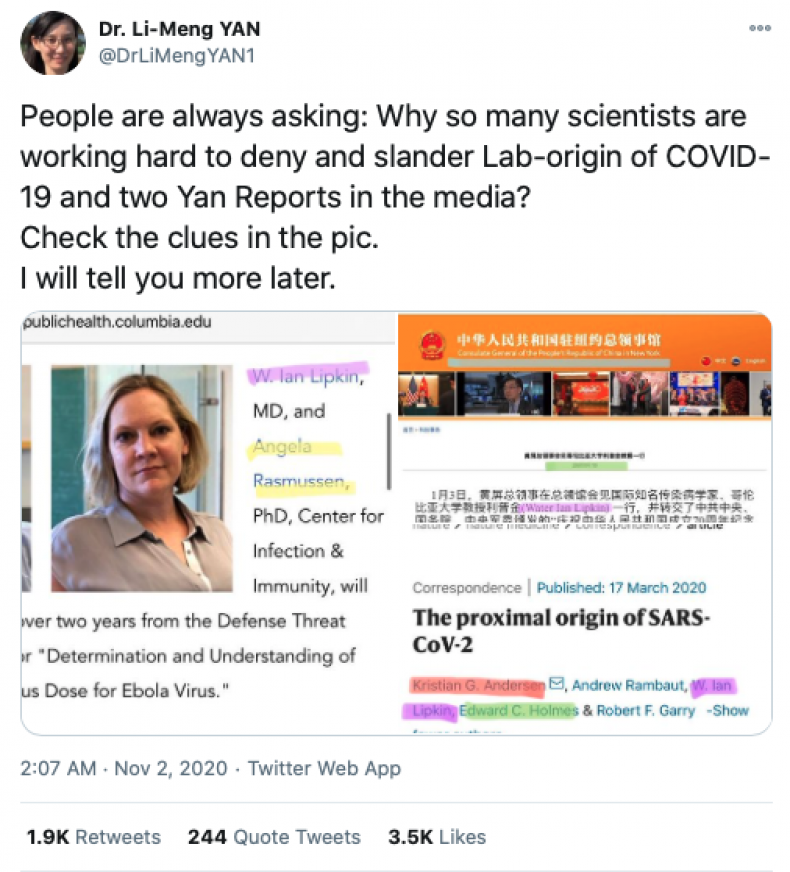 The images appeared to indicate that two Columbia University scientists—W. Ian Lipkin, MD, and Angela Rasmussen, PhD—would be a part of her explanation.
According to a university press release from January this year, Lipkin was honored by China for his work on infectious diseases, receiving a medal earlier that month at the Chinese Consulate in New York recognizing a "profound impact" on the country.
An image posted by Yan without context was a screenshot of a university website page recording that Lipkin and Rasmussen received a $1,928,869 faculty grant. Rasmussen has been an outspoken critic of Yan's baseless claims, previously asserting the second paper was unverified propaganda containing a "shitshow of disinformation."
A third image was a screenshot from an academic paper co-authored by Lipkin which proposed two plausible origin scenarios, both involving "zoonotic transfer."
"It is improbable that SARS-CoV-2 emerged through laboratory manipulation of a related SARS-CoV-like coronavirus," read the peer-reviewed paper, published in Nature.
Responding to the weekend Twitter post, Rasmussen doubled down on her criticism of Yan's earlier research and questioned how Yan's analysis was being funded. She wrote: "Whatever half-baked conspiracy theory you are about to reveal, Dr. Yan, that's not why I've spoken up. It's because laboratory origin is not supported by the evidence, no matter how many absurd preprint 'reports' you fail to get through peer review."
Rasmussen added: "The grant that screen capture shows me getting? Funded by the US Department of Defense. My salary and research has never been supported by any funding from China... but while we're talking conflicts of interest, who funds Dr. Yan?"
Newsweek has approached Lipkin and Rasmussen for comment.
Yan remains active on Twitter despite her initial account being suspended in September and has amassed more than 57,000 followers at the time of writing. She also appears to be active on Facebook, with a header labeling the virus as a "biological weapon."
Last month, Yan indicated that she believed her life was being put in danger due to her disclosures. "What I am going to do is spread the message as much as possible and show the facts so that people can verify them before they kill me," she said.
Hong Kong University said back in July that Yan no longer worked there and had "never conducted research on human-to-human transmission of the novel coronavirus."