Chinese Warship to American Destroyer: Get Out of Our Way 'Or Suffer Consequences'
Details have emerged showing the extent of brinkmanship in the South China Sea after an American Navy vessel sailed to within a whisker of a Chinese destroyer.
On September 30, USS Decatur sailed to within 45 yards of the Chinese Luyang II-class destroyer, near Gaven Reefs by the disputed Spratly Islands.
After the incident, a U.S. Pacific Fleet spokesperson said that the Chinese vessel had approached Decatur "in an unsafe and unprofessional maneuver," which was followed by a series of "increasingly aggressive maneuvers."
Details of just how aggressive the maneuvers were have now emerged in a military transcript obtained by the South China Morning Postfrom the British Ministry of Defence.
The document stated that as the American vessel approached, its crew were told, "You are on [sic] dangerous course. If you don't change course, your [sic] will suffer consequences."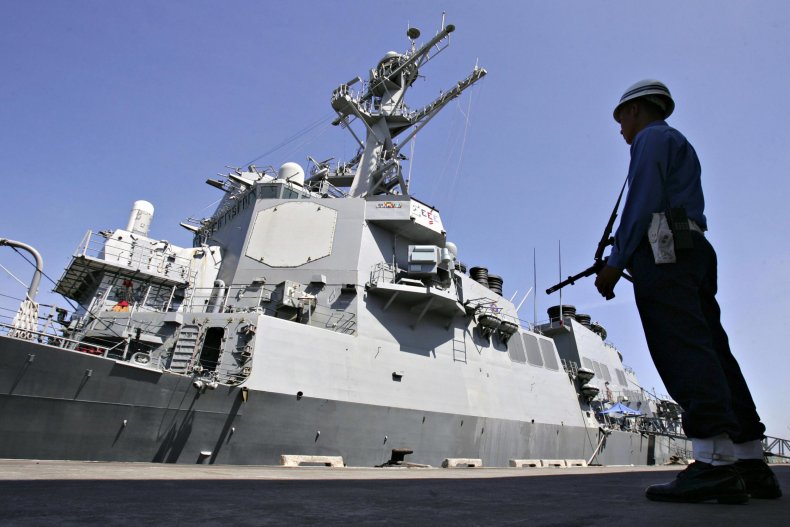 The American vessel responded, "We are conducting innocent passage," the Post reported.
Video of the incident shows one Navy sailor saying the Chinese ship is "trying to push us out of the way." Ship fenders deployed on deck suggested preparation for a collision.
U.S. Pacific Fleet officials said they were conducting a "freedom of navigation" patrol near the disputed Spratly Islands, while Beijing insisted that Decatur had been provocative by entering Chinese waters.
Ankit Panda, a senior editor at The Diplomat, told Business Insider it was China's "most direct and dangerous attempt to interfere with lawful U.S. Navy navigation in the South China Sea to date."
The U.S. and China recently ramped up rhetoric over navigation rights in the South China Sea as tensions increased over the trade dispute between the countries.
The U.S. Navy has had 18 unsafe or unprofessional encounters with Chinese military forces in the Pacific since 2016, CNN reported, citing military statistics.
The Chinese defense ministry said in a statement that it opposed the U.S. warship's entry into the waters and that the Luoyang was trying to drive Decatur away. It said the U.S. must stop its "provocative" actions, Fox News reported.
Bill Hayton, an associate fellow with the Chatham House think tank in London, said the Chinese actions may have been to "raise the level of antagonism."
"To my knowledge, this is the first time we've had a direct threat to an American warship with that kind of language. This, I think, is the first time we've had the idea of 'suffering consequences.' So that does seem to be an increased level of intimidation," the Post reported Hayton as saying.