Chinese Women Go Shopping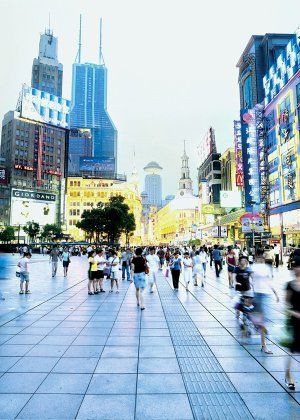 Shoppers throughout the West, wary of a double-dip recession, are still pinching their pennies. But Chinese consumers are opening their wallets—big time. According to McKinsey, retail sales in China have grown by 25 percent annually from 2007 to 2009, making the Chinese consumer sector arguably the healthiest of any major economy in the world, says Yuval Atsmon, a consultant in McKinsey's Shanghai office. Consumer confidence is now at its highest point since 2007. And female shoppers are leading the way: last year Chinese women saved just 24 percent of their income, compared with 55 percent in 2006, according to a recent study in Women of China magazine. What's more, three quarters of Chinese women say that they're the ones who control the family purse strings, according to a 2010 MasterCard report. That's up slightly from last year, and is 7 percentage points higher than the number of men who say they make household spending decisions. That means the nation's 650 million women are an "emerging powerhouse within the powerhouse" of China, according to Georgette Tan, a Master-Card vice president.
For Western companies, the rise of the female consumer in China is a welcome change. For years, multinationals ignored Chinese women because their contribution to household income was so small—a fact "that's changed dramatically," says Shaun Rein, managing director of the China Market Research Group. In the 1950s women contributed just 20 percent of household income. That rose to about 40 percent in the 1990s and then reached 50 percent last year, according to Rein.
Western companies are now figuring out how to capitalize on this shifting dynamic. For years, many firms saw China as a monolithic market—the fact that it was home to 1.3 billion consumers became something of a mantra, even though it was a woefully simplistic view. Now, though, a far more nuanced—and, in many ways, more helpful—picture is emerging. In a recent study of Chinese consumer behavior, McKinsey found that women tend to shop more frequently than men, and spend more on personal-care products and food. Men, by contrast, tend to spend more of their income on gadgets, beverages and alcohol, dining out, and socializing. They also tend to save for the bigger-ticket items, like cars and houses. Businesses are also recognizing that China is less patriarchal than they had believed, and that women control many spending decisions. At the same time, advertisers are finding that Chinese women crave security, and that portraying women in advertising as fully independent may not work. Paul French, founder of Shanghai market research firm Access Asia, says women want job success, a husband, and 1.0 children with a villa in the suburbs, so advertisements are "similar to cupcake ads in America in 1953," he says. "Let's create the perfect family."
Indeed, many companies are aiming their marketing efforts directly at women. Furniture manufacturers are learning that while it's men who buy the apartment, it's the women who furnish it, regardless of who pays. Tech companies and electronics manufacturers are also targeting women, as are purveyors of luxury brands. While Chinese men have historically been the primary consumers of luxury goods, in large part because of the custom of giving gifts to business partners and government officials, women are constituting an ever-growing segment of the market—up from 20 percent a decade ago to 50 percent last year. Rein figures that in the next five years women will account for 55 percent of the $9 billion market. "The future is female," concludes a January HSBC report on luxury goods in China, entitled "Luxury 'Red Bull'."
One key insight from the McKinsey research is that Chinese women are uniquely pragmatic consumers. While Chinese shoppers remain very brand-conscious, "their intense focus on value means that brand loyalty is often a secondary consideration," says McKinsey's Atsmon. "Males tend to buy the brands they prefer, while females are skewed to buy the best deal." Zhao Lanqiu, a salesman at a Beijing branch of Singapore company SK Jewellery, says the current diamond style for Chinese women is small and understated. "Chinese women are not indulgent consumers," says Tom Doctoroff, greater China CEO at the advertising agency JWT.
That may change as incomes increase, but one thing remains clear: Chinese spending will likely continue to rise. Morgan Stanley economist Stephen Roach predicts that consumer spending will increase from 36 percent of GDP to 45 percent in the next five years, thanks to government policies designed to boost the economy—and women are sure to play a key role. Rein's firm recently found that women younger than 35 are the most optimistic segment in China, with a whopping 80 percent of the 3,500 women surveyed saying they'll spend more in the second half of 2010 than they did in the first half. With trends like these, Chinese women may bring new meaning to the term "the power of the purse."
With Alexandra A. Seno in Hong Kong