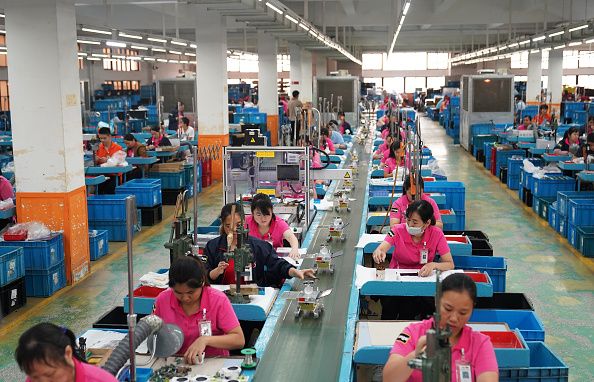 Chinese factory workers who made Disney-themed dolls to sell to Western consumers made around 4 cents for every $45 doll they produced, according to an undercover investigation.
Laborers in the Chinese city of Heyuan who made Disney Little Mermaid dolls were fined or fired for taking sick days, usually worked over 150 hours of overtime a month and made such a low salary that they were forced to overwork themselves, according to a joint investigation by the human rights groups Solidar Suisse and China Labor Watch, together with The Guardian. Most of the employees were women over the age of 45, and their working conditions violated many of China's labor laws.
"Although new workers sign a labor contract when they are recruited, it is only used to pass factory inspections. Workers cannot get a copy of the labor contract and their rights, as stipulated in the labor contract, are not protected. Most workers interviewed do not know the details of the labor contract," the report from China Labor Watch read.
"Work hours and wages are in clear violation of terms in the labor contract and labor laws. During peak season, workers need to work 10 to 13 hours a day, 26 to 29 days a month. If a worker requests leave during overtime work, they can only earn a daily salary of 7.5 RMB ($1.08 USD) per hour, causing their monthly wage to be less than 2,000 RMB ($287.49 USD). Workers, therefore, must choose to work overtime," the report continued.
China's strict labor laws stipulate that laborers should not work more than 40 hours per week. Any amount of time that exceeds 40 hours is considered overtime.
The human rights groups sent undercover workers to investigate the situation in the factory.
"At 5 p.m., the worker behind me said she felt so tired that her back was sore. She wanted to sleep so badly but couldn't, since our shift wasn't over yet. She wondered why was time going by so slowly. I said that I also felt time was going by very slowly. When you're constantly doing the same thing over and over again, you start to feel dizzy and your vision becomes blurry," one investigator wrote in a journal, according to the report.
Investigators found that many of the women believed that it would be difficult to find alternative employment, but that they struggled to support their families with the meager salaries they earned.
Despite the low salaries manufacturers paid to their workers, many factories are moving from China to Southeast Asian countries like Vietnam in search of even lower wages.