Chinese Yuan Tumbles, Nasdaq Futures Rally as Markets Price Trump Victory
The Chinese yuan fell late Tuesday and Nasdaq futures rallied as markets began to price in the likelihood of a victory for incumbent President Donald Trump.
Nasdaq 100 futures had risen nearly 4 percent amid a tightening U.S. race tilting toward Trump's favor, according to Bloomberg News, while Reuters reported that the offshore yuan dropped some .8 percent against the dollar at one point.
While the Electoral College vote was still too close to call at the time the currency tumbled, it coincided with Trump gaining and in some cases overtaking Democratic rival former Vice President Joe Biden in key states such as Michigan, North Carolina, Ohio and Pennsylvania.
Rebeccah Heinrichs, a senior fellow at the Hudson Institute, couldn't make a definitive connection but said the available evidence added up.
"It's just one metric, but it sure looks like its drop correlated with a rise in Trump's odds of winning the election," Heinrichs told Newsweek. "There are no signs a second Trump term would be any easier on China—and I mean on a variety of fronts."
The Trump administration has pursued tough policies against the People's Republic, pushing for tariffs and other measures meant to bring down the trade deficit and address alleged Chinese abuses such as currency manipulation and intellectual property theft.
Biden too has vowed to challenge China on certain issues, while at the same time leaving open avenues of cooperation.
"Biden has tried to talk tough on China the last year, but it's just talk and his long record tells a different story; one of determined engagement with China," Heinrichs said, "and some of his surrogates have indicated that while Biden might carry on the Trump's approach toward competing with China, it would be an approach that is much less tough and intense on the Chinese government and economy."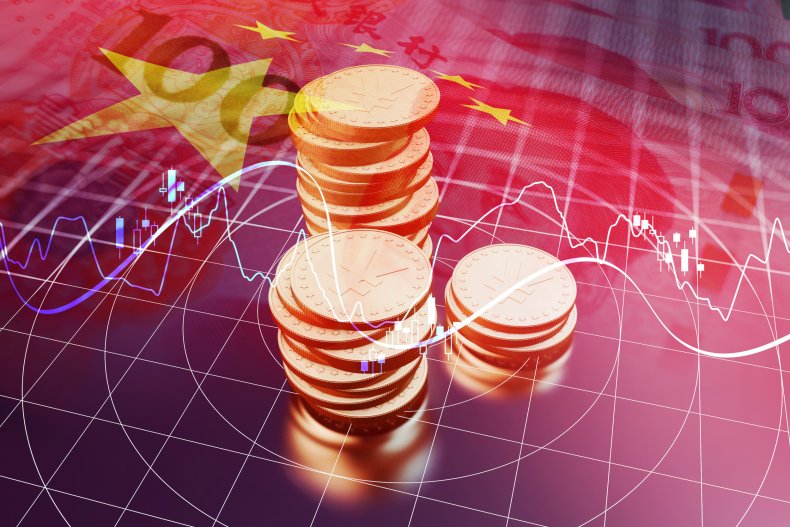 Jesse Cohen, global markets analyst at Investing.com, also drew a link between the yuan's sudden fall and Trump's electoral performance throughout the night and morning, which surprised widely trusted pollsters for the second time.
"Joe Biden's so-called 'blue wave,' which was widely predicted by the polls ahead of the election, failed to materialize, resulting in traders unwinding their pre-election bets," Cohen told Newsweek.
"It wasn't a surprise to see the yuan come under pressure as soon as we started getting indications during the night that the races for both the White House and Senate control were too close to call," he added.
He argued that the result of the election could be fateful for China, which privately hopes for a reset.
"From Beijing's standpoint," Cohen said, "they would much rather deal with a new Biden administration, than four additional years of President Trump."
A similar view was voiced by Daniel Lacalle, the chief economist at Tressis wealth management service and a professor at IE Business School in Madrid.
"Clearly the market saw a Biden win as a positive for China and positioned itself accordingly in the offshore yuan and more cyclical chinese stocks," he told Newsweek. "As the race tightens, the bet which could have been crowded, is unwound."
Relations between the world's two biggest economies have deteriorated significantly under Trump, especially declining in the past year as the coronavirus pandemic ravaged international markets. COVID-19 was first observed in China but has been mostly brought under control in the world's largest population, hitting hardest in the U.S.
Trump has taken to blaming Beijing for the disease's intercontinental spread, while China has called for a focus on international efforts to defeat the virus. He has also lashed out at Chinese efforts to assert territorial claims over the likes of self-ruling Taiwan, semi-autonomous Hong Kong and across the waters of the South China Sea.
As the U.S. launched drills Tuesday alongside Quadrilateral Security Dialogue partners Australia, India and Japan, Chinese Foreign Ministry spokesperson Wang Wenbin said, "We hope the relevant countries' military exercise could be conducive to regional peace and stability, instead of working in the opposite way."
Chinese officials have repeatedly denied favoring a candidate in Tuesday's U.S. election and have rejected allegations of interference in the contest.
This article has been updated to include comments from financial experts Jesse Cohen and Daniel Lacalle.