Chinoiserie to Chanel: Met Explores Western Fashion's Take on China (Photos)
A set of Mao-inspired fashions perched atop red lacquered displays stand like a preview to the Metropolitan Museum of Art's new exhibit, "China: Through the Looking Glass." Just past the Manhattan museum's Egyptian Art galleries, an authentic Red Guard uniform meets interpretations by fashion designers Vivienne Westwood and John Galliano for Dior, as well as a series of Andy Warhol prints of Mao Zedong's face wearing a placid expression and a dress by Vivienne Tam composed of similar portraits in a grid pattern on nylon mesh.
Film clips playing on screens above create dancing reflections on the shiny red surfaces of the display, which is on a landing flanked by two staircases. These elegant passages—to the labyrinthine Chinese galleries on the second floor and those of the Anna Wintour Costume Center below—surround visitors with black walls, the air tinged with a red glow from the ruby-colored chandeliers hanging above.
"China: Through the Looking Glass" meditates on China's influence on Western artists, filmmakers and primarily designers, and their interpretations of its culture. The expansive exhibit—a collaboration between the museum's Costume Institute and Department of Asian Art, with a sponsorship from Yahoo and support from Condé Nast and several unnamed Chinese donors—opens to the public Thursday and runs through August 16.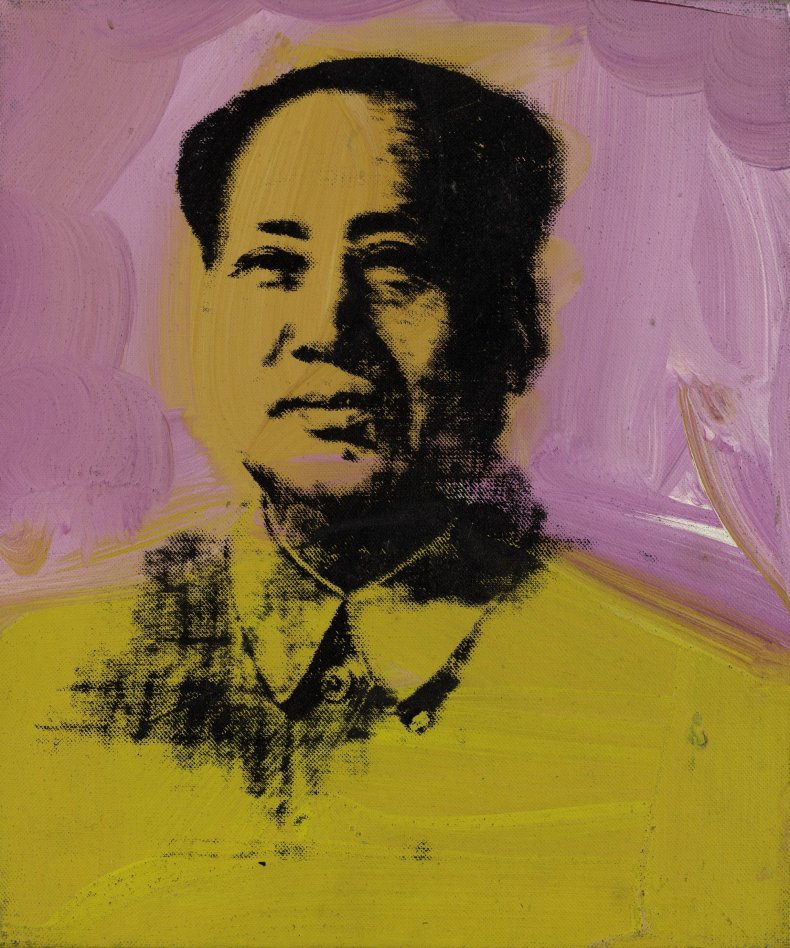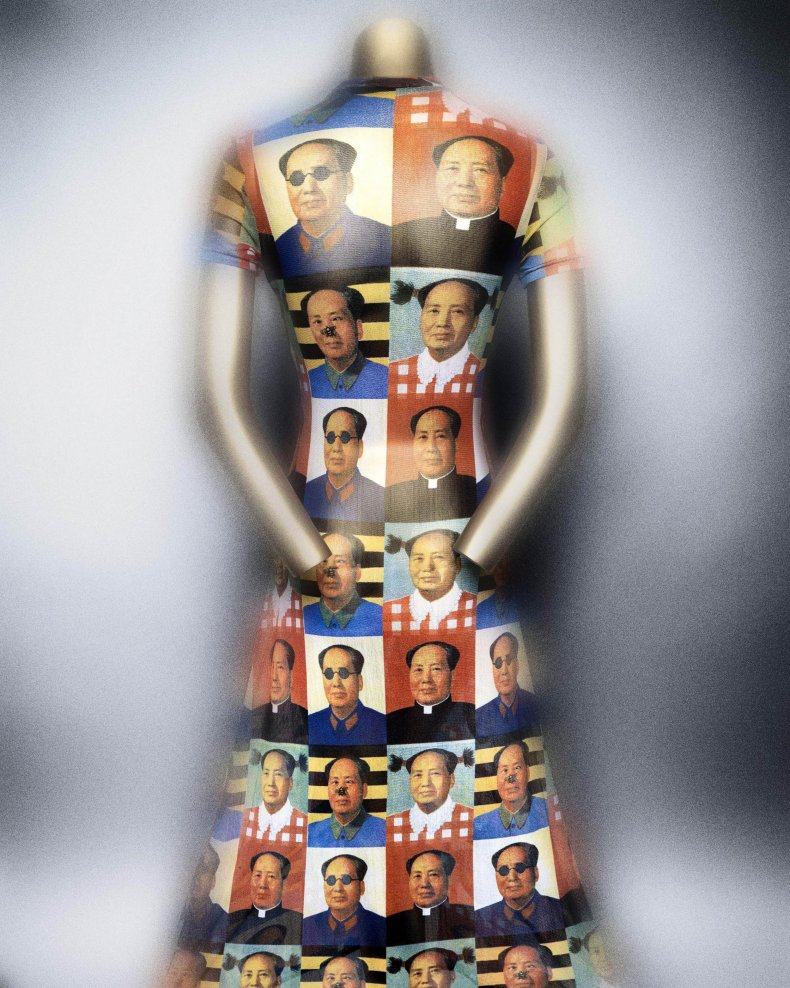 With a roughly 30,000-square-foot imprint and contributions from departments across the museum, the exhibition is three times the usual size of spring Costume Institute shows and one of the largest the Met has ever undertaken. More than 40 designers' works are represented, including pieces by Yves Saint Laurent, Jean Paul Gaultier, Coco Chanel, Alexander McQueen and Jeanne Lanvin, and jewelry by Cartier and Van Cleef & Arpels.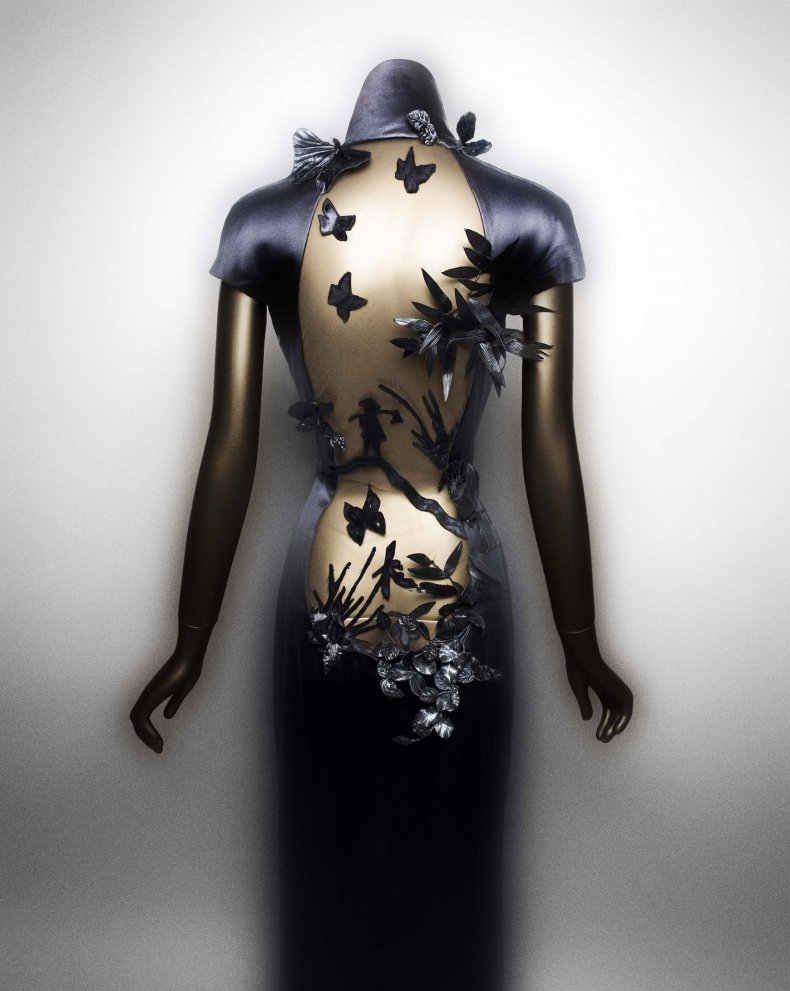 "The size of the exhibition is commensurate with its narrative arc, which explores the history of the influence of Chinese aesthetics on the Western fashionable imagination," curator Andrew Bolton said in his remarks at a preview of the exhibit Monday, the morning of the museum's annual Costume Institute Gala.
"This influence began as early as the first century, when the silk trade between China and the Roman Empire blossomed," he said. "Our story, however, begins a little later, in the mid-18th century, when the influence of Chinese-themed imagery, or chinoiserie, was at its height. The story unfolds through careful juxtaposition between Western fashions and Chinese costumes and decorative arts."
The title of the exhibit, Bolton explained, is derived from Lewis Carroll's Through the Looking Glass, and What Alice Found There, from 1871. "Like Alice's make-believe world, the China reflected in the fashions in the exhibition is a fictional, fabulous invention, offering an alternate reality with a dreamlike, almost hallucinatory illogic," he said. "The show is not about China per se, but about a collective fantasy about China."
The fantasy, in the hands of production designer Nathan Crowley, takes many forms. The myriad rooms of the exhibition are like snapshots, or "film stills," Bolton says, which can be appreciated together or separately. Some galleries describe items and practices like the silk trade, calligraphy and chinoiserie, while others explore the influence of Ancient China or Chinese-American actress Anna May Wong on Western fashion.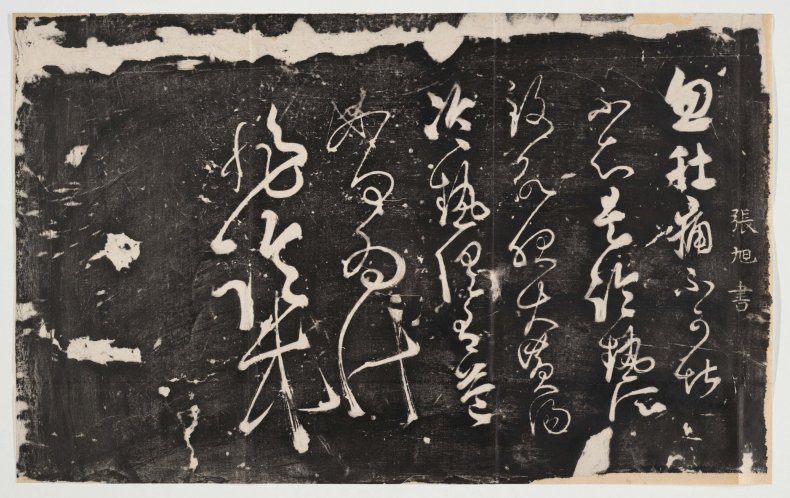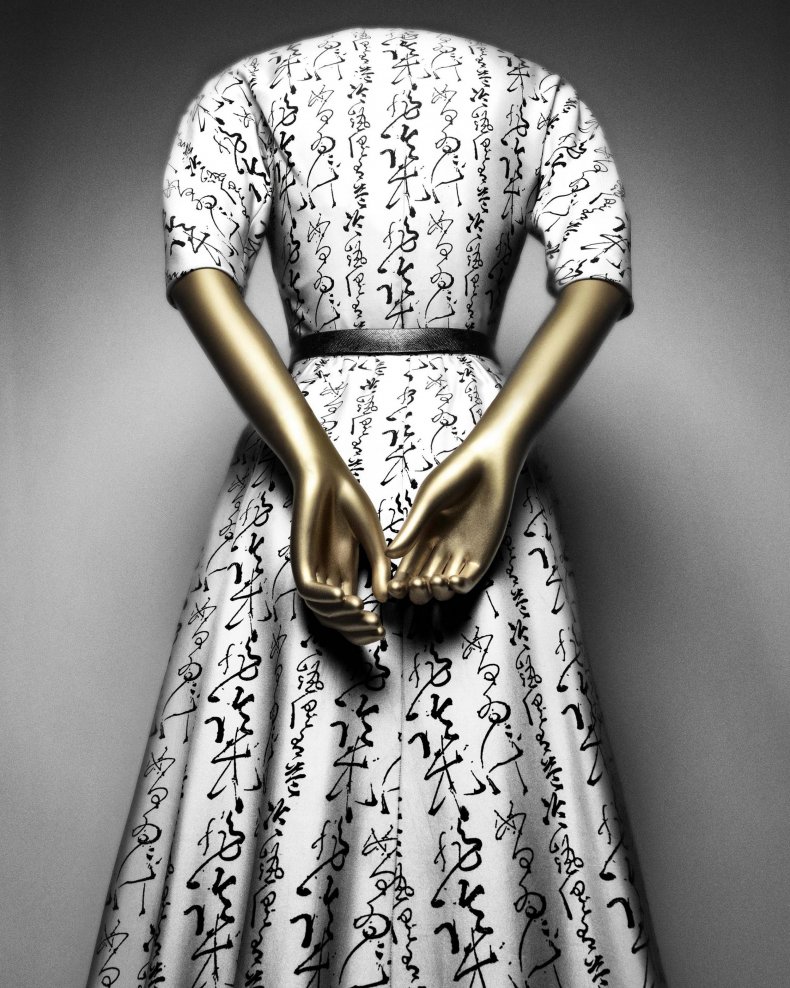 One room on the second floor is covered in a pale-green wallpaper painted with delicate branches, flowers and birds, while small latticework windows reveal greenery in the background. Mannequins wear voluminous American and French dresses from the late 18th century, and two others are dressed in Alexander McQueen and Cristóbal Balenciaga creations.
Nearby, another gallery is filled with blue and white porcelain dishes in a case along one side, with dresses of the same ilk on a dais opposite. Pieces from Rodarte, Karl Lagerfeld for Chanel and Roberto Cavalli stand in front of illuminated white walls. Other rooms are darker and more dramatic, such as one just past the porcelain display devoted to perfume, a small dark gallery with flamelike patterns dancing on screens on one wall.
Mannequins throughout are adorned with intricate headdresses—in the shape of branches, glassware and more—created by Stephen Jones, whom Bolton calls "the exhibition's Mad Hatter."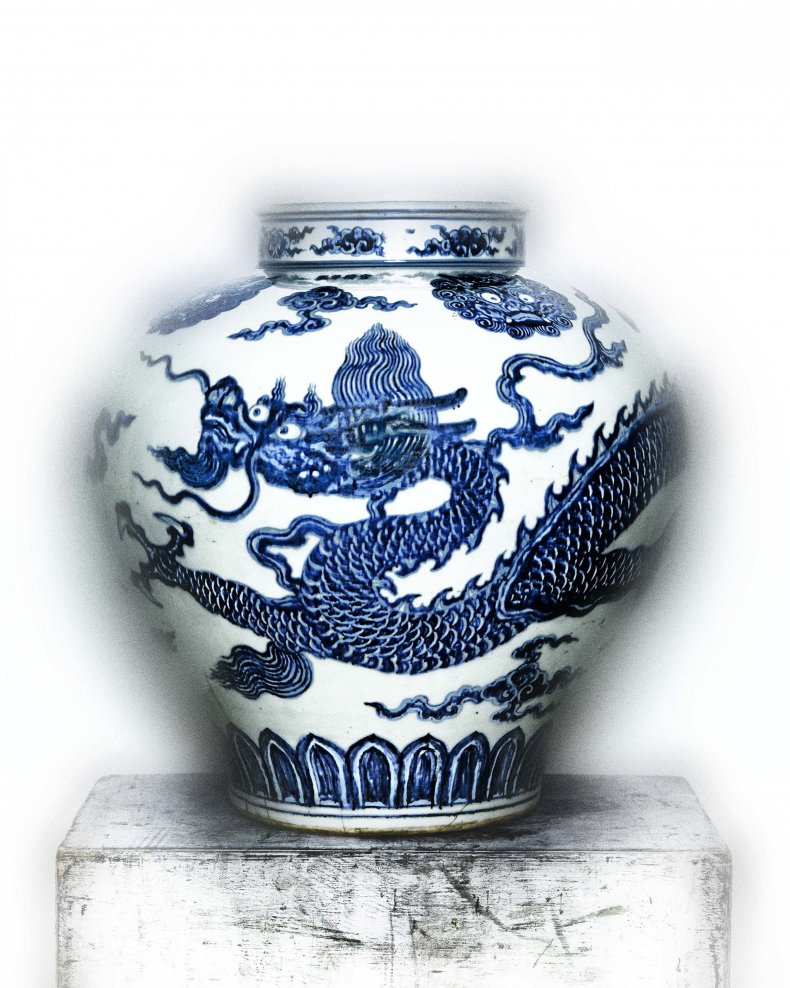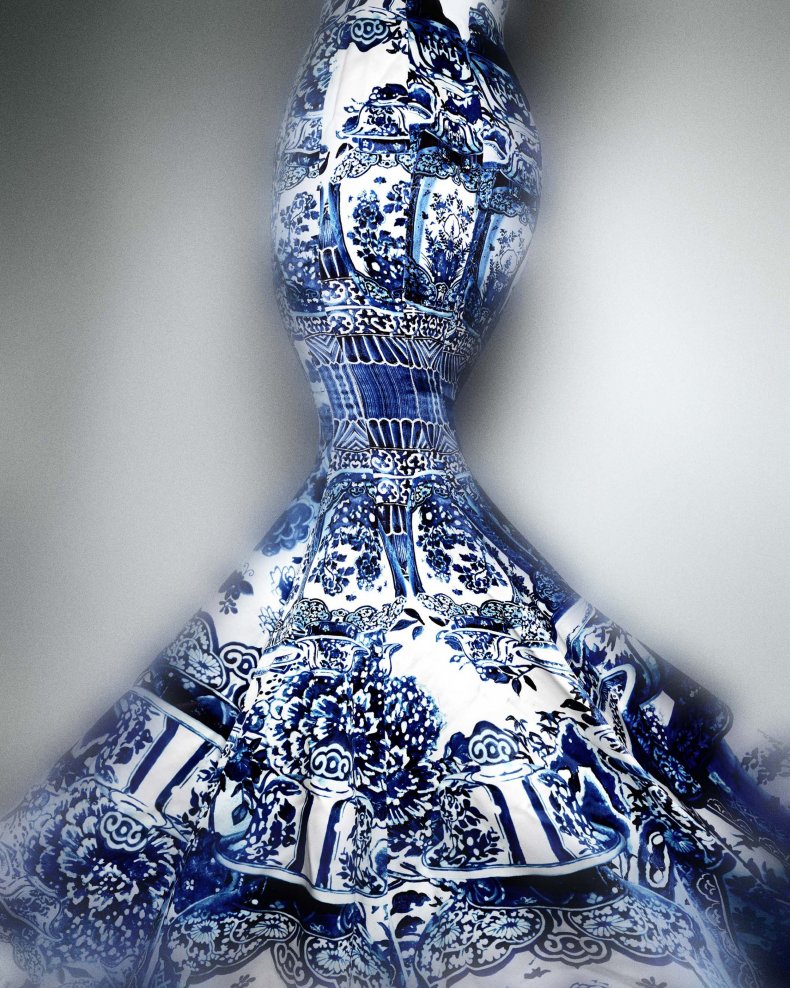 "In wending your way through the galleries, you pass through 200 years of Western fashion and several millennia of Chinese art history," Maxwell Hearn, chairman of the Department of Asian Art, said at the preview. The exhibition presents designs alongside their sources of inspiration—which Bolton unpacked with the help of curators who have expertise in Chinese calligraphy, lacquer, jade, ancient bronzes and textiles, among other areas—to tell a story about the creative process, Hearn says.
"Artists make connections," he says. "They are not inhibited by barriers of time, or space, or culture. They embrace influences, even if they don't fully understand them. Or rather, they understand these things in their own way to solve their own creative challenges."
One of the first and foremost points of entry into Eastern culture and symbols for Western designers comes from film, Bolton says. The medium plays a central role in the exhibition; throughout the galleries, screens flicker with medleys of film clips edited by Wong Kar-Wai, a prominent and influential filmmaker who served as artistic director for "China: Through the Looking Glass." These include snippets from such films as Shanghai Express (1932), Chen Kaige's Farewell My Concubine (1993), Ang Lee's Lust, Caution (2007) and Wong's own In the Mood for Love (2000).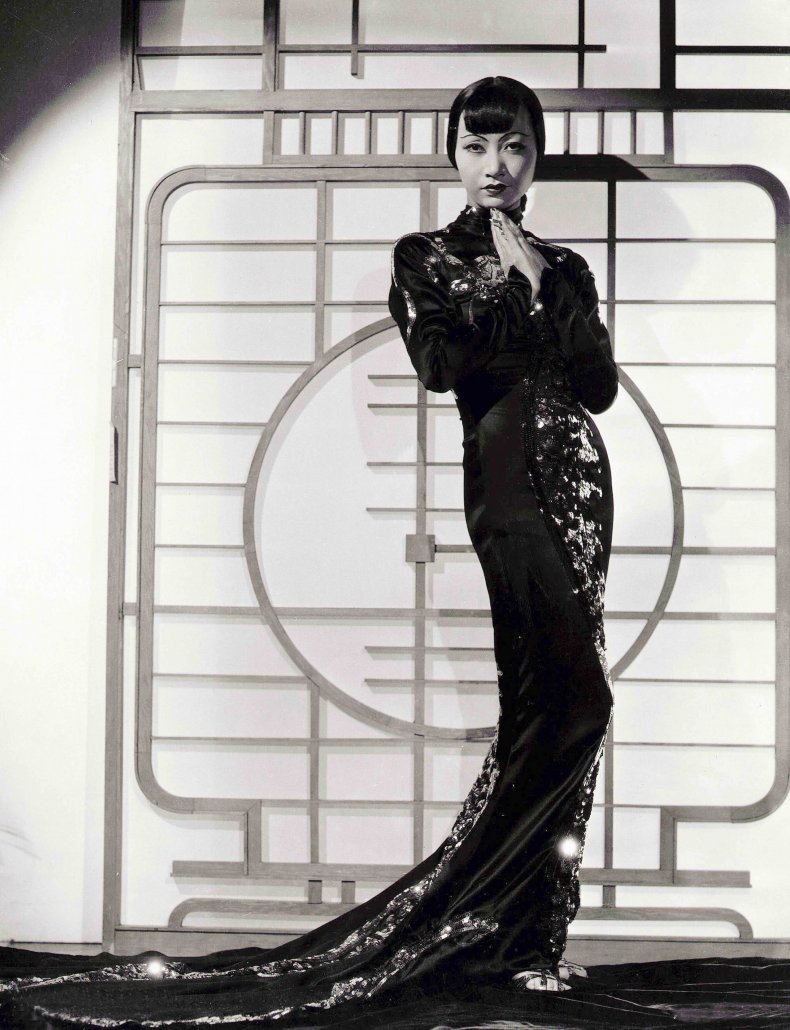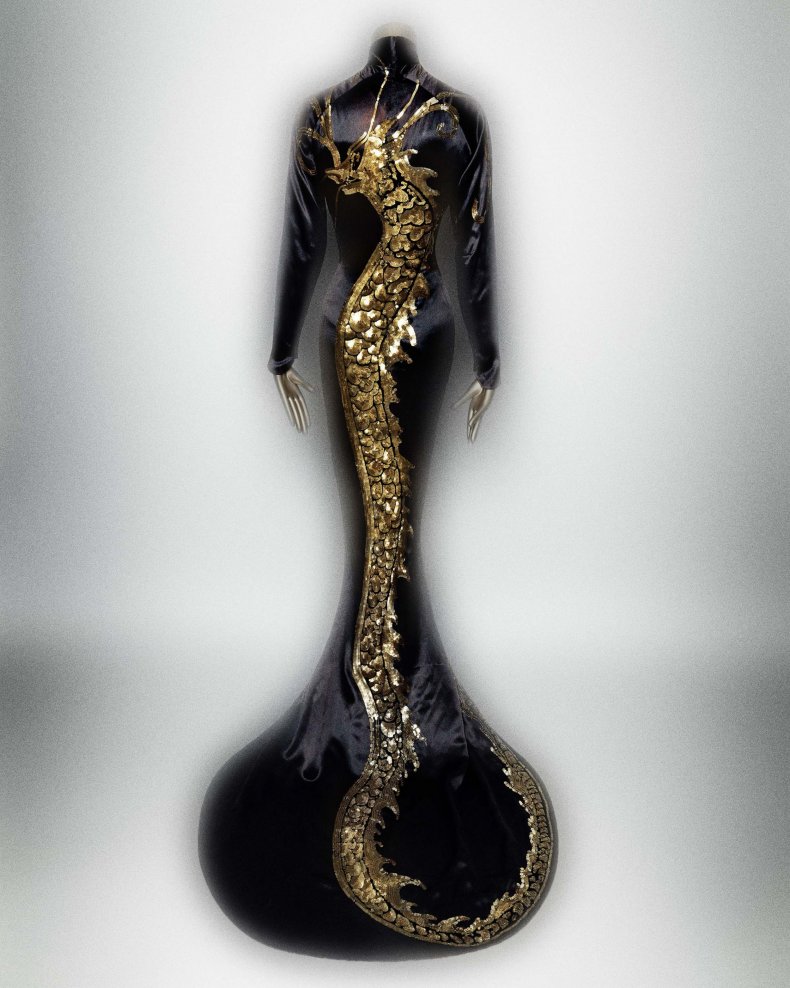 "One of the most fascinating parts of this journey [for me] was having the opportunity to revisit the Western perspective of the East through the lens of early Hollywood," Wong said, speaking in the large, light-filled room where press, guests and donors had gathered between glimpses of the monumental exhibit. "Whether it was Fred Astaire playing a fan-dancing Chinese man [in Ziegfeld Follies (1946)] or Anna May Wong in one of her signature...roles, it is safe to say that most of the depictions were far from authentic."
Western designers took these distorted images "and went on to create a Western aesthetic with new layers of meaning that was uniquely its own," Wong says. "In this exhibition we did not shy away from these images, because they are historical fact and their own reality."
Bolton's favorite spot in the exhibition is one that plays on the translation of the phrase "through the looking glass," which in Chinese is "moon in the water." Stepping into the darkened room, modeled after a Ming dynasty courtyard, is like taking a midnight stroll along a small pool of water. Beijing opera-inspired designs by Galliano for Dior and Maison Martin Margiela, dotting the room amidst trees and trellises, cast their silhouettes on the far wall, while a giant, luminous moon projected on the ceiling reflects on the shimmering surface below.
"What you're seeing here is a topsy-turvy version of China. It's China that's been lost in translation, so to speak," Bolton says. "It's really important for us to announce from the start that when you're walking into the exhibition it's fantasy, it's a step through a mirror, and you're seeing things backwards or upside down." Bolton and his colleagues used mirrors as metaphors and visual devices to transport visitors down the rabbit hole of Western fantasies of China.
Indeed, literal mirrors throughout the exhibition and otherwise reflective surfaces (like those of the first red display on the landing, and the shiny black surface in the courtyard that so resembles moonlit water it initially appears to be an actual pool) emphasize the interplay between East and West in which images, symbols and aesthetics are refracted and distorted.
In the Costume Center downstairs, fashion designs line the walls of a dark room, standing on a glossy black platform. Behind each one is a Chinese costume inside what looks like a mirror. At first glance, the shiny, circular panes appear to show true reflections of the designs on display, but in fact each one houses an authentic garment that echoes the fashion of the mannequin in front of it. A semiformal robe for the Qianlong Emperor from the 18th century, for example, stands behind an autumn/winter 2004-05 collection evening dress designed by Tom Ford for Yves Saint Laurent, made of yellow silk satin embroidered with sequins. Each pairing has colors, patterns or other characteristics in common.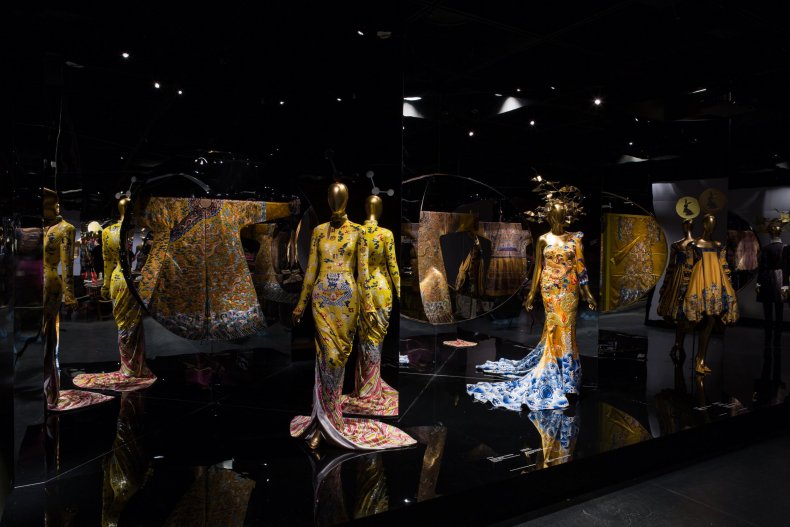 A glass case shows accessories similarly juxtaposed with sources of inspiration: a pair of Jean Paul Gaultier socks made of embroidered yellow silk next to a pair of yellow and white Chinese padded stockings (1662-1722); a pair of black calfskin Christian Louboutin shoes opposite black silk satin and velvet Chinese boots from the 18th century.
Clips from Bernardo Bertolucci's The Last Emperor (1987) play on the back wall and on either side of two long blocks that run through the center of the room—in some cases one set of screens faces another. The bright moving images combined with dark and shiny surfaces in the dimly lit space create a visual cacophony that seems to convey Western fashion's fractured reflections of Chinese artifacts, clothing and filmic representations.
Such intense sensory stimulation, the diversity of "film still" snapshots in various galleries, and the sheer size of the exhibition can be overwhelming—but that's part of the point. "Not unlike Alice's...adventures down the rabbit hole, one's passage through the exhibition can at times feel a little disorienting," Bolton says, alluding again to the bizarre nature of "what Alice found there." Wandering through the Met's vast undertaking, which has no set beginning or end, "transports you to a mythical China," he says, one "wrapped in invention and imagination."