'Fixer Upper' Stars Chip and Joanna Welcome New Baby Boy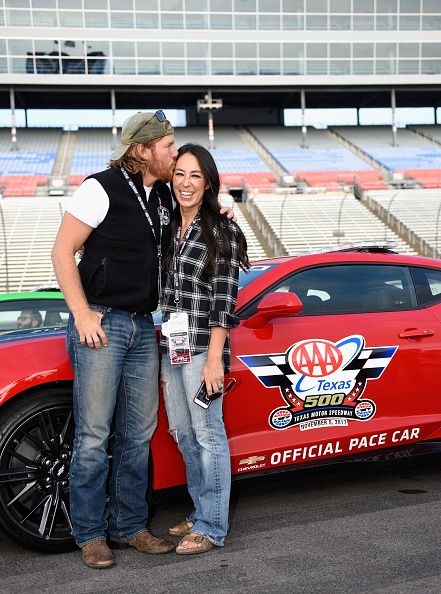 Chip and Joanna Gaines' family just got a little bigger. The Fixer Upper couple welcomed their fifth child on Saturday, a baby boy.
Chip Gaines took to Twitter on Saturday to let fans know of the family's newest addition and said Joanna Gaines was doing just fine after giving birth. "And then there were 5.. The Gaines crew is now 1 stronger! 10 beautiful toes and 10 beautiful fingers all accounted for, and big momma is doing great! #blessedBeyondBelief," he wrote.
The former HGTV stars were already parents to eight-year-old Emmie Kay, nine-year-old Duke, 11-year-old Ella and their oldest son Drake, 13.
Just a few months after the couple announced they were ending their incredibly popular home renovation series, Chip and Joanna Gaines announced they were adding another member to their family. Forty-three-year-old Chip Gains revealed his wife's pregnancy in an adorable Instagram photo of Joanna Gaines, 40, cradling her baby bump while he similarly held his fake bump. "Gaines party of 7. (If you're still confused. WE ARE PREGNANT) @joannagaines," he captioned the photo.
The Waco, Texas couple's newest bundle of joy comes after they said the fifth season of Fixer Upper, which premiered in November, would be their final season.
In a joint statement released in September, Chip and Joanna Gaines said they would be focusing on their several other businesses, which includes a bakery, soon-to-open restaurant, real estate company, luxury vacation rental service, quarterly magazine and retail empire Magnolia Market at the Silos—a home-goods brand that produces paint, rugs, wallpaper and furniture.
The duo, who have been married more for 15 years, also said they would be spending more time raising their children. "This is just us recognizing that we need to catch our breath for a moment," the statement read. "Our plan is to take this time to shore up and strengthen the spots that are weak, rest the places that are tired and give lots of love and attention to both our family and our businesses."