'Chip 'n Dale Rescue Rangers 2': Will There Be A Sequel? Everything To Know
Chip 'n Dale: Rescue Rangers reintroduces the world to its titular chipmunk duo, who are back with a brand new case to solve.
The film, which premiered on Disney+ on Friday, May 20, sees Chip (John Mulaney) and Dale (Andy Samberg) investigate after a number of animated characters go missing—including one of their former co-stars.
It successfully reboots the franchise for a whole new generation of children and film fans alike, so the question is will there be more to come? Here is all we know.
Will There Be A Sequel to Chip 'n Dale: Rescue Rangers?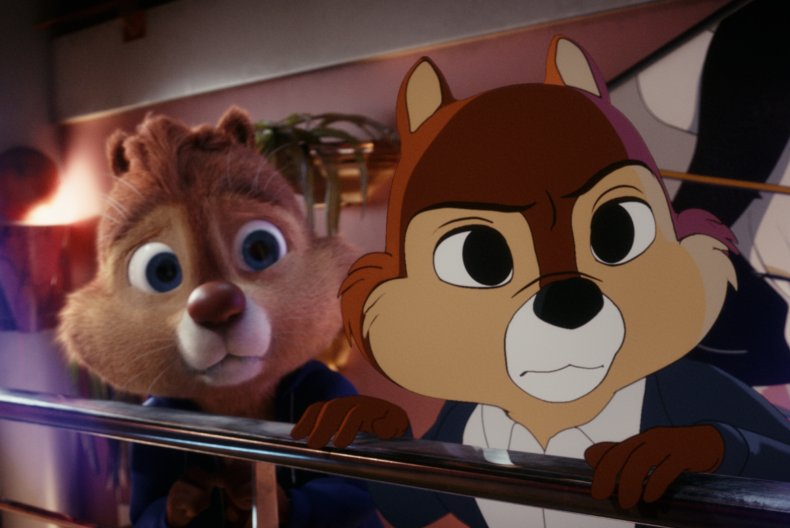 Chip 'n Dale: Rescue Rangers ends with Chip and Dale fighting off Sweet Pete (Will Arnett) and saving all of the cartoon characters he had kidnapped, changed and then forced to film in bootlegs of classic Disney films.
For a brief moment it appeared as if Dale would not make it after the chipmunk jumped in the way of a cannonball headed straight for Chip, but luckily a well-placed piece of memorabilia protected him from the blow.
Given both Chip and Dale are safe, and the Rescue Rangers are essentially back together after the duo, Gadget Hackwrench (Tress MacNeille) and Zipper (Dennis Haysbert) saved Monterey Jack (Eric Bana) from Sweet Pete's clutches, it seems plausible for there to be another film.
The film's director Akiva Schaffer spoke to Collider about the possibility of making another animation, and luckily for fans he said he would be "open to more."
"Just on a creative level I'd be super open to it, though I have no idea what it would be right now," Schaffer told the website.
"It does feel like the world is limitless because there are so many different characters out there and so many mysteries that could be solved. And arguably Lethal Weapon 2 is better than Lethal Weapon 1, Bad Boys 2 may be better than Bad Boys 1. So there is a good tradition of sequels being better."
Schaffer also explained that while he wasn't sure if making a sequel would be easier or harder, at least he and his team have already done "all the research and development" on the characters.
He added: "There's also so much we learned making this one that there are things I look at and go 'oh we could have done better,' what we learned in the past month if that was applied two years ago oh it would have been so much better."
Disney has not commented officially on if the film will get a sequel as yet, however the film has only just been released on the company's streaming platform so they likely won't say anything until they see if it gets good ratings.
Chip 'n Dale: Rescue Rangers is out on Disney+ now.